MOUNT PLEASANT — A project to extend sewer lines to homes in Snowden has been postponed following an outpouring of complaints from the African-American settlement community about a requirement that property owners annex into the town.
The community off Long Point Road sits next to large Mount Pleasant subdivisions — Longpoint, Snee Farm and Belle Hall — but Snowden remains mostly in unincorporated Charleston County. It's a semi-rural enclave of about 300 homes, surrounded by the bustling suburbs of one of the nation's fastest-growing cities.
Many Snowden residents object to the idea of annexing into the town, convinced that doing so would result in their community becoming developed like the rest of Mount Pleasant.
"This is one of the last black (East Cooper) communities," said Michael German, a Snowden resident who joined with more than a dozen neighbors Wednesday to address the sewer issue. "If we joined the town of Mount Pleasant, we would be absorbed."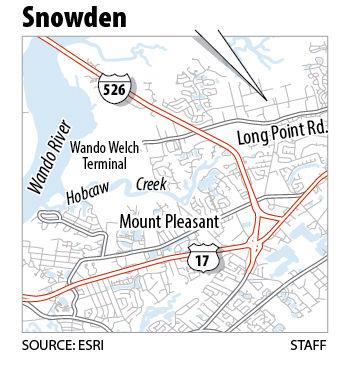 Mount Pleasant Waterworks planned to extend sewer to another 66 properties in the community this year, most of which are outside the town's limits. General Manager Clay Duffie said the utility is "simply obeying the town of Mount Pleasant ordinance" that requires property owners to annex if they want sewer.
"We're afraid that if we annex people will start buying up the properties and (Snowden residents) won't be able to afford their properties," said Donna Brown-Newton, a resident who unsuccessfully ran for a County Council seat last year.
Last week, County Council Chairman Elliott Summey threatened to sue the town over the annexation requirement, and County Councilman Teddie Pryor called it "immoral" after some Snowden residents spoke at a meeting.
"The annexation requirement dates back to 1991, and it is time to re-examine the issue," Mayor Will Haynie said Wednesday. "The challenge will be finding a way to get sewer service to existing residents but not open up historic settlement communities to wholesale, intrusive development."
East Cooper settlement communities — Snowden, Scanlonville, Phillips, Four Mile, Six Mile and others — are African-American enclaves established after the Civil War. Today, they're home mostly to descendants of the first families there, and many residents are related.
"It's a family, not a collection of homes," German said.
Haynie said the Mount Pleasant Waterworks Commission, at his suggestion, agreed to "very temporarily" put the sewer line project on hold so that the town, county and utility can seek a resolution to the issue.
Mount Pleasant requires properties to annex to get sewer access because sewer lines are a key to property development, and annexing makes properties subject to the town's rules and regulations, which include development impact fees and limits on building permits.
The issue in Snowden is that many existing homes don't have sewer access, relying instead on septic systems that are often failing. That means raw sewage backs up into yards, or even homes, and washes into the creeks feeding the Wando River when it rains.
When Mount Pleasant Waterworks completed the first phase of an effort to connect homes in Snowden to sewer lines in 2007, property owners were not required to annex into the town because a federal grant paid for nearly half the $5 million project and wouldn't allow such a requirement. The utility paid the remaining costs.
Snowden residents said the same annexation rules should apply to the current, second phase of that project. Community members paid small fees and granted sewer line easements on their land as part of the original project, several Snowden residents said Wednesday.
Mount Pleasant Waterworks has received no county or federal funds for the $1.9 million second phase, Duffie said.
"Mount Pleasant Waterworks would be glad to have Charleston County join us in investing in sewer service for county residents," he added.
Haynie said he hopes the town, county and utility can arrange a meeting as early as next week.