GREENVILLE — A dangerous storm combining high winds and ice swept through South Carolina's Upstate and much of the Southeast on Jan. 16, knocking out power, felling trees and fences and coating roads with a treacherous, frigid glaze.
Winter Storm Izzy dumped more than an inch of snow per hour in some parts of the Carolinas, Georgia, Tennessee and Virginia, according to the National Weather Service.
Snow totals for most of the Upstate ranged from 1 to 4 inches, though portions saw more. The Spartanburg-Greenville Airport saw about 6 inches, according to the Weather Service's Greer Office. Travelers Rest, a city in Greenville County, received up to 9½ inches of snow, the Weather Service Eastern Region tweeted that day.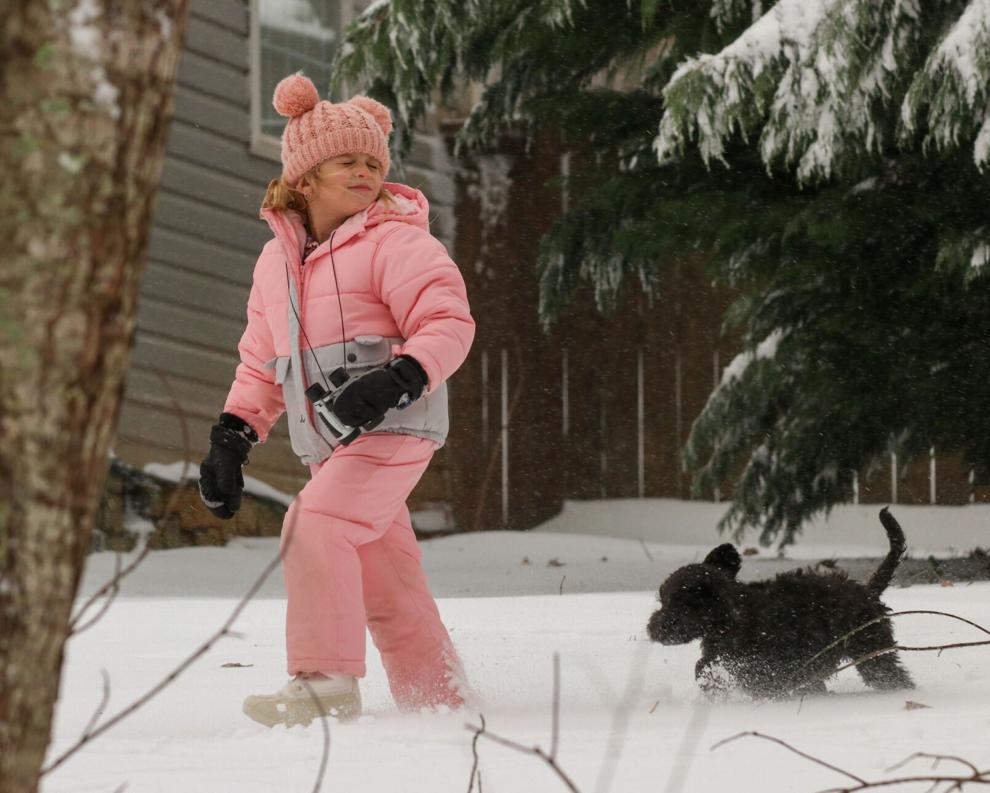 Downtown Greenville was hit with 5 inches of snow, according to the Weather Service. Thousands of footprints were crunched into the snow and icy mix that sticks to the sidewalks. Residents walked the streets, with sleds in hands and hats on heads, bracing the winds wiping snow into their faces for a Sunday snow day.
People walked with care as most of the sidewalks and roads downtown were unplowed. Some people even slipped.
Cars turned the white snow of the area brown with sludge as they went way under the sped limit.
Most of the businesses were dark, closing for a citywide snow day. On the outside of town, a beer hall remained lit with customer thawing from the cold outside and watching football on TV.
Dogs darted around, exploring the snow. One even took a quick plunge into the Reedy River before quickly dashing out.
North Carolina residents were surprised by the snowfall. The storm dumped as much as 10 inches of snow in some areas of western North Carolina as the system moved across the state, said Brian Hurley, a meteorologist with the Weather Prediction Center in College Park, Maryland.
About 13 inches of snow fell in Saluda, North Carolina, according to the Weather Service.
Kristen Baker Morrow's 6-year-old son made snow angels after their home in Crouse, North Carolina, got 4 inches of snow that morning, but she said they couldn't stay outside long because of the uncomfortable wind chill.
"It took 30 to 45 minutes to get everything on for about 10 minutes in the snow, but it was definitely worth it for him, to get our pictures and make some memories," said Morrow, a 35-year-old registered nurse.
About 100,000 residents in the Upstate, Midlands and Pee Dee regions lost power by mid-afternoon, according to poweroutage.US, which tracks outages nationwide. More than 260,000 customers were without power by mid-afternoon. The remaining outages were in Georgia, North Carolina and Virginia. 
At about 8 p.m., there were nearly 50,000 outages scattered across the state.
Crews in South Carolina pretreated roadways across the state, but officials still urged people to stay off them unless travel was necessary.
The Midland region mainly saw freezing rain in the morning, said Chris Rohrbach, a meteorologist from the National Weather Service's Columbia office. Forecasters predicted there would be no more freezing rain that afternoon, he said.
"There is some concern of black ice overnight," Rohrbach said. "There was just so much freezing rain that melted and could refreeze. It is something to be cautious of when driving. People should take their morning commute  a bit slower than they normally would."
Anyone who must travel should ensure their vehicle is in good condition, checking the fluids, battery and tires before taking to the roads. Motorists should fully charge their cellphones and pack extra blankets and snacks in case of delays.
Two people died in North Carolina when their car drove off the road and into trees in a median east of Raleigh. The driver and passenger, both 41-year-old South Carolina residents, were pronounced dead at the scene of the single-vehicle crash.
Greenville city spokeswoman Beth Brotherton told The Post and Courier that earlier in the morning, 20 cars were stuck in the snow on Church Street Bridge downtown and local police have since coned off the bridge. 
Maj. Gen. Van McCarty of the S.C. National Guard said his agency coordinated with state authorities in advance of the storm, and had 14 vehicle recovery teams available for assistance.
Some COVID-19 testing and vaccine clinics may close or have different hours in light of the snow. People should contact clinics on the S.C. Department of Health and Environmental Control's website to confirm hours before going on Jan. 17.
The Weather Service's Columbia office issued ice storm warnings for counties across the upper middle portion of the state for most of the day. By nightfall, they had been downgraded to winter storm warnings, but the danger of black ice on the roadways, downed trees and power outages continued through 8 a.m. Jan. 17.  
The following Weather Service advisories are in effect for South Carolina:
Winter storm warning for the Anderson, Cherokee, Greater Greenville, Greater Oconee, Greater Pickens, Spartanburg and York areas. Mixed precipitation and black ice. Additional snow and sleet accumulations will be less than one inch. Wet roads will refreeze, becoming icy and slippery.
Winter storm warning for the mountain areas of Greenville, Oconee and Pickens. Snow and black ice. Additional snow accumulations of up to 1 inch. Winds gusting as high as 40 mph. Wet roads will refreeze, becoming icy and slippery.
Special weather statement warning of black ice tonight through Monday morning. A winter storm affected much of the region with ice, snow, and sleet Saturday night and Sunday. Roads became wet in many areas as temperatures warmed Sunday afternoon, but as temperatures fall overnight those roads are likely to become icy again. Slippery, treacherous road conditions may persist in some areas into Monday morning. Transportation agencies are advising the public to stay off roads unless absolutely necessary. Any motorists that do venture out are urged to use extreme caution. If a road looks wet, it likely is covered in a thin sheet of ice.
The storm was making air travel extremely difficult in some parts of the South. About 14 flights were canceled Jan. 16 at the Charleston International Airport.
The nation's hardest-hit airport — Charlotte Douglas International — remained open around dawn, the airport said in a weather briefing. But more than 1,200 Sunday flights there were canceled — more than 90 percent of the airport's Sunday schedule, according to the flight tracking service flightaware.com. Charlotte is a major hub in the South for American Airlines.
In Atlanta, where Delta Air Lines operates its main hub, more than 300 flights were canceled.
In the Asheville area, local television footage showed snow accumulation covering the streets with white. Buncombe County closed all parks, libraries and solid waste facilities through Jan. 17. In Boone to the northeast, Appalachian State University suspended many operations Jan. 16 and told all but certain essential workers to remain away from campus until at least the next morning.
The Weather Service confirmed that a tornado with 118 mph winds struck southwest Florida. The  tornado was on the ground for almost 2 miles with a maximum path width of 125 yards. Thirty mobile homes were destroyed and 51 had major damage. Three minor injuries were reported.
Edward Murray, 81, told the Naples Daily News in southwest Florida that he was inside his mobile home Sunday morning when a tornado picked it up and tossed it on top of his neighbor's home.
"That's my house that's turned upside down," he told the newspaper. "The tornado took me off my feet, blew me toward the east wall and buried me under the sink, refrigerator, kitchen chairs and everything else."
Murray and his daughter, Cokie, escaped unharmed, crawling from the wreckage.
After lashing the South, weather forecasters say the Northeast can expect similar conditions.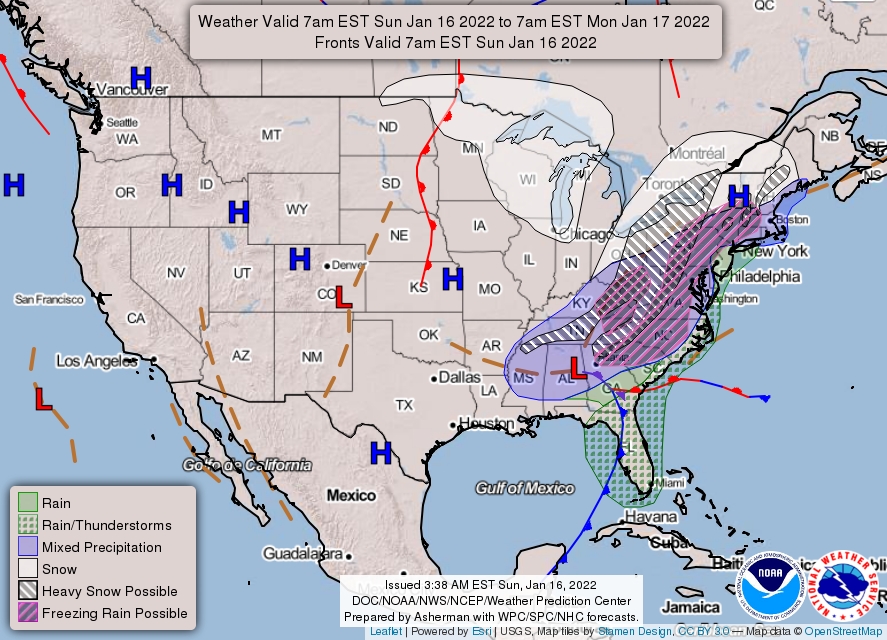 New York City was expected to be spared from most, if not all, of the snowfall, but Long Island and Connecticut coastal areas were expecting gale conditions. Upstate New York was projected to get hit with up to a foot of snow to go along with high winds.
About 6 to 13 inches of snow was expected in parts of east-central Ohio and western Pennsylvania from the afternoon of Jan. 16.
The Associated Press contributed to this report.