Slow and deadly: Hurricane Florence is a storm for the SC, NC history books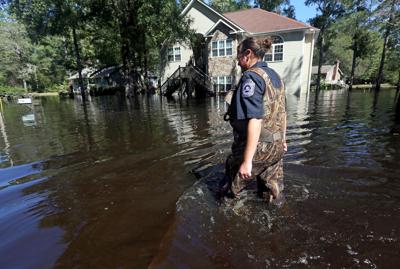 So many things about Florence seemed slow. At times it moved as fast as people walk, dumping 13 trillion gallons over the Carolinas and Virginia. That's enough water to fill the North Charleston Coliseum nearly 200,000 times.
Lingering like an evil house guest, its impacts grew uglier by the day. Forty-eight people have died so far in the storm and its still-unfolding aftermath. That's more than the 43 felled by Hurricane Matthew in 2016. 
And, massive volumes of water are still pulsing through the coastal plain, its murky flow loaded with millions of gallons of waste from hog farms and breached sewer plants. At least 11,000 South Carolinians have been displaced, a number likely to grow. Two weeks after Florence made landfall, its fetid floodwaters finally reached Georgetown.
Slow is bad when it comes to hurricanes. Lumbering tropical storms can unload rain measured in feet instead of inches, and Florence was Exhibit A.
But how does Florence stack up compared with other record-breaking storms?
As slugs of waste-fouled rivers drained last week, Kenneth Kunkel, a meteorologist with the North Carolina Institute for Climate Studies in Asheville, gathered data from Florence and other storms since 1949.
"We knew we had set a record in North Carolina for rainfall, but I think it helps people to know how rare an event like this is as they rebuild."
He analyzed each storm's four-day rainfall pattern and calculated how much fell over a 14,000-square-mile area — about half the size of South Carolina. Looking at storms this way helped weed out smaller downpours. His jaw-dropping results:
Florence let loose an average of 17½ inches in this core area, second only to Texas' Hurricane Harvey in 2017.
"It's really a top 10 event nationally, and that's saying something," he said.
For the history books
There are lots of ways to look at Florence's punch.
Its 13 trillion gallons were enough to fill Lakes Moultrie and Marion 16 times.
Or, put all that water in the world's biggest supertankers, and you would fill about 155,000 of them.
By any measure, Florence was a storm for the history books.
And, coming on the heels of Hurricane Harvey's 60-inch deluge last year, Florence fits squarely in what scientists say is a new chapter: an increase in sluggish storms — drenching tempests that change what we think are normal amounts of rain.
Earlier this year, researchers with the National Oceanic and Atmospheric Administration published an analysis of how quickly storms move, and whether storm speeds had changed since 1949.
The slower speeds were even more pronounced in the North Atlantic — a drop of about 20 percent.
That's important because slower storms dump more rain. A 10 percent slowdown can double the amount of rain that falls in a given area, the researchers found.
Stalling storms such as Florence and Harvey "might turn out to be the norm moving forward," said Colin Zarzycki, a project scientist at the National Center for Atmospheric Research in Boulder, Colorado.
'Decades to come'
Florence's 13-trillion-gallon assault was impressive, with some rain gauges in North Carolina exceeding 35 inches. 
But overall it was less than Irma's deluge in 2017 and Matthew's total in 2016 — both about 18 trillion gallons, according to estimates by Ryan Maue, a private meteorologist. 
Yet, those storms dumped their rain over wider areas: Irma hit an area from Florida to North Carolina, while Matthew's reach was even greater — from Florida to New York.
In contrast, Florence concentrated its punches on a relatively flat area straddling the North and South Carolina border.
With relatively gentle drops in elevation to the sea, floodwaters often came at a leisurely pace. Enormous volumes poured into neighborhoods, farms and streets. Reflections of homes and businesses were clear in these waveless pools of standing water, a deceptive soup of potentially dangerous bacteria and pollutants. 
"Florence was a historical event indeed," said Kunkel, the Asheville meteorologist. 
And, yet it had a strangely familiar feel.
In three of the past four years, parts of South Carolina had the kinds of rains normally seen once every 200 to 1,000 years, NOAA records show. 
With the definition of "normal" in flux, government planners, insurers and homeowners may need to rethink how and where they build, said Norman Levine, a College of Charleston geology professor who studies development patterns across the region. 
"I don't know that planning for a '100-year-storm' is suitable at this point anymore."  
'It just took forever'
That reality is sinking in for many South Carolinians, especially those who've felt the slow-moving wrath of other storms in recent years.
For them, the impacts are as real as the new waterlines in their living rooms.
In 2016, David Hunter and his wife, Margaret, retired and moved from Raleigh to a home in Nichols along the banks of the Little Pee Dee River. They'd only been there a few months before Hurricane Matthew's floods forced them out and into a rental.
Florence's slow march was even more painful. "It just took forever for this thing to move off," Hunter said.
In Conway, Darren Smith had between 3 and 4 feet of water inside his restaurant, Bonfire. "We can't go through this again — moving everything in and out — ugh," Smith said.
Such stories were common across Florence's path and downstream of its deluges.
"Florence probably wasn't as bad as Harvey was in Texas, because the raw population during Harvey was higher," said Zarzycki, the Colorado meteorologist.
"But as far as rainfall and flooding are concerned, there are impacts from Florence in North and South Carolina that will shape those areas for a decade or more." 
Thad Moore, Jennifer Berry Hawes and Andrew Brown contributed to this report.
Reach Tony Bartelme at 843-937-5554. Follow him on Twitter @tbartelme.