MOUNT PLEASANT — Hundreds of short-term rentals are regularly advertised throughout this town — some of them illegal — and they could be getting fresh scrutiny as officials work toward new regulations.
Residents are renting houses, apartments, secondary dwellings and rooms through websites including airbnb and VRBO, but like many towns and cities, Mount Pleasant's regulations haven't caught up. 
"The emergence of this — you never would have thought about writing regulations 10 years ago, or even five, that would have covered all of this," said Jeff Ulma, the town's Director of Planning and Development.
Town officials have been debating short-term rentals and how to address them for at least a decade but comprehensive rules have not resulted. In 2008 Mount Pleasant banned short-term rentals in the small Old Village Historic District and in 2010 Town Council voted down a proposal to ban them town-wide.
At hearings on the issue over the past two years, supporters of short-term rentals have said it's an important source of income, while opponents said they disrupt neighborhoods. Town Council's Planning Committee revisited the issue once again at a meeting April 30.
"I've spoken to some constituents who, this is how they help make ends meet," Councilwoman G.M. Whitley said at the meeting. "I hesitate to take away people's livelihood if they are doing that with short-term rentals."
Councilman Joe Bustos said he'd be happy to prohibit short-term rentals as well as accessory dwelling units (ADUs) — the secondary homes the town has allowed since 2010. The ADUs were seen as a way to provide affordable housing, potentially for members of an extended family, but some have been used for short-term rentals.
Ulma said "some options would be to regulate them, go into a permit system, look at the business license ordinance, and look at standards" for things such as parking and the maximum number of occupants.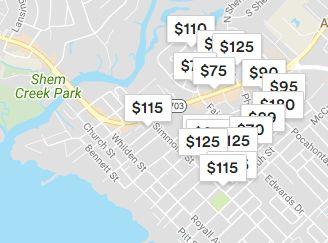 Bustos' desire to ban short-term rentals was not supported by the full Planning Committee, so the town staff is now researching ways to bring some order to the situation and untangle the town's confusing regulations.
For example, under current town rules anyone outside the Old Village Historic District can rent their entire house short term but if they rent just a room in the house they are considered a bed-and-breakfast and need zoning permission and a business license.
Someone with an ADU can live in the ADU and rent their larger house short term, but if they live in the house they can't rent the ADU without being considered a bed-and-breakfast establishment.
"This is going to be hard — crazy hard," said Councilman Tom O'Rourke. "I think it goes back to what kind of a town do we want to be?"
Mount Pleasant has granted special zoning exceptions to allow eight bed-and-breakfasts since mid-2015. Town-wide, just 141 ADUs have received certificates of occupancy and none may be used as short-term rentals if the property owner lives in the adjacent house without a bed-and-breakfast approval.
Many local governments have old laws on the books that speak of bed-and-breakfasts — traditionally private homes that accept guests for short-term stays and provide breakfast in the morning — but those rules don't address modern-day websites that allow any property owner to offer a room or a home for short-term rent.
Charleston County is now rewriting zoning rules to replace bed-and-breakfast language with rules that speak of short-term rentals. Charleston City Council finalized a new set of rules May 1 that allows short-term rentals citywide but only under strict circumstances. It bans whole-home rentals and requires property owners to stay home whenever they host guests.
"It seems the communities are all over the board on this," said Ulma. He said his department could send recommendations back to a Town Council committee in June.