A gunman enters a house of worship and opens fire — a tragic and familiar set of events that has now occurred at a Pittsburgh synagogue.
When the gunfire stopped inside the Tree of Life Congregation, a synagogue in Pittsburgh's historically Jewish Squirrel Hill neighborhood, on Saturday, 11 people were dead.
Authorities arrested Robert Bowers, who is in his 40s, and are investigating the incident as a federal hate crime. Six other people, including four police officers, were also wounded in the attack.
For many in Charleston, memories of the June 17, 2015, shooting at Emanuel AME Church that left nine dead are still raw. The news of another deadly incident that appears to be motivated by hate has left many in the local Jewish community and beyond struggling to process this most recent incident.
Hateful rhetoric
Sandra Brett, Filmfest coordinator for the Charleston Jewish Community Center, said she grew up in nearby Johnstown and lived for a time in Squirrel Hill. While she did not attend the Tree of Life Congregation, she was familiar with its role in the community. 
"Growing up, I would go there for youth events," Brett said. "These are people that are just living life like you and me. It's devastating that (this) happens to anybody. So many of us have forebears that were running away from persecution."
For many American Jews, coming to the U.S. was a chance to escape that persecution and live with unprecedented freedom, she said. To see some of that freedom being threatened by harmful rhetoric and hate crimes is disheartening. 
Brett urged others not to dwell on actions motivated by hate, but to focus on how most people are good.
Rabbi Stephanie M. Alexander, of Charleston's Kahal Kadosh Beth Elohim congregation, called Saturday's shooting a "gut-wrenching tragedy," and "an act of domestic terrorism."
"Our hearts and prayers for strength and resilience go out to all in the Tree of Life family," Alexander said. "It should not be an act of bravery to gather for prayer. It should not take courage to enter a house of worship for study. It should not require armed security guards (though we have, and will continue to have them) to stay the tears and fears of students before they can engage in religious study." 
The violence and hate evident in the Pittsburgh shooting were meant to instill fear, she said. The community needs to stand up to that fear and have the resolve to not tolerate "the hateful rhetoric fanning flames of violence in this country."
'Immensely troubling' 
In South Carolina, there have been a handful of threats referencing race or religion since the Emanuel shooting, including a letter sent to a Charleston resident in July 2016 threatening an attack against a local mosque unless now-convicted shooter Dylann Roof was released from custody.
In November that year, Charleston police received nine reports of anonymous letters containing general threats of racially and religiously motivated violence, with one note mentioning Roof by name.
In 2017, the FBI arrested 29-year-old Benjamin Thomas Samuel McDowell for allegedly planning an attack inspired by Roof.
McDowell pleaded guilty on federal charges earlier this year and was sentenced to nearly three years in prison.
The Rev. Eric Manning, pastor at Emanuel AME, said he heard the news on Saturday as he was wrapping up a conference at his church reflecting on the Charleston shooting.
"You think about the similarities," Manning said. "It's immensely troubling. We've come so far from a growth perspective, but we have taken so many steps backward in terms of civility and in terms of working with each other."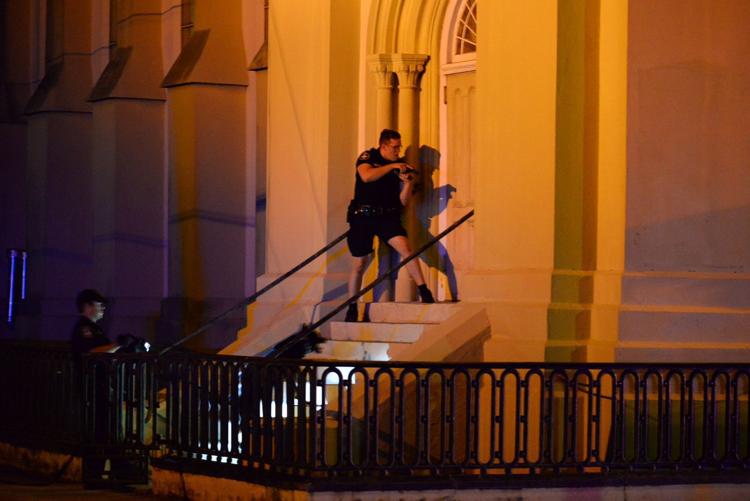 The pastor said he has spoken about the shooting in Pittsburgh with some members of his congregation and knows the tragedy will resonate with his flock. He planned to continue to ponder the subject of mass shootings, senseless violence and the aftermath of events like the shootings in Charleston and Pittsburgh as he prepares his sermon for Sunday.
"I pray that God will quiet our spirit," Manning said. "Even in tragedy, even in trauma, even in terror he is still there."
The pastor pledged that he and his congregation would continue to stand in solidarity with members of the Jewish community, and call for an end to hateful and evil speech.
Searching for a beacon 
Founded more than 150 years ago, the Tree of Life Congregation is located in the tree-lined residential neighborhood.
The attack lasted 20 minutes and took place during a baby-naming ceremony, authorities in Pittsburgh confirmed. Officials later said that no children were hurt.
It also reignited the national debate over guns. 
President Donald Trump called the shooting "far more devastating than anyone thought," saying "it's a terrible thing what's going on with hate in our country." He also said synagogues and churches should have armed guards.
Meghan Alexander, founder of Arm in Arm, a South Carolina organization that advocates for responsible gun ownership, said the heated rhetoric surrounding debate over gun reform efforts is harmful and doesn't solve the core problems. 
"This cannot be a divisive conversation," she said. "We cannot solve this as a reaction. Until we can have a conversation about preventative measures where we're not retreating into corners, it's not going to get better and, in fact, it will get worse."
Manning said he hoped that Charleston could be a model for re-establishing civility as the baseline.
"Remember, that there is more that unites us than divides us," the pastor said. "I'm reminded of the fact that love casts out all fear. I would hope and pray that Charleston does hard work in becoming truly a beacon of light that this country so desperately needs now."