Gabby Collick was losing steam quickly. 
"Are you gonna let that shark beat you?," her father, Chad, called across the boat. 
"Yeah, apparently," the 15-year-old yelled back. 
Gabby had been fighting to reel in something on the line for about five minutes while she and her family bobbed on a fishing charter Thursday in the middle of Charleston Harbor. It was the last day before they would return home from vacation to Lapeer, Mich. 
She wanted to bring in a shark by herself, and volunteered to go first when a line off the back of the boat got a bite. But the battle wasn't going well, as the black pole dipped closer and closer to the water. Capt. Kevin Renno guessed that if there was indeed a shark on the other end it could be 6 or 7 feet long. 
Shark trips are common among fishing charters in coastal South Carolina. Renno said that when he started Sharkin Charleston, one of the few charters that specializes exclusively in sharks, in 2010, business took off quickly. A fascination with the cartilaginous fish, made infamous in movies and on TV, pulls in customers of all ages. 
"We have a lot of people who've never fished before," Renno said.
The trips offer a close-up look at an often misunderstood animal. But in a few situations in South Carolina, shark fishing is banned, and wildlife managers are always keeping a close eye on local populations to make sure they're not being over-fished. 
"We want to promote ethical fishing and recreational opportunities," said Bryan Frazier, who studies the animals for the S.C. Department of Natural Resources. "If a species is over-fished or vulnerable ... we, as fishery managers, need to make sure there are protections for those animals."
And in a few cases, shark fishermen run afoul of the law when they pull in a protected fish. 
'They're going to eat me'
By the time Gabby had a shark on her line, her dad had already pulled in a baby Atlantic Sharpnose, just under a foot long. Renno held it out to the family's younger daughter, 13-year-old Lexi, so she could feel its skin: smooth one way, rough the other.
She was less enthusiastic than her sister. When she'd been swimming off the coast of Myrtle Beach earlier in the trip, Lexi did not appreciate being reminded that sharks shared the same waters. 
"I feel like they're going to eat me," she said. 
Sharks are not the man-eating monsters dramatized in movies like "Jaws," circling the ocean in search of a human snack to chomp on. Adult great whites, the most iconic species of shark, are mostly interested in preying on seals.
Over the long term, there's been only five shark bites a year on average in South Carolina, Frazier said. 
Globally, humans are more likely to put sharks in danger than the opposite. Demand for shark fin soup in Asian countries has helped fuel a conservation crisis as commercial operations catch sharks, remove the fins and then throw the rest of the animal back in the water to die. Demand for the dish has waned since 2011 in China due to aggressive public awareness campaigns but is still strong in other countries on the continent, according to The Washington Post. 
In the waters around South Carolina, many shark populations that are struggling from over-fishing globally, like some hammerheads, are doing relatively well. Anglers can even take one home, provided they're not protected and meet the size minimums set by DNR.
Anglers with a hammerhead on the line are in for an epic struggle, something that makes the fishing experience more fun for customers. But that fight can prove deadly down the line for the animal, even if they're returned to the water. 
Frazier said that after they're released, hammerhead sharks can be so overwhelmed with lactic acid — the same chemical that gives people sore muscles after a tough workout — that they don't survive in the water. 
"The distress response can build and it can become lethal," he said. 
Fishing bans
Renno said he's had a lifelong love of shark fishing that started when he visited a family friend in Surfside Beach as a kid. Teenagers would congregate on the pier in the Grand Strand town and try to reel in sharks every Tuesday night, mostly out of view of parents or other authority figures. 
Today, purposefully fishing for sharks is banned there, as in the entirety of Myrtle Beach and off the pier in Folly Beach. Sharks don't mix well with beach-going tourists, and sometimes prompt lifeguards to call swimmers out of the water. 
In a few situations, anglers directly compete to catch and kill the biggest sharks possible. Edisto Watersports and Tackle has held a competition annually since 2010, but some competitors have gotten in trouble for bringing in species that are protected by state and federal law. 
In 2017, wildlife regulators spotted some pictures on Facebook that showed endangered species might have been killed in the tournament. Frazier said some competitors had been flagged during this year's competition as well but declined to give more details because of an ongoing investigation.
Dillard Young, who runs the Edisto tournament, could not be reached after multiple phone messages. 
Chip Michalove, who operates Outcast Sport Fishing out of Hilton Head, said he'd competed in shark fishing competitions in the past, but he's since become disillusioned with them.
"Here I am (killing) a 40-year-old fish just so I can look like Dale Earnhardt for an hour," he said, adding that he doesn't want to "drag in a fish that was older than me just for pats on the back."
Today, Michalove's charter company releases all the sharks they catch when they take out paying customers. He also helps tag and DNA sample some sharks, including great whites, for studies done by researchers. He famously reeled in one that was 2,500 pounds in 2016.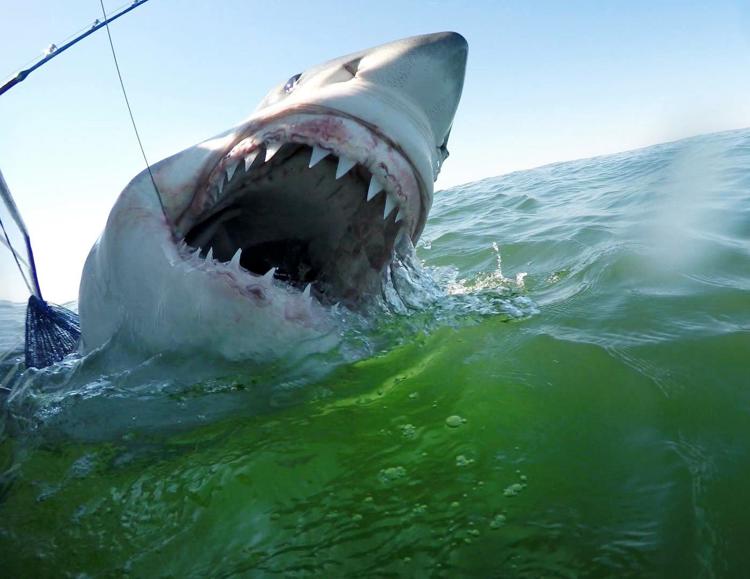 The big one
The Collick family, by contrast, was struggling to pull in a much smaller animal. 
Chad had come over to help his daughter. He was trying to support the rod while Gabby continued to reel in the fish, but they still weren't making much progress. Nearby, mom Jodee diligently recorded the encounter on an iPhone. 
The trick, Renno suggested, was to jerk the pole upward sharply, then pull in the line a little, then repeat. That way, the nose of the shark would be pointing up, making it easier to drag it to the surface. 
"How do people do this?," Gabby wailed as little by little the line came up. 
But just as a neon balloon tied to the string peeked out of the water, indicating there were only a few feet of line left — snap — the tension in the rod was suddenly released.
The shark had bitten the line and freed itself. The water was so murky nobody had even gotten a peek. 
Chad's previous record would have to stand for now: a 28-pound salmon, caught back home in Michigan.
"I'd say these things pull a little harder than salmon," he said.