A series of four fires that broke out in and around Charleston's East Side neighborhood from early March to early May offers a window into what officials call one of their most persistent challenges: squatters in vacant homes and buildings.
The first blaze happened March 3 at 29 Henrietta St., according to the Charleston Fire Department. The second happened on April 22 at 25 Cedar St. and a third just four days later at 68½ Lee St. The most recent fire broke out on May 1 at 18 Sheppard St. All four remain under investigation.
"In each case, the buildings were unsecured and we had evidence of squatters either frequenting the building or even living in the structure," said Mike Julazadeh, chief fire marshal for the city.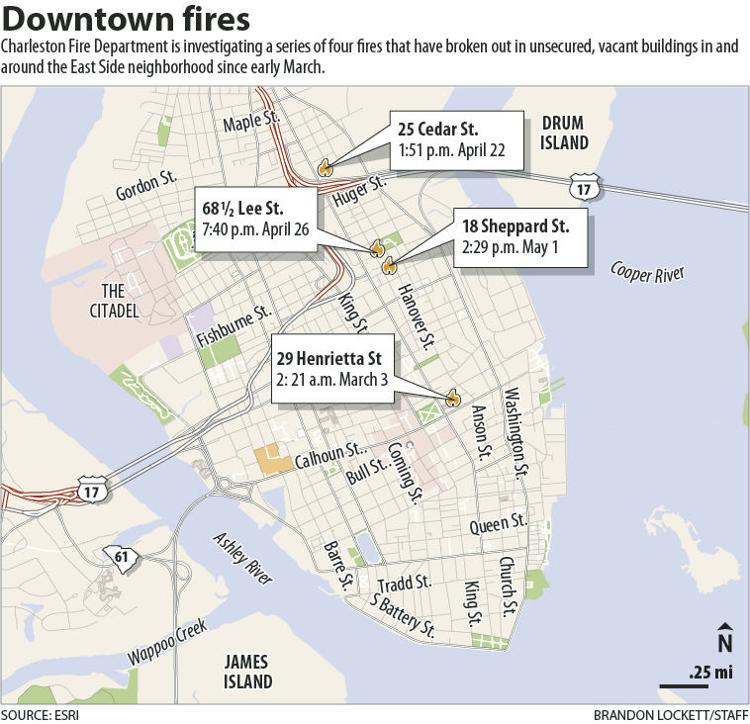 There are about 255 vacant buildings across Charleston, said Dan Riccio, director of the city's Department of Livability and Tourism. Of that total, some are in various stages of renovation and could be cleared for habitation in the future. 
The city has grappled for years with how to best balance keeping historic buildings with the negative impacts that abandoned or vacant properties can have on a community. 
In January 1999, three homeless men died in a fire that gutted a vacant building at 348 King St. The victims had started a fire to keep warm, authorities said at the time.
That fire, which threatened surrounding buildings, spurred the city to rethink its approach to derelict properties. Code enforcement duties were transferred to the fire department.
Three years earlier, ongoing issues with abandoned properties and demolition by neglect led to the creation of a Code Enforcement Board, according to a story in The Post and Courier. 
"These are problems we've been facing for years, but nobody has been doing anything," Charleston City Councilman James Lewis said at the time. 
While a home is vacant, the best way to ensure that it is not broken into by squatters is to keep it boarded up in accordance with city codes, such as using screws to secure boards instead of nails, Riccio said. 
The city's ordinances also lay out minimum standards and a timeline for restoring properties that are uninhabitable, he said. 
"It is a challenge when money's involved so there are resources out there that we direct them to," Riccio said. "We work as closely as we can with them."
Latonya Gamble, president of the Eastside Community Development Corporation, said most residents she's heard from want to know whether the fires were accidental or cases of arson.
Gamble and Shelia Fields, vice president of the community nonprofit, said they see an issue with vagrants in the East Side at times. A group of about 10 homeless people has alternated between living outside and searching for abandoned properties to squat inside  when the weather turns cold or rainy, they said. 
Residents of the East Side are vigilant, Gamble said, but many are unsure of the protocol besides calling 911. Catching squatters inside an abandoned property can be difficult.
In addition, some residents may be reluctant to be seen speaking to police about a crime, Gamble said. 
"People want to help but ... it looks like a large community but it's small and people are watching all the time," she said. "I just think that no one wants to put themselves in harm's way just doing their civic duty."
Charleston Police Lt. Charles Hawkins has overseen the department's Patrol Team One, which serves neighborhoods on the northern part of the peninsula, including the East Side, for the last eight years. 
The key to solving the issue of vagrants squatting in abandoned buildings is for the community to come together and for owners to make sure their properties are kept up to code, Hawkins said. 
For example, some property owners who live outside the Charleston area have given the Charleston Police Department written permission to enter their properties and arrest trespassers, the lieutenant said.
"We know that abandoned properties breed trouble," Hawkins said. "The key is getting everybody to work together."
As they investigate, Julazadeh and other city authorities are encouraging residents to keep an eye on any vacant buildings around them. 
Anyone who sees an unsecured building should call the city's Livability Division at 843-724-7311 or email citizenservices@charleston-sc.gov, the fire marshal stated. If people are seen going in and out of these structures, residents should call 911.
Anyone who has information on any fire should call the Charleston Fire Marshal Division at 843-724-3429 or the Charleston County Consolidated 911 Center's non-emergency line at 843-743-7200. Those who want to stay anonymous should call CrimeStoppers of the Lowcountry at 843-554-1111.