COLUMBIA — Free to spend unlimited amounts of money, outside groups dropped more than $6 million on South Carolina's elections last year, promoting their favorite candidates, attacking their political opponents and barraging voters with non-stop ads.
Many of the groups behind this advertising blitz were not required to disclose their donors, blinding the public to the people and corporations seeking to plant their preferred candidates in office.
The Post and Courier identified at least 21 groups that bankrolled independent advertising campaigns in the Palmetto State last year. But it's difficult to know the full scope of these organizations because South Carolina is one of only three states — along with Alabama and Indiana — that doesn't track any third-party spending in its elections.
The groups used obscure names like State Solutions Inc., the Conservative Leadership Alliance, the Palmetto Prosperity PAC, the American Future Fund, South Carolinians for Ethical Leadership and Citizens for a Working America.
Most of them benefited Republicans. A few supported Democrats. Some targeted legislative races. One focused on school board candidates. Several pinpointed congressional contests. Others sought to sway South Carolina's race for governor.
But they all had one thing in common: They were free to dole out as much money as they could muster through their networks of nonprofits, limited liability companies and political action committees — a system that often cloaks their donors in secrecy. 
The spending spree highlights the new world of campaign finance after a string of federal court decisions in 2010 gutted South Carolina's election laws and opened the door to a new wave of political spending throughout the country.
The more than $6 million verified by The Post and Courier is likely only part of the story.
It's impossible to know exactly how much was spent because the state doesn't monitor these groups. In many instances, the only financial records available for the organizations were television advertising contracts maintained by the Federal Communications Commission.
For perspective, the $6 million is still more than all of the Republican and Democratic candidates for the South Carolina House spent combined in 2018.
Campaign finance experts believe this bonanza will only increase in the future as wealthy donors and powerful interests continue to seek influence over elections.
"It certainly has been increasing, and pretty dramatically," said Erin Chlopak, an attorney with the Washington, D.C.-based Campaign Legal Center, which monitors campaign finance laws. "They're essentially drowning out the voices of regular Americans and excluding them from the political process."
Candidates aren't allowed to coordinate with these independent advertisers. But, even without communication, the groups do a lot of heavy lifting for select politicians by funding mailers, radio spots, online ads and television commercials.
Yet almost none of the groups involved in the state or local races last year filed a single report with the South Carolina Ethics Commission, the agency responsible for policing the state's campaign finance laws.
Unless lawmakers require them to, they probably never will. 
Being discovered
Gov. Henry McMaster's bid to win the state's highest office last year is a good example of this new era of political spending.
McMaster, a Republican who was promoted to governor when Nikki Haley became U.S. ambassador to the United Nations, personally raised more than $8 million to finance his own election.
But he was also boosted by seven different organizations that spent at least $1.7 million to help propel him into the governor's office. During the campaign, the groups plastered McMaster's face on television and broadcast unflattering commercials about those who ran against him.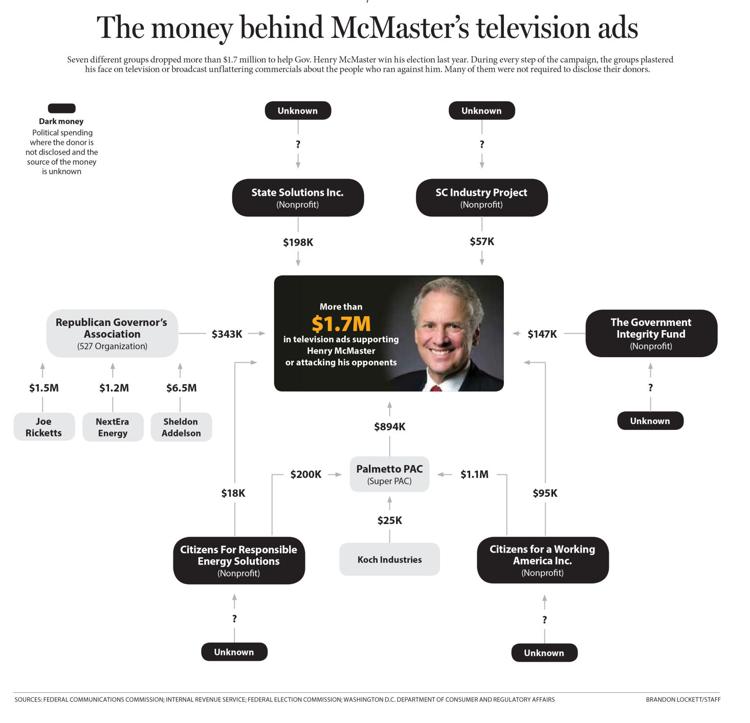 The Government Integrity Fund, an Ohio-based nonprofit, ran ads during the Super Bowl featuring McMaster's executive order that called on people to stand for the national anthem.
Citizens for a Working America, a Virginia-based nonprofit, spent more than $1 million on attack ads and videos showcasing McMaster grinning next to President Donald Trump.
And the American Industry Project, a nonprofit in Washington, D.C., attempted to link one of McMaster's Republican opponents to SCANA Corp., the primary owner of a failed nuclear project in South Carolina.
The names of the people who gave smaller donations — at most $3,500 — directly to McMaster's campaign are public. Anyone can look them up on the State Ethics Commission website. 
But most of the people who poured hundreds of thousands of dollars into the advertising campaigns on McMaster's behalf remain anonymous and nearly impossible to discover. That's why many of these groups are referred to as "dark money." 
"The donors behind these groups are opaque," said Pete Quist, a research director with the  Campaign Finance Institute, which studies political spending in all 50 states. "You can have one individual or group come in and make a huge impact in these elections."
McMaster, a former state attorney general who regularly talks about the need to bring government "into the sunlight," declined numerous interview requests for this story.
But he was not the only candidate backed by these groups. 
One nonprofit in the Lowcountry spent more than $235,000 on four candidates for the Charleston County School Board.
Congressional candidates in South Carolina's 1st and 4th District races had at least seven different groups come to their aid, though some were more transparent than others.
And three of McMaster's Republican and Democratic opponents had similar outfits to support them in the most expensive gubernatorial race in state history. The American Future Fund dropped more than $1.6 million alone to assist Catherine Templeton before she lost the Republican primary for governor.
The outside advertising, Templeton said, has become a necessity in modern elections since politicians have to pay for their name recognition.
She was proud to be backed by a nonprofit that anonymous donors once used to finance ads for Republican presidential candidates like Mitt Romney and Marco Rubio.
"It really does feel like you have been discovered," she said.
Not everyone is as pleased with the spending free-for-all.
The underbelly of campaign finance
The first attack ad came onto the television as Larry Martin was getting dressed in the morning.
He was tuned into the local news station when his face appeared on the screen, plastered over a cartoon caricature. A group called Better Future for Our Community was telling voters in the Upstate how Martin, a Republican lawmaker of 37 years, had been "ripping off taxpayers for decades."
It was 2016. All of the lawmakers in the South Carolina Statehouse were running for reelection. But Martin was the only one being targeted by this group.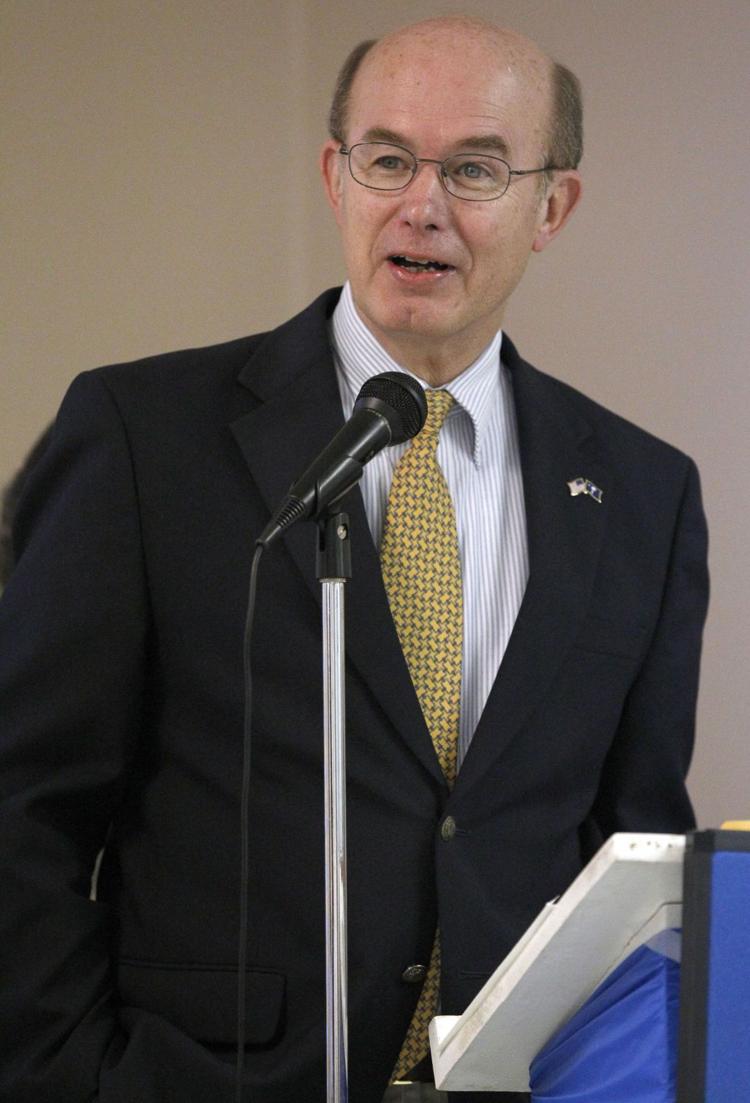 The address in Easley listed on the ad couldn't explain who was behind it. Nobody heard of the group before. There was no company or organization registered by that name.
Martin, then chairman of the Senate's powerful judiciary committee, could speculate who might want him out of office. He heard rumors. But South Carolina's laws left Martin and the voters in his district with no way to confirm who was financing the ads or what their motives were.
In the end, the faceless group got what it wanted: Martin grabbed the most votes in a four-way primary, but he lost a competitive runoff by 935 ballots.
It took another two years and several subpoenas for him to finally learn who was behind the anonymous advertising campaign.
A state grand jury investigating corruption in Columbia released a report last year. It detailed how the South Carolina Association of Justice — a collection of trial attorneys — spent more than $200,000 to defeat Martin and remove him from the coveted position of judiciary chairman.
The trial attorneys hired Richard Quinn & Associates, a powerful consulting firm that was shut down by the corruption probe, to manufacture Better Future for Our Community and produce the political ads, according to the report.
They attacked Martin for collecting a state retirement and voting for tax increases to fix roads. But, according to the grand jury report, the real reason they targeted Martin was because he supported laws limiting the money trial attorneys could collect in civil lawsuits. 
Heath Taylor, an attorney representing the trial lawyer association, said the grand jury report "speaks for itself." Martin believes the group's actions may have killed his reelection.
"Had the public known that, they may have viewed those campaign commercials in a different light," Martin told The Post and Courier. "They wanted the chairmanship of the Senate Judiciary Committee.
"The public really doesn't appreciate how bad it is and how filthy and ugly the underbelly of campaign finance really is," he added. "If they did, they'd be marching on Columbia to get it changed."
The grand jury agreed. They issued a warning about the untraceable money that is infiltrating South Carolina's elections and called on lawmakers to fix the state's feeble laws.
That call to action has yet to register in the South Carolina Statehouse.
A one-two punch 
It wasn't always this way. Prior to 2010, there were stricter rules in place for political spending and advertising.
Unions, corporations and nonprofits were banned from directly financing campaign ads. All of the political action committees registered at the federal level had limits on how much a single person could donate to them. And it was more difficult for people to mask their spending behind shell organizations.
That ended with a series of federal court decisions culminated by the U.S. Supreme Court's 2010 ruling in Citizens United v. Federal Election Commission.
Five Supreme Court justices in that case decided corporations and unions had a constitutional right to spend unlimited money on political ads. Those justices reasoned the spending wouldn't corrupt elections as long as the groups disclosed who was writing the checks.
But it hasn't played out quite that way.
The floodgates opened. Billions of dollars in new political spending poured into national elections almost overnight. Corporations and wealthy individuals began to pass their money through shell companies to hide their fingerprints. And it didn't take long for it to cascade down into state and local races, too.
South Carolina's campaign finance law suffered its own blow less than eight months after the Citizens United decision was handed down.
In that case, a federal judge effectively stripped the State Ethics Commission of its ability to track groups advertising in state and local races.
Cathy Hazelwood, an attorney for the Ethics Commission at that time, summarized the outcome this way: "They can do whatever they want."
Together, the controversial rulings delivered a one-two-punch to average South Carolinians who can no longer discover who is paying for the political messaging that arrives in their mailboxes or on their television screens.
Tools of the trade
It took weeks to track down the various groups involved in last year's elections. And even when they were identified, it was difficult to calculate how much was spent by each group.
There is no one-stop shopping for information on these political advertisers. 
The Post and Courier scoured records with the state ethics commission, the Federal Communication Commission, the Federal Election Commission, the Internal Revenue Service and the South Carolina Secretary of State in an attempt to trace back each groups' finances.
The system is a maze of political action committees and corporate entities. And often, the goal is to disguise the real source of the cash. 
The various groups used in this arena are just the tools of the trade. Many are passed from one election cycle to another. They sit idle in off years and spring back to life once they're refueled with fresh campaign donations and a new list of candidates to attack.
Citizens for a Working America, for instance, helped anonymous donors take down former Democratic congressman John Spratt in 2010 before it was turned on McMaster's opponents last year. 
Of course, not every group operates in the dark. 
The Conservation Voters of South Carolina is registered with the State Ethics Commission. It voluntarily released a list of state lawmakers it assisted with campaign mail and online ads last year.
The 314 Action Fund spent $523,000 to support new Democratic Congressman Joe Cunningham and attack Republican Katie Arrington in South Carolina's 1st District race. But it listed its donors, including millionaire Matthew Roszak, the founder of Bloq, a cryptocurrency company.
The same was true for A Bright New Day, which backed Republican gubernatorial candidate John Warren. It got almost all of its money — $100,000 —  from Pat McKinney, a real estate developer and Warren's running mate in the election. 
But transparency is the exception, not the rule. 
Political action committees registered with the federal government regularly shield their donors by funneling their money through nonprofits first. And at the state level, it's even easier. All you need is a random name to hide behind. 
That's exactly what these groups take advantage of. 
Hoping for some sunshine
State and federal lawmakers are likely powerless to curtail the billions of dollars now being thrown at political advertising campaigns nationwide. The U.S. Supreme Court settled that when they decided unlimited spending on campaign ads is considered free speech.
Elected officials, however, can still enforce and tighten laws that require these secretive groups to disclose their donors. And some lawmakers are eager to do just that.
The first bill filed in the Democratic-controlled U.S. House this year is the For the People Act. The wide-ranging legislation would, among other things, mandate more transparency for the corporations and nonprofits that began spending millions in the wake of Citizens United. 
That would help shine a light onto groups like the Conservative Leadership Alliance, which enabled anonymous donors to spend more than $337,000 last year attacking Republican congressional candidate Lee Bright in the state's 4th District race.  
Rep. Gary Clary, R-Clemson, also plans to unveil a bill in the Legislature to re-empower the State Ethics Commission. The proposal could require groups that insert themselves into local or state races to disclose how much they spent, the type of advertising they used, what races they targeted and, most importantly, who their donors are.
That bill would throw back the curtains on groups like South Carolinians for Ethical Leadership, a corporation that spent $110,000 on Democratic gubernatorial candidate James Smith.
And it would clue the public into mysterious groups like the Palmetto Prosperity PAC, which came out of nowhere to spend at least $98,000 attacking McMaster in the Republican primary runoff. 
"I think government functions best whenever it is in the sunshine, and this is a crucial part of government," said Clary, an outspoken advocate for ethics reform.
"We need to know who is actually pulling the strings on these elections," he said.
The state and federal legislation isn't passing tomorrow. It's likely to be a tough sell on Capitol Hill and in the Statehouse.
Almost all of the Democrats in the U.S. House have cosponsored the federal campaign finance bill. It's all but assured to pass that body. But it doesn't have a single Republican signatory, making it very unlikely to get through the Republican-led U.S. Senate.
Back in Columbia, efforts to reform the state's campaign finance laws have a history of falling by the wayside. Not even the results of the state corruption investigation seems capable of prodding the Legislature into action.
Meanwhile, the clock is ticking. The 2020 elections are just around the corner, as is another wave of anonymous spending.