A member of the Charleston County School Board told the district superintendent in June it would be a "common courtesy" for her to help get his child into a prestigious public magnet school.
The Rev. Chris Collins, the longest-serving member of the nine-person board, sent at least six emails to Superintendent Gerrita Postlewait between January and June 2017 discussing his child's application to the Charleston County School of the Arts, according to documents obtained via a Freedom of Information Act request.
As a board member, Collins helps evaluate the superintendent and can vote on motions to hire or fire a superintendent. After a tumultuous spring semester that included protests against the district's teacher evaluation methods, Collins emailed Postlewait on June 9. He was capping off a series of requests for updates on his child's admissions status.
"With all the turmoil in Charleston County, so many teachers, employees, principals and constituents upset with you, it seems to me you want to be at peace with board members. When it's in your power to do good, I expect you to do good," Collins wrote.
He added, "Superintendents all over the country assists [sic] board members in getting (redacted by district) children in Magnet schools like Buist. That is just common courtesy of superintendents."
About one-third of the 828 applicants to the county-wide magnet School of the Arts were accepted for 2017. Collins said his child made it onto a waiting list but was not accepted.
In an interview Monday, Collins said he saw nothing unethical about his emails to Postlewait. He also said he would support creating a district policy allowing school board members to place their children in schools of their choice.
"The public doesn't commit the time that we do. We commit the time and effort to it," Collins said. "Our time is worthy of something more than $25."
Charleston County School Board members are paid $25 per meeting, one of the lowest rates among paid boards in the state. One-third of the state's boards are all-volunteer, including in Lexington District 1, the seventh-largest district.
Collins previously voted in July to give each board member a $14,000 raise, which the board rescinded after a legal challenge.
Collins said he never sought preferential treatment for his child during the audition or application process. He emailed the superintendent on Jan. 30 asking for help with the web-based school choice application. The district has an FAQ page and a dedicated phone hotline for questions about applications.
He did not broach the topic in writing again until May 11 when he wrote, "When will (redacted) get a letter of acceptance to SOA?"
Postlewait replied that his child was on a waiting list and would receive an acceptance letter if a slot opened.
Collins requested updates on May 12, May 16, June 6 and June 28. On June 7, Postlewait replied to an email in which Collins accused her of "playing games."
"You have asked me repeatedly over the past few weeks to interfere with the selection process and 'place' (redacted) as a sixth grader at the School of the Arts," she wrote. "As I have explained to you, there are established protocols for student application and selection, and the superintendent does not have the authority to enroll any student outside these protocols."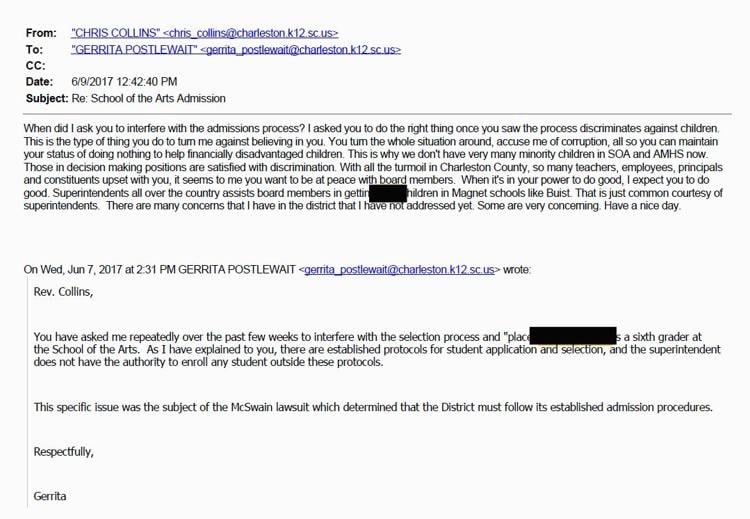 South Carolina state law does not specifically address the issue of public officials influencing a magnet school's admissions process. It does include conflict-of-interest laws that prohibit using a public office to advance the "economic interest" of oneself or a family member.
Steve Hamm, interim director of the state Ethics Commission, said he could not comment on Collins' case specifically but could generally say how the state ethics law applies. 
"I'm married to a school superintendent," Hamm said. "You start off continuing to have your basic free speech rights. But if a school board member intends to use their position as a school board member to influence an outcome in something, they need to proceed very cautiously."
Locally, Charleston County School Board Policy BCB states, "Board members shall avoid engaging in conduct that creates a conflict of interest with the board member's duties to the district or that appears to create such a conflict." The board can vote to censure one of its members, but the policy does not include a penalty or enforcement clause.
Board Chair Kate Darby, who was re-elected to her post in a tense 5-4 board vote Monday, said Collins' emails raise ethical questions.
"As elected board members, we shouldn't be asking the one person who is employed by us — who we determine their employment future — to give us a favor or to give us a consideration that all of our 50,000 students don't get," Darby said.
Like Darby, board member Todd Garrett said he would not support a policy giving preferential treatment to board members' children in the admissions process.
"It's a position of honor that you do to serve the community. It's not to enrich yourself," Garrett said. "It's not to get privileges for you and your family."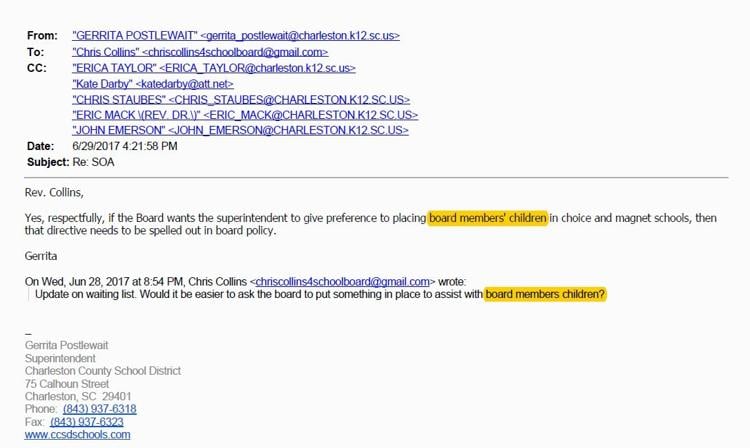 Collins, who is black, framed the issue in May as part of a broader conversation about a lack of racial diversity at the district's magnet schools.
"SOA accepted very few minority children this year and has a history of such," Collins wrote May 12.
Collins also accused fellow North Charleston school board member Cindy Bohn Coats, his frequent sparring partner, of invading his family's privacy by asking the superintendent about the requests he had made.
"Her only concern was to create havoc for me and others and to keep as many minorities out of schools as possible," Collins said Monday.
Coats denied the accusations.
"It would be a news story if Chris was not blaming me for something," Coats said.
Collins, who once faced conflict-of-interest scrutiny after his church rented space in a school district building, quoted the Bible in an email to fellow board members after Coats questioned his actions. On May 19, he shared James 3:16-18, which says in part, "For where you have envy and selfish ambition, there you find disorder and every evil practice."
Postlewait eventually was looped into the email chain and said she had the impression that Coats' questions arose because "parents were alleging unfairness" in the admission process. Darby wrote to confirm Postlewait's account of a conversation she had with Coats about it.
"Kate please!!!" Collins replied. "I know you want to help, but you are not helping at all. As Jesus said, you shall know the truth, and the truth shall make you free."