South Carolina saw significant action in both the Revolutionary and Civil wars, including more than 100 Revolutionary War battles and skirmishes — more than any other state.
Most of the Civil War fighting unfolded along the coast, as Union forces fought for years in a largely futile effort to capture Charleston. In contrast, the Revolutionary War played out in almost every corner of the state.
Some battlefields, such as Fort Sumter and Kings Mountain, are well-known. Others, such as Waxhaws or Fort Motte, are not but soon could see more attention as part of an emerging "Liberty Trail" effort. The state has many other important battle sites, but this list was designed to give a brief overview of some of the Palmetto State's most significant engagements.
Revolutionary War
1. Ninety Six: In 1775, some of the first fighting in South Carolina unfolded here at an Upstate outpost just east of Greenwood. Patriot and loyalist forces clashed to control gunpowder and lead being sent to the Cherokee Indians. The patriots won, but the British gained control of the outpost's star fort in 1780. Patriot Gen. Nathaniel Greene laid siege to the fort in 1781 but was unable to take it. The British army soon abandoned it. It's currently a national historic site.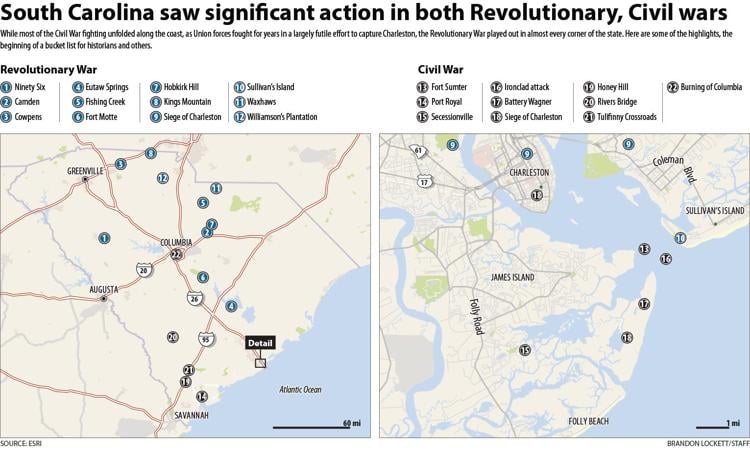 2. Sullivan's Island: Seven days before the Declaration of Independence was adopted, the Battle of Sullivan's Island provided an important early bright spot in the American cause. A small band of patriots in an unfinished fort made of palmetto logs prevented nine British warships from entering Charleston Harbor and taking the city. The battlefield, remade over time with more modern fortifications, is now a National Park Service site with a fort named in honor of William Moultrie, the patriot commander during the 1776 fight. The state's flag features the palmetto tree of which the first fort was constructed. The event is celebrated locally every June 28 as Carolina Day.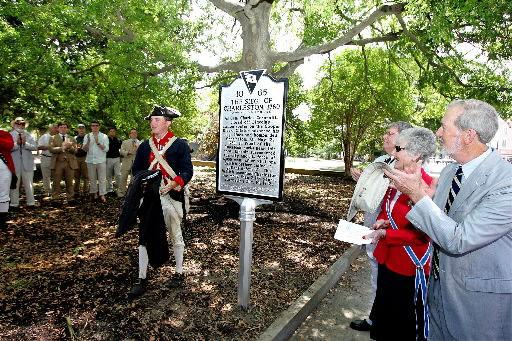 3. Siege of Charleston: In May 1780, the British returned to Charleston, arriving by land this time. After maneuvering down the peninsula to the city's main defense at what today is Marion Square, they successfully laid siege to the city. The May 12 capturing of Charleston and 5,500 men under the command of Maj. Gen. Benjamin Lincoln was heralded across the British Empire. The battlefield today is the city (a tabby outcrop in Marion Square is all that remains of the enormous hornwork). Archaeologists only recently pinpointed evidence of a surviving siege line and plan to look for more.
4. Waxhaws: In late May 1780, a few weeks after Charleston fell, British regulars and loyalists led by Col. Banastre Tarleton caught up to a patriot force led by Col. Abraham Buford in what today is Lancaster County. The battle, sometimes called "Buford's Massacre," saw the patriots slaughtered, even as some tried to surrender. News of the battle turned the hearts of many South Carolinians against the Crown. The South Carolina Battlefield Trust has 58 acres of the battlefield and is negotiating for another large addition.
5. Williamson's Plantation: In July 1780, British Capt. Christian Huck was dispatched to root out rebel activity. His men camped at a plantation abandoned by James Williamson in what today is Lancaster County. Patriot forces learned of the location, surrounded them early the next day, and dealt heavy casualties while losing only one of their own. The battle, also known as Huck's Defeat, marked the patriots' first successful check of British military might since Charleston fell two months earlier.
6. Camden: Later in August 1780, British Maj. Gen. Horatio Gates took over the southern Continental Army and planned to surprise a British garrison in Camden. But British Gen. Lord Cornwallis learned of the plan and marched about 1,000 soldiers in to reinforce the garrison. The two armies clashed 6 miles north of town, and about 800 Americans were killed or wounded in one of the Continental Army's worst defeats. The Historic Camden Foundation owns about 500 acres and could another 292 acres later this year.
7. Fishing Creek: Patriot Gen. Thomas Sumter had his force caught by Lt. Col. Banastre Tarleton on Aug. 18, 1780, by Fishing Creek. Despite their exhaustion from a long, forced march in pursuit, British forces surprised the patriots and inflicted heavy losses in what could be considered the lowest point in the patriotic cause.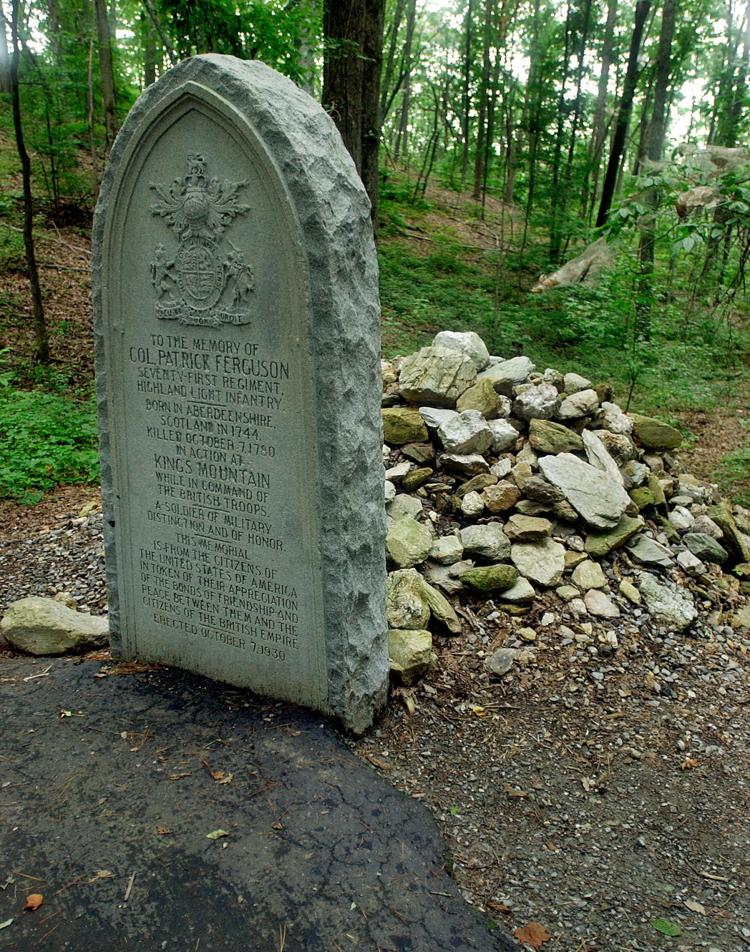 8. Kings Mountain: British Maj. Patrick Ferguson was sent to deal with rebels and try to recruit Tories in September 1780. He chose to make a stand at Kings Mountain, a dominant point in the foothills along the South Carolina-North Carolina line. Ferguson did not build any fortifications there, however, and patriots used trees for cover as they moved up the mountain to attack. Ferguson was killed, and most all of his 1,000 men were either killed, wounded or captured. The battlefield is now a National Military Park.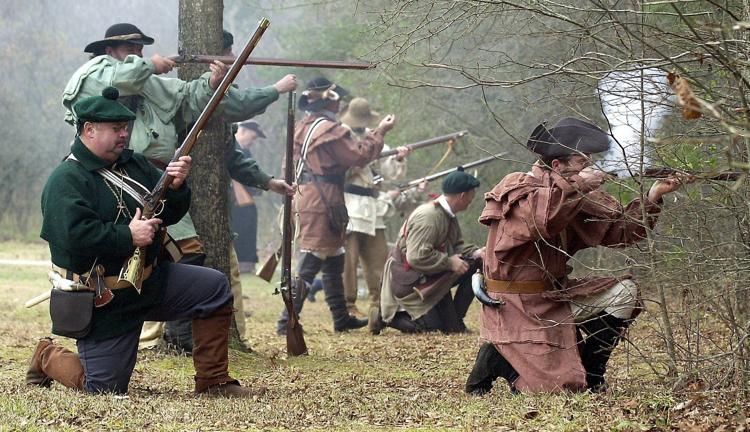 9. Cowpens: Patriot Gen. Daniel Morgan moved his force in January 1781 to a Cherokee County site known as Hannah's Cowpens, where it met and routed the British led by Tarleton. With total British casualties around 800 (compared with 25 Americans killed and 124 wounded), this battle is considered a significant turning point in the war, building on the success at Kings Mountain. The battlefield is now run by the National Park Service.
10. Hobkirk Hill: In late April 1781, Maj. Gen. Nathanael Greene was seeking to rid the British from their last interior outposts in South Carolina. His 1,200 Continentals and 250 militia gathered on a hill about 2 miles north of Camden. British commander Francis Lord Rawdon tried to surprise Greene's men, and they fell back to the old Camden battlefield site. The battle was a tie, but Rowden withdrew his forces to Charleston a few weeks later, marking the beginning of British retreat from the state's interior.
11. Fort Motte: On May 6, 1781, Brig. Gen. Francis Marion and Lt. Col. Henry Lee moved to lay siege to the British encamped at Fort Motte, the plantation home of Rebecca Motte of Charleston. As they saw British re-enforcements approach, the patriots set fire to the plantation home, which was the bulk of the fort in addition to a ditch and parapet. The British had to surrender, and Motte entertained officers from both sides later that night.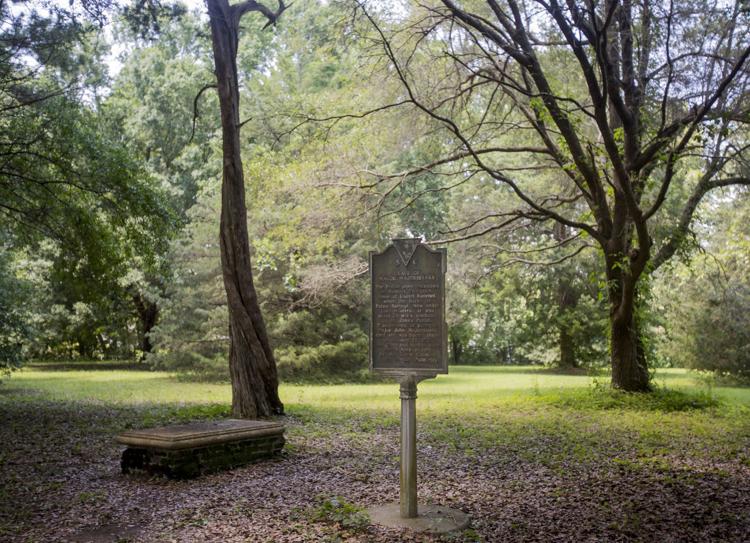 12. Eutaw Springs: In early September 1781, eight months after Cowpens, this battle marked South Carolina's last major Revolutionary War engagement. Greene's force clashed with about 2,300 British and Loyalist troops in what today is Orangeburg County. Losses exceeded 500 on both sides in a battle won by the British. The American commanders included a who's who of patriot heroes, including Francis Marion, William Washington, Henry Lee, Andrew Pickens and Wade Hampton. A small park commemorates the battle, and the S.C. Battleground Trust owns five ot
Civil War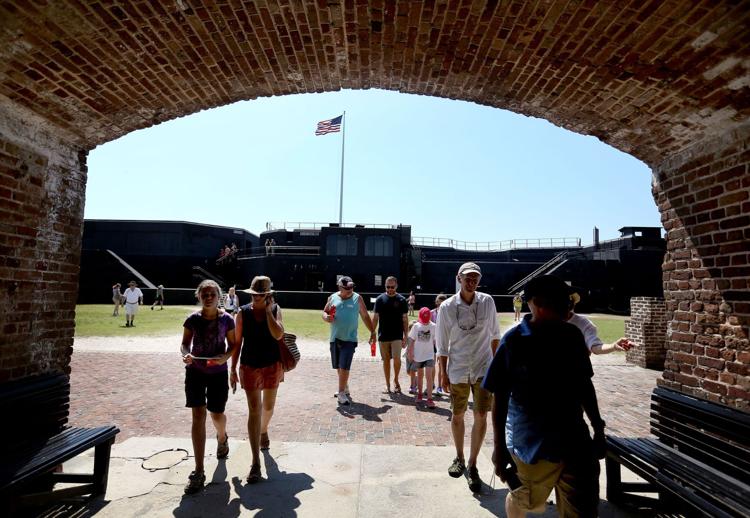 1. Fort Sumter: Though Confederate forces fired on the Union supply ship Star of the West some months earlier, the predawn shelling of Fort Sumter on April 12, 1861, is widely regarded as the start of the American Civil War. After 34 hours, the Union surrendered its still unfinished brick fortification on a man-made island at the entrance to Charleston Harbor. No one was killed from the shelling, but the event set in motion the United States' bloodiest war ever. The island fort is a National Historic Site soon becoming a National Park.
2. Port Royal: Seven months after surrendering Fort Sumter, Union forces returned to South Carolina with 17 warships and 58 support vessels. They sailed south of Charleston, toward Hilton Head Island and Bay Point. After five hours of shelling on Nov. 7, 1861, Confederate forces abandoned their two forts at the entrance to Port Royal Sound. The Union victory provided a significant morale boost, enabled a huge Union military presence near Charleston and brought freedom to thousands of slaves in the Port Royal area. The Port Royal Experiment, designed to prepare former slaves for citizenship, was on.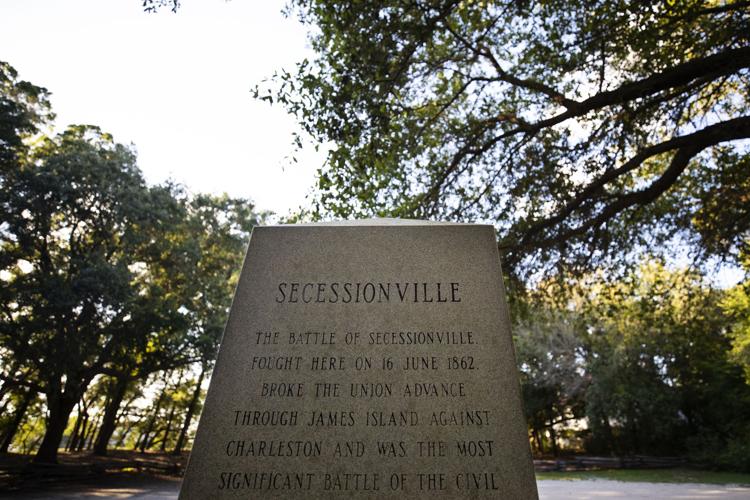 3. Secessionville: On June 16, 1862, Union generals decided to attack Confederate defenses on James Island from two directions. Gen. Henry Benham attacked the Confederate Tower Battery near the planter village of Secessionville, but a smaller number of Confederate defenders repulsed waves of Union attackers. Almost 700 of the Union's 4,500-strong force were casualties. The Confederate force numbered only about 1,000 and had fewer than 200 casualties; more importantly, its win extended the war. The battlefield is owned today by the South Carolina Heritage Trust.
4. Ironclad attack: On April 7, 1863, nine federal gunboats returned to Fort Sumter and battled for more than two hours, trying to take out Confederate defenses at the harbor's entrance. They didn't succeed, and the Union Army would adapt its plan to try to attack the fort from land. As the war continued, Union guns reduced Fort Sumter to an earthen fort of brick and rubble, but Confederate defenders had time to rearrange their defenses of Fort Sumter and the city.
5. Battery Wagner: The main earthen fortification on Morris Island protected Cummings Point, the land closest to Fort Sumter. In July 1863, Union forces arrived from Folly Island and tried to take Battery Wagner. Members of the 54th Massachusetts Regiment, a new regiment of black soldiers led by Col. Robert Shaw, led the way, but ultimately lost on July 18. Union casualties exceeded 1,500, compared with 222 on the Confederate side. The battle, which unfolded on land now underwater, was depicted in the climactic scenes of the 1989 movie "Glory." 
6. Siege of Charleston: With Union forces in control of Folly Beach and Morris Island, they turned their guns on the city. On Aug. 22, 1863, Lt. Charles Sellmer, with a detachment of the 11th Maine Infantry, was called in to man a 200-pound Parrott rifle some called the "Swamp Angel." It fired into Charleston using the steeple of St. Michael's Church for a bearing, and Union leaders defended the move by noting the city was an ammunition supply. Many downtown buildings still have attic beams damaged by the shelling.
7. Honey Hill: As the war was winding down, the Union began a series of attempts to sever the railroad line between Charleston and Savannah, a strategic link not only for communications but also for shuttling Confederate troops to where they were most needed. As Union Gen. William Tecumseh Sherman moved toward Savannah, cutting this link was a priority. But the federals were repulsed on Nov. 30, 1864. The town of Ridgeland owns the battlefield and plans to create a park there.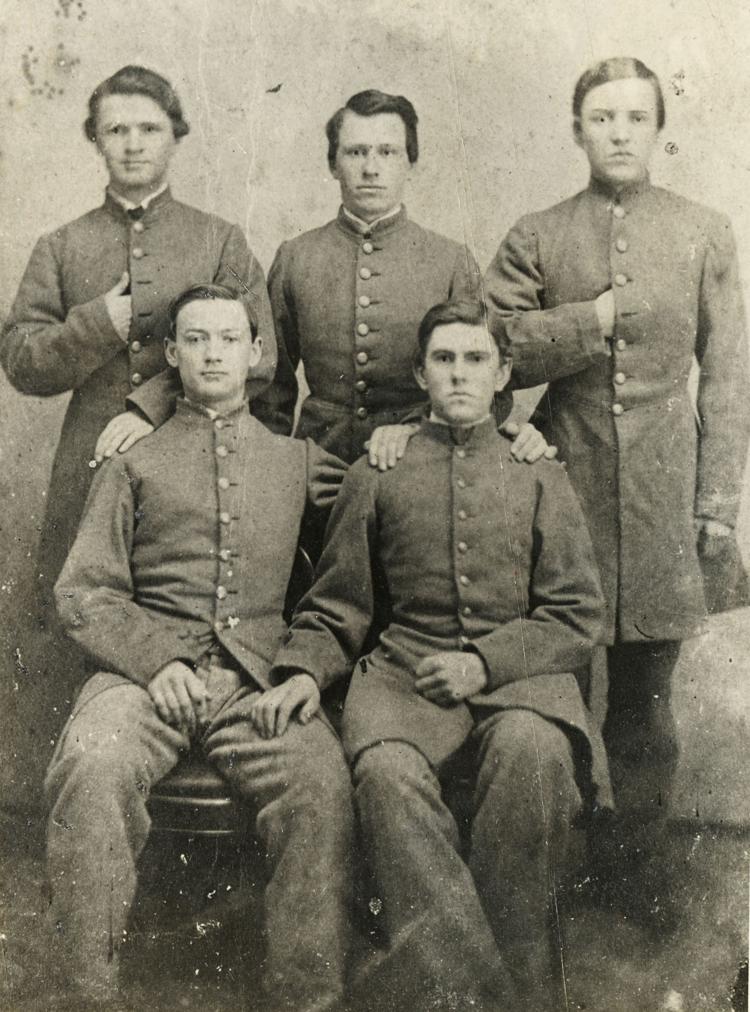 8. Tulifinny Crossroads: A week after Honey Hill, Gen. John Hatch led a group of Marines, sailors and infantry, and they struck at the railroad near Tulifinny Crossroads, a narrow area between the Tullifiny and Coosawhatchie rivers. The Confederates, now under Gen. Sam Jones, stopped the Union from reaching the railroad. By mid-January, however, Confederates would abandon their hopes of protecting the railroad line.
9. Rivers Bridge: On Feb. 2 and 3, 1865, 1,200 Confederates engaged about 7,000 Union troops in southern Bamberg County. The fight would be the only major resistance to Sherman's march through the state. Each side suffered about 100 casualties, but it gave the Union possession of the country north of the Salkehatchie River and cut the railroad line. The battlefield is now the Rivers Bridge State Historic Site.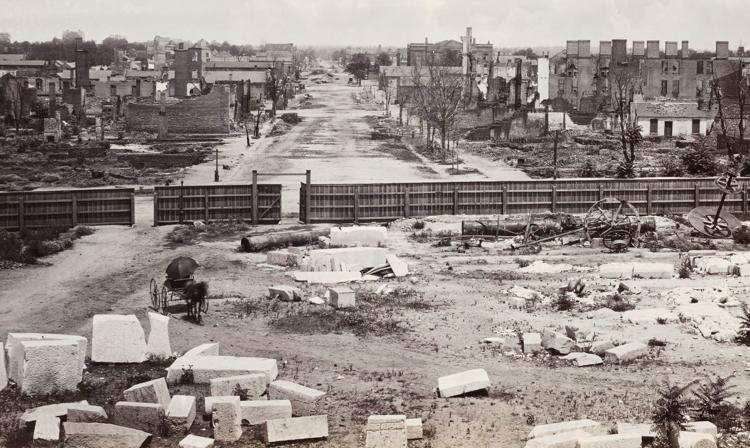 10. Burning of Columbia: Sherman opted to march his troops not to Charleston but to Columbia, where they arrived on Feb. 17, 1865. A mix of mobs, straggling soldiers, cotton bales in the streets, strong winds and plenty of alcohol led to a massive conflagration. No citizens died, but about a third of the town, some 450 buildings, burned down. South Carolina's Statehouse bears large stars marking the places where Union artillery struck. The war would end two months later at Appomattox Courthouse in Virginia.
Sources: "The South Carolina Encyclopedia," South Carolina Battlefield Preservation Trust and The Post and Courier