A federal grand jury in Rock Hill indicted Chester County Sheriff Alex "Big A" Underwood and two ranking deputies Tuesday on charges they used excessive force to arrest a man live-streaming a traffic wreck – and then conspired to cover it up.
The indictments mark the 13th time in a decade that a South Carolina county has seen its sheriff accused of breaking laws they were sworn to uphold. It also comes a month after a state grand jury indicted Florence County Sheriff Kenney Boone on embezzlement and misconduct charges.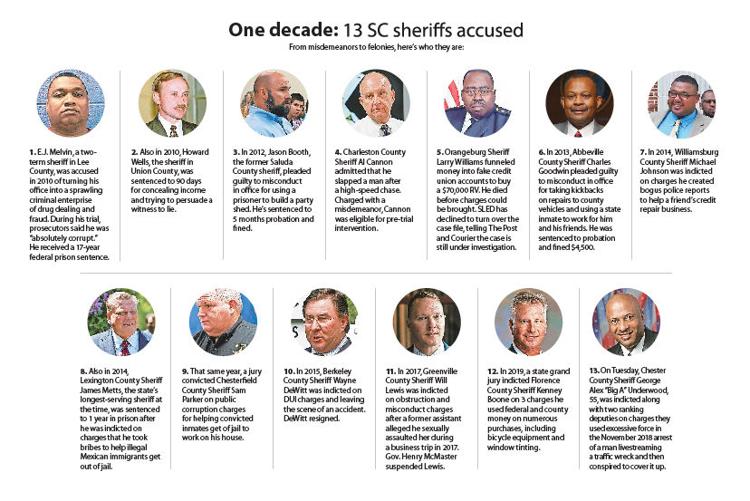 "It is paramount that law enforcement maintain the trust of the public which it serves," said Jody Norris, special agent in charge of the FBI. "These charges are a reminder that nobody is above the law."
The indictments stem from an incident Nov. 20, 2018, when a 26-year-old man named Kevin Simpson live-streamed emergency vehicles outside his home near Chester.
First reported by The Post and Courier in January, Underwood can be seen on the video ordering Simpson to get on his porch. Simpson complied but yelled "manhunt" as Underwood walked away. Underwood then turned around and grabbed Simpson.
Deputy Lt. Johnny Neal is alleged to have wrestled Simpson to the ground, injuring Simpson's head and elbow. In previous interviews, Simpson told The Post and Courier he tossed his phone aside during the scuffle. 
Deputies hauled Simpson away on charges of disorderly conduct and resisting arrest.
The indictments allege that when Underwood and Chief Deputy Robert Sprouse learned that Simpson live-streamed the scuffle on Facebook, they drew up a warrant to search Simpson's home, saying one of their radios was missing.
During the search, they found Simpson's cellphone and illegally confiscated it, the indictments said. Underwood and Sprouse later tampered with the phone to destroy or "impair its integrity or availability" in a federal investigation, the indictments said.
Another count alleges that Neal and Sprouse concocted a bogus police report saying Simpson used profane language toward them. Other counts say Underwood and Sprouse lied to the FBI when asked about the incident, used their positions as law enforcement officers to intimidate others, and that Neal directed that a "hold" be placed on Simpson at the county jail, delaying Simpson's release for three days.
"Those who swear to protect and uphold the law, while at the same time using their positions of power to hide their own violations of the law, will be held accountable," U.S. Attorney Sherri Lydon said in a statement announcing the eight-count indictment.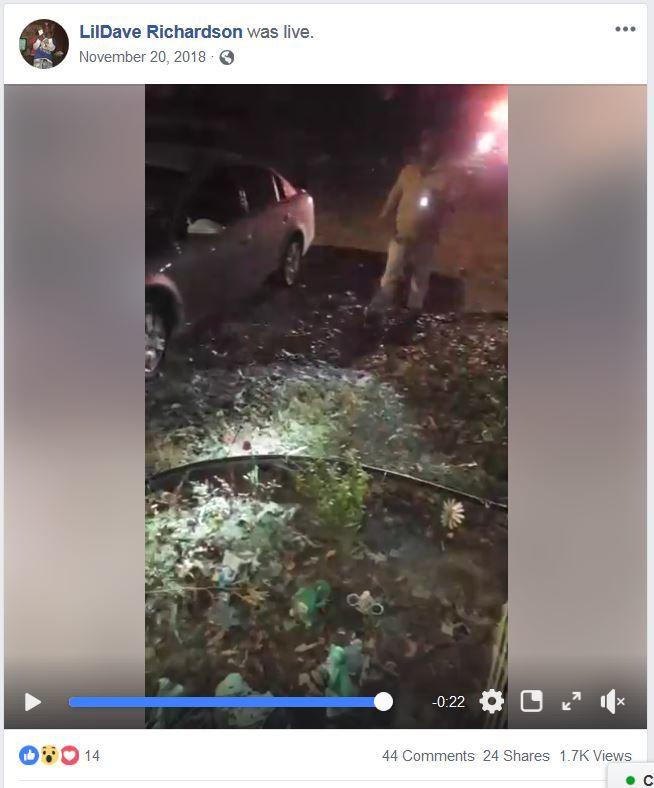 Simpson said Wednesday night he "knew something was wrong with the system. It's time for a stop." He referred other questions to his attorney, Everett Stubbs III, who said "we feel confident that the wheels of justice will continue to turn for Mr. Simpson and his family."
Underwood's attorney, Stanley Myers, said he had no immediate comment on the allegations. "I would hope folks at least keep an open mind and understand that there are always two sides to every story." 
Following the indictments, Gov. Henry McMaster suspended Underwood and appointed State Law Enforcement Division Capt. Donald "Max" Dorsey to serve as interim sheriff. Dorsey heads SLED's narcotics division.
Elected in 2012, Underwood was Chester County's first African American sheriff. He took the helm with solid credentials. At the State Law Enforcement Division, he'd developed a reputation as an aggressive fugitive hunter. Crime has long been a problem in Chester County, an area of rolling hills north of Columbia with high rates of poverty. And many in the area greeted Underwood's election as a hopeful new chapter. 
Early on, Underwood earned high marks from some constituents for investigating gangs, telling county officials in 2014 that gang leaders put a bounty on his head. But his tenure also was stained by conflict and scandal. In 2014, a female deputy filed a lawsuit alleging that he used his position as sheriff to force her to have sex, allegations he denied. The case went to trial in 2015, and the jury sided with Underwood.
That year, the S.C. Sheriffs' Association voted Underwood sheriff of the year.
Underwood also was highlighted in "Above the Law," a recent Post and Courier investigation. Among the newspaper's findings: Underwood and Sprouse flew first-class in 2017 to a sheriff's conference in Reno, Nev., and then hired a $353 chauffeur to take them to and from the airport. Underwood also flew flew first-class to other conferences, including ones in Washington, D.C. and New Orleans.
He told the newspaper that he needed the extra room on planes because he has a medical condition and is 6-foot-4.
In late April, state and federal agents swooped into Chester for a surprise raid at the Chester County Law Enforcement Center. Agents with the SLED and FBI carted off evidence.
While Underwood's detractors cheered, some supporters were quick to rally to the sheriff's defense, including state Sen. Mike Fanning, a Democrat from neighboring Fairfield County. In a Facebook post after the raid, Fanning wrote: "This is the time to stand behind the man who would lay down his life for us all."
In its statement, the U.S. Attorney's Office said Underwood, Neal and Sprouse would appear in federal court May 21. The charges carry penalties ranging from 1 to 20 years of prison per count.
Glenn Smith contributed to this report.