COLUMBIA — For perhaps the first time, so many teachers applied to Allendale County schools, the district had to turn people away.
Students in Williamsburg County have new textbooks for the first time in four years.
Tiny Florence 4 school district is no longer operating in the red.
The three rural, failing districts taken over by South Carolina education chief Molly Spearman over the past 14 months are showing signs of improvement.
But whether Spearman's agency can turn them into academic successes remains to be seen. Challenges include widespread poverty, historically abysmal test scores and resistance from local politicians. 
No other South Carolina superintendent has attempted so much state control over schools.
The only previous takeover in the state's history — Allendale County in 1999 — ended eight years later with test scores still stubbornly ranked near the bottom of the state. Squabbles with the district's fired school board members helped thwart progress as they continually stirred up the community against state intervention.  
Spearman hopes to prevent a repeat of that quagmire by cutting out the board entirely.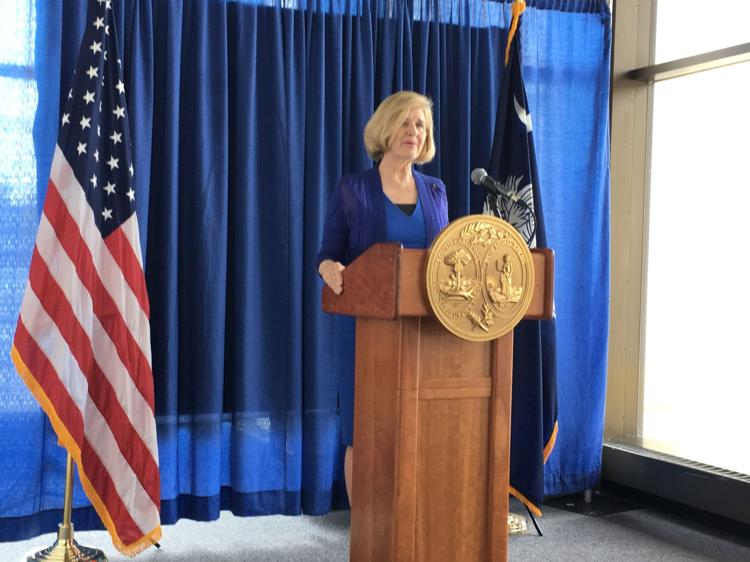 Shortly after she declared a state of emergency and took over the district in June 2017, the board sued, calling the seizure unconstitutional. Rather than fight an expensive lawsuit, Spearman signed an agreement allowing the board to maintain some authority.
But she revoked that two months ago, saying board members' main concern was for themselves, not students.    
State officials have spent too much time "appeasing (the board's) interests rather than improving classroom instruction and academic outcomes," she wrote June 29. She specifically cited the board's travel demands as voiding the legal agreement.
Board Chairwoman Wilda Robinson contends that's completely false, and the board's only concern has been an inability to get information from state-appointed administrators on student progress and safety as well as staff hirings and firings. 
The latest emergency declaration came shortly after the state refused to register all five local board members for the state School Boards Association's conference in Myrtle Beach — held last weekend — on laws impacting schools. The state previously refused to arrange a taxpayer-funded trip in April to a national conference in San Antonio. 
They were, however, allowed to attend a single state conference on Hilton Head Island two months earlier on taxpayers' dime, according to statements released by Robinson.
Robinson said the board historically attends all three conferences yearly.
Indeed, the board spent nearly $37,000 on trips in 2016-17, which included a $4,300 hotel tab during a 2017 conference in Denver. Other taxpayer-funded trips in recent years have included Boston, Miami and Nashville, according to the state's review of district expenses. 
Robinson insists the trips are not excessive. They're not even travel, but rather necessary training, she said.  
"There's nothing wrong with training," she said after a recent State Board of Education meeting, where she argued Spearman's takeover was unwarranted.  
"This is a hostile takeover," she said. "There's no financial situations in Allendale County School District. There's no corruption. There's no fraud. There's no malfeasance. There's no evidence of that."
Other district expenses stopped by the state earlier this year included the board's monthly pay at $600 each, and members' high-speed internet service on their taxpayer-paid iPads, which cost roughly $3,000 a year.
They still have the iPads. The board wanted the WiFi restored immediately. Asked about that request, Robinson said board members in rural Allendale County need the service to access board-related business.  
Robinson said the board hasn't decided whether to sue the state again. 
Spearman said her agency is ready if they do, adding she's no longer concerned about upsetting "some of the adults."
The state-appointed superintendent, Margaret Gilmore, insists dramatic change is already under way.
One selling point to prospective teachers this summer, she said, was a first-ever offer from the University of South Carolina-Salkehatchie to live in its dorms for $500 a month, including utilities. About three dozen teachers applied for the 16 openings. 
"We were able to select teachers instead of having to hire people because we can't find anybody," said Gilmore, who didn't know the last time the school year started without vacancies.
Other school district takeovers appear to be going more smoothly. 
In Florence 4, a rural district with fewer than 700 students, the state has signed agreements with nearby Florence school district 1, which covers the city of Florence, to provide accounting and professional services, and with Florence school district 2 to share a mowing and maintenance contract.
The collaborations are expected to save Florence 4, which consists of three schools in Timmonsville, about $600,000 this school year, state education spokesman Ryan Brown said.
Spearman hopes to replicate those savings in small districts statewide. South Carolina has 81 districts across 46 counties. 
Legislators typically avoid forcing school districts to merge, fearing a backlash.
But they gave Spearman additional authority in June to require districts of fewer than 1,500 students to consolidate services to save money and offer more academic offerings. 
In letters mailed to 13 superintendents Tuesday, Spearman gave them 30 days to submit plans for working with their neighboring districts.
"It's all about pushing more revenue down to the classroom," she said.