Deep in a West Ashley forest, more than a mile from where Bear Swamp Road dead ends into a dirt path, a jarring monument reveals how people once made money off the land long after it was used to graze cattle and cultivate rice.
The 9-foot-tall dark metal cylinder, wrapped with the woody spines of dead vines and splotched with lichen, looks at first glance like a remnant from a former civilization or perhaps an abandoned machine of war.
In fact, the towering boiler once powered a machine that washed phosphate rock, the mining of which reshaped the landscape here.
Those developing a new county park and a neighboring community known as Long Savannah are mindful of this history. Both plan to preserve its surviving remnants, including chimneys, iron tram tracks and acres of linear trenches and mounds, said Matthew Moldenhauer, a planner with the Charleston County Park and Recreation Commission.
"This is part of the story we will be telling," he said.
That story is wide-ranging though little known today. Charleston's phosphate mining industry kicked into overdrive right as the region struggled with massive changes — new freedoms, military oversight and a shattered economy — at the end of the Civil War.
The phosphate era was a collision of gentleman scientists, liberated blacks, exploited immigrants and one crusader who worked to protect them. Undergirding the complex relationships between these groups was new technology that would transform farming and wreak environmental damage in Charleston and far beyond the Lowcountry.
The echoes persist today in the purplish mud along the Ashley River, not far from Ashley Phosphate Road, in the striations in the marsh along the Stono River, in abandoned settlements with only home foundations remaining, in scattered chunks of phosphate rock itself along the state's southern coast, and in the large, alien boiler sitting among ferns and vines. 
But you have to know where to look.
'Looking for fossils'
It was a similar search for clues to the past that led Francis Holmes to phosphate. 
Holmes, a gentleman scientist, plantation owner and a man who would serve as the Charleston Museum's first curator, was passionate in his search for prehistoric fossils. Phosphate, a soft, sedimentary rock, accrues around the mineralized remnants of ancient animal bones, and Holmes became an expert in differentiating the two. 
He collected two whale specimens thought to be new species at the time, though the skull of one of them is lost to history, surviving only in drawings.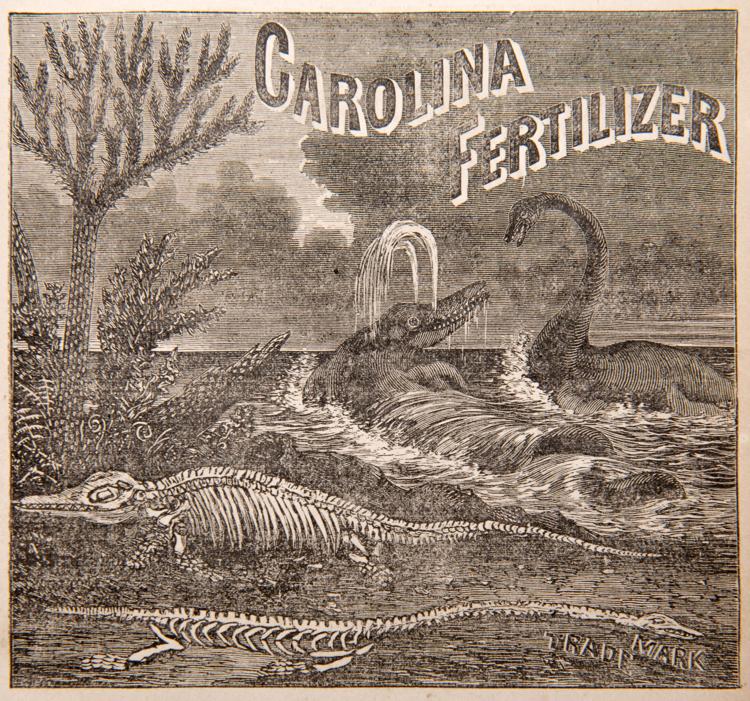 Matthew Gibson, the museum's current curator of natural history, recently researched Holmes' life and work for a new phosphate exhibit on display opening soon in the museum lobby.
"The discovery of phosphate and its utilization for industry goes back solely to the fact that he was out there looking for fossils," Gibson said.
Even before the Civil War, farmers and entrepreneurs began seeking new sources of fertilizer for fields depleted through cotton and other crops. Many farmers didn't own large enough tracts to let some fallow fields refresh over time. By 1853, a dealership sprung up in Charleston selling Peruvian bat guano imported from South America and processed in Baltimore.
In addition to Holmes, others, such as another gentleman scientist, St. Julien Ravenel, played key roles in discovering the economic potential of the odd-smelling rocks.
Earlier scientists had believed the Lowcountry's far deeper deposits of marl were a better source of fertilizer because they had a higher lime content, but later chemists discovered that phosphate rock made a superior, modern fertilizer. Holmes ultimately retired from the museum and quickly formed the area's first phosphate company, the Charleston Mining and Manufacturing Co., with a chemist, N.A. Pratt.
The phosphate rock was buried several feet under the surface, and reaching it required removing tons of topsoil, plants and roots, known as "overburden."
The industry faced several headwinds, from natural disasters, to locals wary of Northern investment, to questions of river-mining rights, to the grueling, manual labor needed to dig it up.
"These are essentially strip mining operations. It's a gigantic hole in the ground," Gibson said. "A lot of this was taking over traditional farming practices. It was just a terrible job. It paid well, but it was tough."
And it began changing the landscape, according to a history penned by Kristina Shuler and Ralph Bailey with Brockington and Associates Inc., a historic resource firm that has researched several former phosphate sites.
"Where beautiful antebellum plantation homes had dotted the banks of local rivers such as the Ashley and Cooper, the late 19th century mining industry ushered in the obtrusive sight of industrial barges, wharves, fertilizer mills, phosphate drying sheds, and smoke stacks," their history noted. "The riverbanks of the Lowcountry literally were gutted and carted off piecemeal as companies dug ruthlessly for their precious crude phosphates to sell."
Williams Middleton, who owned several thousand acres in and around today's Middleton Place plantation, was among those who jumped early on the phosphate bandwagon.
Like others, he met with mixed and mostly disappointing results. A May 31, 1868, entry in his letterbook was typical of the challenges he and others faced as they scrambled to cash in.
"Not easy to find labor," he wrote. "Available hands entirely without experience."
'Like times of slavery'
As people across the South Carolina Lowcountry realized the value of phosphate deposits, mine managers and landowners began seeking workers to harvest it. 
And for the first time, they actually had to negotiate with the workforce. This post-slavery reality afforded new opportunities for emancipated black men to work only seasonally or temporarily in the backbreaking mines, spending the rest of their time with their families or farming their own food, according to Shepherd McKinley's history of South Carolina's phosphate era, "Stinking Stones and Rocks of Gold."
"Although in their writings most employers and industry chroniclers ignored or took for granted the land miners, labor was the most expensive, volatile and important part of the equation," McKinley wrote.
This newfound freedom to negotiate affected the industry in some unexpected ways. Working conditions were sometimes worse because managers no longer considered their laborers to be property that they had invested in, so there was little concern if workers became sick or injured, said Cameron Moon, an assistant curator at Drayton Hall. 
Middleton's letterbook described a grim scene: "Our mining during the recent hot spell has not been carried on as well as I should desire," he wrote in July 1868. "The men kept at work, and many of them fainted in the pits, which was pretty good evidence of their attempts to be industrious."
Middleton wrote that he would have let the workers take a break for a few days, but he felt such a move would be "too dangerous" because the men might not return.
The following year, he wrote his business partner Charles Baker that digging phosphates "is wet work and the objection of miners to it, is that 'it looks like times of slavery.'"
One of the many ways that South Carolina's elite tried to maintain an easily-controlled workforce was through the notorious convict leasing program, in which state prisons all over the South rented out their detainees to private companies with little oversight.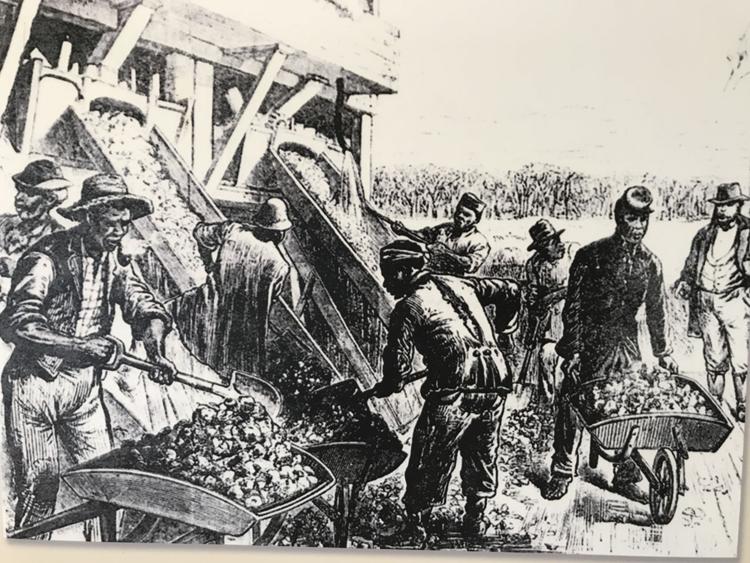 Census records and newspaper reports show that during the phosphate era, there once was more than 100 men listed as "convicts" living on land on and near Drayton Hall.
As South Carolina ended convict leasing in the 1890s and the black labor force remained unpredictable, some mine operators turned to a different source of labor: recent immigrants landing in the Northeast. 
One of those immigrants — a Sicilian named Giovanni Sottile — stepped up to expose what became, in some cases, a rampantly abusive system. 
A crusader emerges
Sottile landed at Ellis Island in 1889. Like many, he was looking for better opportunity as a series of crop failures and natural disasters plagued Italy.
Some phosphate recruiters for South Carolina companies, however, saw a more sinister opportunity in the influx of new arrivals.
"There actually were companies that were actively trying to recruit Italians fresh off the boat to work in the phosphate mines, and it was pretty exploitative, because most didn't speak any English, (so) they couldn't read the labor contract," said Christina Butler, an architectural historian who has researched Sottile's life.
Sottile, who had studied mathematics, wasn't sent to a mining job but did secure employment as an accountant for a mine near Ladson. Around him were men who more-often-than-not were illiterate in their own language, trapped in brutal working conditions and unable to leave.
In the mining trenches, they endured near-constant wet conditions from rainfall and storm surge, diseases like malaria, and back-breaking work that stripped out huge swaths of earth.
According to family lore, Sottile saved enough money to leave the job and walked from the Ladson mine all the way to the city of Charleston. There's no definitive proof that's exactly what happened, however, said his granddaughter, Mela Haklisch.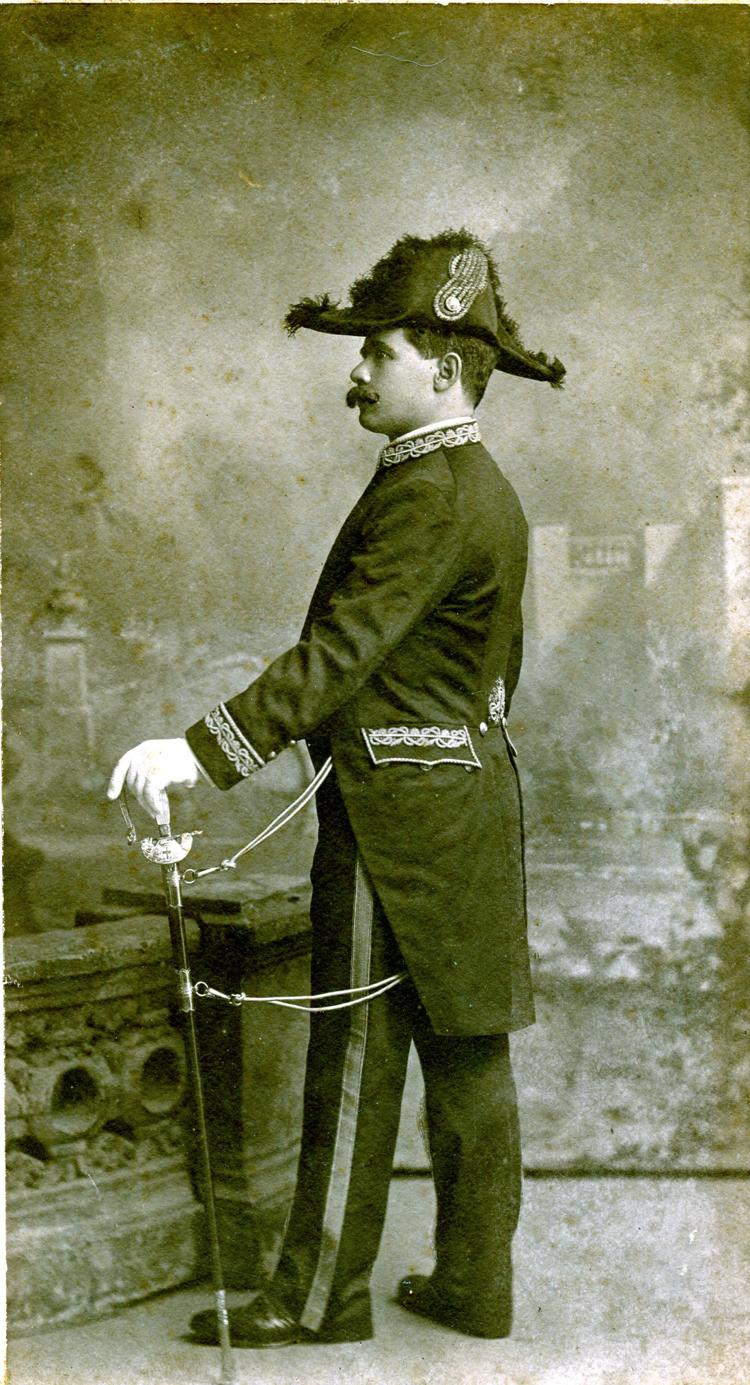 What is clear is that after he arrived in the city and secured a steadier line of work, Sottile wrote to the king of Italy and told him what he'd witnessed in the mines. In response, the king charged Sottile with advocating for Italian workers, naming him the country's Consul in Charleston. 
"We do have the documents that my grandfather was appointed (to these positions) by the king of Italy," Haklisch said. 
In the coming years, he helped spur a prosecutions of managers in the Pon Pon mines in Colleton County. Anti-exploitation prosecutions expanded into other industries, too: lumber operations and railroad builders used the same methods of peonage to entrap Italians and other immigrants.
In one case, a camp of 1,500 Italian railroad workers near Greensboro, N.C., was discovered; in another case, a worker who didn't speak English tried to mime to his manager that he was hungry, but the manager took it as a threat and shot him. 
As some local miners were freed, Sottile bought 1,000 acres near Ladson. The poor, uneducated men were accustomed to farming, so he provided them a place to establish a new life using their skills. 
For his efforts, Sottile was eventually knighted by King Victor Emmanuel III. He didn't live long enough to see the end of the phosphate era; he died in his home at 81 Rutledge St. in 1913. 
Haklisch said that her grandfather and his four brothers, who also emigrated, "had this profoundly unique opportunity in the New World to take their skill and talent and do something good with it."
An industry recedes
During the 1880s, Charleston was considered the phosphate capital of the world, but the industry would be battered during the decade by natural disasters, political problems and new competition.
The industry faced the onslaught of 1893's hurricane season, and its river mines, which were more common in Beaufort County, were heavily regulated, according to the above-mentioned book "Stinking Stones." Gov. Ben "Pitchfork" Tillman, no friend to Charleston's elite, felt the state was getting cheated out of phosphate revenues and took action that slowed mining.
That was also around the time larger reserves of phosphate were discovered in Florida, and although South Carolina had built significant brand loyalty with the markets where phosphate rock was sold, the bigger supply eventually won out. 
Ultimately, even the more unsavory methods of securing laborers didn't fix an essential problem: It was hard to find enough people willing to do the grueling work. 
In the long run, it may be a good thing that the industry receded, McKinley said.
Not only did the mining rip up sensitive habitat in and around riverbeds, but the fertilizer factories sprouting up along the Ashley River in the Neck Area created a lasting blight. Many operated well into the 20th century and contributed to a dramatic legacy of contamination that gained national attention in the 1990s when shrimp who were exposed to phosphorous started exploding. 
"It's certainly an industry, both fertilizer and the mining, that you don't want," McKinley said.
Dealing with that contamination has made redeveloping the Neck Area a costly challenge, and much of it still sits barren, despite its riverfront views and close proximity to two of the state's three largest cities. A decade-old bridge in the area is known locally as the "bridge to nowhere," because redevelopment of a major property there, the Magnolia tract, still has not materialized.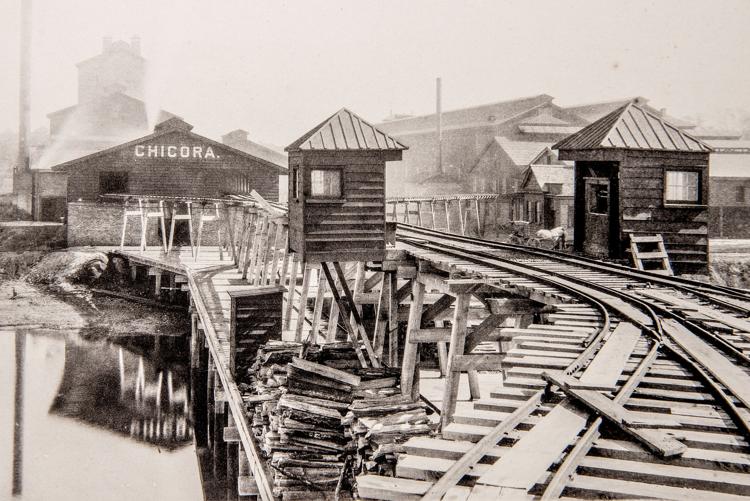 'Who would have thought?'
To understand Charleston's phosphate legacy, consider these numbers.
When the era dawned, in 1867, about six tons were mined here. In 1890, its peak arrived with the mining of about 586,798 tons, more than half of all global production. 
The phosphate industry remains alive and well in Florida where 450,000 acres across four counties are being mined, according to the state's Department of Environmental Protection.
The exponential growth in phosphate mining enabled farmers across the world to become more productive, and the human population has grown exponentially along with the mining, said University of Vermont Mineralogy Professor John Hughes, who worked with Gibson on the museum's new exhibit. 
Phosphate is a building block of life. Phosphorus works with calcium to build teeth and bones, and its structural to DNA and cell membranes. Hughes said its harvesting may be the quintessential example of how the use of a single mineral has shaped the evolution of society.
"Today, we're mining in the world 200 million tons per year," Hughes said. "At one time, Charleston was king of the hill in terms of phosphate deposits. Now, if we look at U.S. in terms of its mining, it's dropped off dramatically. We're no longer a big player."
It's unclear when the world will achieve peak phosphate — that point in time where more than half of the retrievable phosphate will have been mined — but Hughes said we're getting close.
And as we approach that peak, the arrival of which promises to bring profound implications for humankind's  food security, the center of activity has shifted directly due east, far across the Atlantic Ocean from Charleston.
"We don't wake up every morning thinking about Morocco, but they have two-thirds of the remaining apatite, where we get our phosphates," Hughes said. "Who would have thought of Morocco?"
Meanwhile, our phosphate-driven growth has stressed other forms of life. The over-application of agricultural fertilizers is its own kind of pollution, spurring toxic algae growth as it runs into nearby waters. It's such a big environmental threat that it was cited as a primary driver of species death worldwide in a recent United Nations report on biodiversity. 
More than a century ago, when phosphate was new, it was impossible for the Lowcountry's plantation owners, gentleman scientists, crusaders and newly freed slaves to know how their combined work would mark the start of vast, global change.
Today, much of the region remains unaware of what that period birthed. But its fingerprints still scar the earth, albeit rusted, overgrown and eroding away.