COLUMBIA — Dan Johnson, the Columbia-area prosecutor whose spending habits are the subject of a federal investigation, hired two people convicted of financial crimes to hold key positions in his office. 
In 2011, Johnson hired Dawn Sloan and later promoted her to his director of expungements, even though she served time in federal prison for stealing tens of thousands of dollars at a previous job. 
The expungement program is a money-maker for the solicitor's office, handling some 400 cases per month that each generate a $250 administrative fee, according to Johnson's office.
The same year he hired Sloan, Johnson also brought on Communications Director Nicole Holland despite her several prior convictions for writing bogus checks. Holland was given an office credit card and afforded wide rein to spend thousands of dollars each month on a host of purchases, records show.
It's unclear if Johnson was aware of their criminal records before the hirings. He didn't return phone messages or answer emailed questions from The Post and Courier. Holland also didn't answer emailed questions.
Reached by phone, Sloan refused to answer questions. She wouldn't acknowledge or deny a prior conviction.
"I'm not talking to anyone," she said, referring questions to Holland.
The Post and Courier tracked Sloan's involvement in a 2000s embezzlement case through county and federal law enforcement records, as well as Sloan's personnel file.
Johnson, who oversees prosecutions for Richland and Kershaw counties as 5th Circuit Solicitor, suffered a blowout defeat in Tuesday's Democratic primary. This came in the wake of several Post and Courier reports detailing Johnson's spending on out-of-state trips, swanky club memberships and end-of-the-year office parties. The newspaper learned in March the FBI is investigating his office spending.
The Post and Courier also reported that many of Holland's office charges appeared to be personal, including a $1,020 orthodontist's bill and thousands more spent on a family celebration in Kentucky.
Holland's legal history includes seven misdemeanor charges for writing fraudulent checks and two misdemeanor forgery charges in the 1990s. This revelation was first reported by The State newspaper.
The hiring of Sloan raises even more questions about Johnson's office management style.
Public records show federal prosecutors in the Middle District of Florida accused Dawn Haney Sloan of stealing roughly $36,700 from her employer, American Exchange Network Inc. during several months in 1999 and 2000. At the time, she was an accounting manager handling the insurance agency's bankruptcy.
Court papers from the embezzlement case state that Sloan at her previous job pocketed thousands from the company's petty cash fund partly by writing checks for her own use, making several out to "cash."
A jury convicted Dawn Haney Sloan of embezzlement and bankruptcy fraud. She was imprisoned in April 2005 at the federal prison camp for female inmates in Alderson, W. Va., and released seven months later, federal records show.
When a reporter initially approached Sloan, he misstated her middle name as Haley. She quickly denied a connection.
"I don't know who that is. H is my middle initial — but it's not Haley," she said.
The reporter tried to clarify, but Sloan cut him off, saying: "Listen, I'm not sure where you're going with this — I already told you that wasn't me. I don't feel comfortable talking to you about this — I already told you that's not me."
The Post and Courier reached out to Sloan again last week but she refused to discuss the matter at all.
The defendant's name in the embezzlement case, Dawn Haney Sloan, matches the first, middle and last name of Johnson's expungement director. A federal inmate listing for Dawn Haney Sloan included her age, which also matches Johnson's employee.
Because the case was tried federally, the Richland County Courthouse doesn't include records of Sloan's crimes. But booking documents from the Alvin Glenn Detention Center show Dawn Haney Sloan, with a birth year, Social Security number and mug shot matching Johnson's employee, was lodged in the jail for an offense labeled "federal."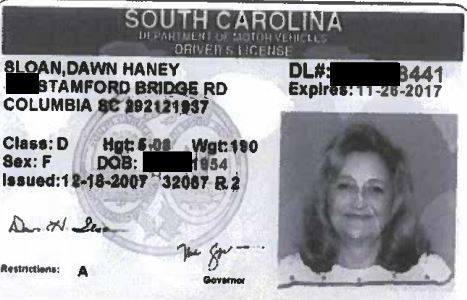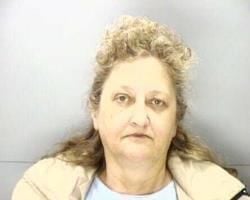 She was booked on April 11, 2005, which lines up with the timeline from the embezzlement case.
As part of her 2011 employment application at the solicitor's office, she left blank a question that asked if Sloan had previously been convicted of a crime, her personnel file shows.
Johnson promoted Sloan to expungement director in April 2015 with a salary of $52,500, according to her file. She oversees the program that allows defendants to strike minor arrests or convictions from their criminal record.
It is unclear what control, if any, Sloan has over the fees collected by the expungement program. The program appears to generate about $100,000 monthly, according to information provided by the solicitor's office. 
Sloan has received some payments over the years out of another of Johnson's accounts, the worthless check account, with money earmarked to reimburse people who receive bogus checks.
The Post and Courier identified $619 from three checks addressed to Sloan individually written from the account between 2012 and 2016.
Each of the checks state a memo of "reimbursement," though it's unclear for what. One check written to Sloan for $406 is labeled "Reimbursement (Sam's, Publix, Bed Bath)."