LANCASTER — A months-long dispute led to a mass shooting at a South Carolina bar south of Charlotte that killed two men and wounded eight others early Saturday, authorities said.
The shooting started inside Old Skool Sports Bar & Grill at about 2:45 a.m. just north of the Lancaster city limits. A suspected shooter had an undisclosed dispute with one of the victims who was killed, Lancaster County Sheriff Barry Faile said. 
Gunfire continued outside the bar as patrons fled. 
"I don't think all of these people were intended victims," Faile said. "I think most of them were at the wrong place at the wrong time. I believe it was one person targeting another and, unfortunately, we had 10 victims shot." 
Two men were shot and killed — Henry Lee Colvin, 29, of Rock Hill and Aaron Harris, 28, of Kershaw, according to Lancaster County Coroner Karla Deese.
Four wounded victims were airlifted to hospitals, while another four people suffered noncritical wounds. Neither the victims' identities nor their medical conditions were released.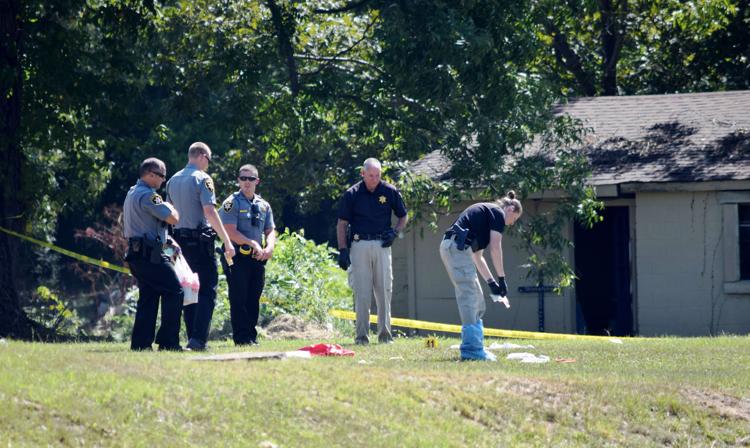 Another patron was treated and released for minor injuries after falling down during the mayhem. 
"The sheer magnitude of injury is like none I have seen in my 14 years with the Coroner's Office," Deese said. 
Investigators have information about a possible suspect, but have been made no arrests and did not release any details except that the shooting involved people from the Lancaster area.
Faile said deputies are "doing all they can" to find the shooter. He said "some of them that were involved" had previous criminal charges and were prohibited from having guns.
He described the bar's patrons as a "younger crowd" and said the shooting was not gang related.
Police have responded to at least six calls at the bar in the past year, including another shooting, Faile said. Two people were injured in a shooting at the bar in 2010, according to The Lancaster News. Old Skool had no legal actions filed in county court records.
On Saturday morning, four sheriff's cruisers were stationed outside Old Skool behind yellow police tape that blocked off an entire block. Investigators collected evidence from grassy areas next to the bar.
Old Skool is near a steakhouse, nursery and tanning salon off U.S. 521, the main road between Lancaster and Charlotte, some 50 miles to the north. 
Old Skool opens so late in the evening that one nearby convenience store owner says he does not see cars in the parking lot when he closes at 9 p.m. The owner of the tanning salon said she thought the bar was closed for good because she never sees any activity during the day.
Wayne Dickson, a retired minister who has lived in Lancaster for nearly 50 years, describes the neighborhoods near the bar as safe and mostly crime-free. He said he has even left things lying around his yard and has never experienced a theft.
Joseph Toney, who has lived in a neighborhood near the bar for four years, also said the area is peaceful with little crime.
"I don't like that it's happening. All this violence needs to stop," he said.
State Rep. Mandy Powers Norrell, a lifelong Lancaster resident whose district includes the bar, told The Post and Courier she cannot recall a mass shooting like the one that took place Saturday happening in her hometown.
Lancaster dealt with a spate of unrelated shootings in 2017 that included the death of a toddler, two teens and a Indian immigrant store owner, The (Rock Hill) Herald reported. Lancaster's police chief asked the State Law Enforcement Division to send agents to help patrol high-crime areas.
Norrell did not have any details on the shooting except that the son of a high school classmate posted on social media about trying to resuscitate one of the fatally shot victims.
"It's just really so sad," Norrell said. "Violence is happening everywhere, but the senselessness of this is so striking."