COLUMBIA — State officials are preparing for the possibility that major roads in the Myrtle Beach area could get washed out due to catastrophic flooding.
One of the main concerns is the Waccamaw River, which U.S. Hwy. 501 crosses south of Conway. That's a main artery into and out of the Grand Strand, needed to get electric crews, first responders and National Guard personnel to the coast battered by the storm. 
The Waccamaw is expected to go past major flooding stage Monday and approach the record crest of 17.9 feet as of Wednesday, according to forecasts.
The Waccamaw also flows under S.C. Hwy. 22 — a bypass north of Conway off U.S. 501 to and from North Myrtle Beach — and S.C. 9, another route to the Grand Strand's northern tip.
Roads closer to Myrtle Beach are also expected be washed out by storm surge and flooding.
The Grand Strand could see up to 25 inches of rain, which "will bring heavy flash flooding to those in low-lying areas" that could be deadly, said John Quagliariello, a National Weather Service meteorologist.
Horry and Georgetown counties could also get storm surges of up to 6 feet, he said.
After the storm passes, the Department of Transportation's initial focus will be to "cut our way back into the areas," putting a priority on opening interstates, major highways and access to critical facilities like hospitals and shelters. The focus will then turn to flooded roadways, DOT Secretary Christy Hall said during a briefing Friday. 
Bridges and causeways along the Lumber, Little Pee Dee and Wacammaw rivers are of particular concern, she said. She declined to name any specific roads the agency is monitoring along those rivers or elsewhere.    
"We're very concerned about the road network that goes into the Myrtle Beach area because it is so low lying, and it's a possibility that area could get cut off," Adjutant General Bob Livingston told The Post and Courier on Friday.
Officials are "looking at ways to get back into that area, either through establishing a route in by land or by water or by air. If we have to, we'll bring supplies in by helicopters or aircraft," said Livingston, the head of the South Carolina National Guard.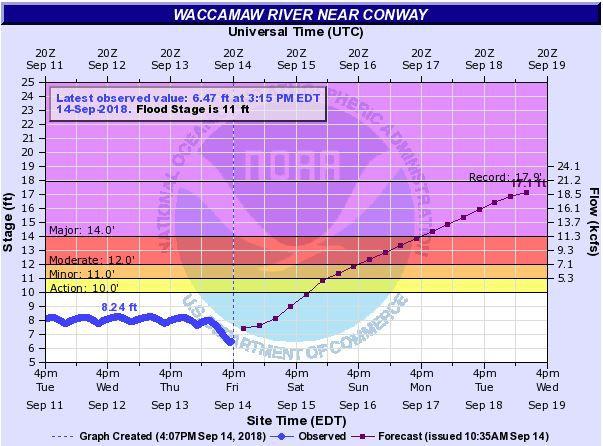 Washed-out roads could affect more than Horry County. Officials are preparing for communities in Georgetown and Marion counties to be isolated too. Food, fuel and water will be taken to those areas in advance of the flooding, said Kim Stinson, director of the state Emergency Management Division. 
State and local officials are still coordinating on where to take the supplies and how to re-supply once the floodwaters arrive, he said.   
Livingston said aircraft can fly in minor tropical force winds up to 40 mph winds to help save stranded people.
"As soon as we're able, we'll start running reconnaissance missions up and down the flood-prone areas looking for people in distress," Livingston said.
The adjutant general said nearly 10,000 state employees are stationed along the coast, including 3,600 National Guard soldiers positioned east of Interstate 95, with swift-water and aerial-rescue teams.
As of 2 p.m. Friday, nearly 67,000 homes were without power, about three-fourths of them in Horry County. The other outages were in Dillon, Marion and Florence counties, according to the Office of Regulatory Staff.
Crews with Santee Cooper, the utility that supplies power to Myrtle Beach, are already in the area, said utility spokeswoman Mollie Gore.
"We will be watching this situation, but if navigation around the area is significantly curtailed, that would slow down our recovery efforts," she said.
Portions of the state, particularly in the Pee Dee, will be without power for days or "maybe even weeks," said Gov. Henry McMaster.
"People cannot get in to fix those things until the rain's gone and the water's gone, so this is going to be a very trying period," he said. "We're going to have to have patience."