FLORENCE — War veteran and former lawyer Frederick Hopkins knew the sheriff's deputies were coming to his home.
They had an appointment to interview his son, who was suspected of sexual assault.
But the deputies didn't know they would be walking into an ambush.
Hopkins, who had fought in Vietnam and bragged about his marksmanship skills, waited with a high-powered rifle. When the deputies got to his half-million-dollar house Wednesday afternoon, the 74-year-old man started shooting, authorities alleged Friday.
"They were ambushed," said Richland County Sheriff Leon Lott, whose agency is investigating Hopkins. "They were shot."
And for nearly two hours, the gunman kept shooting. Sgt. Terrence Carraway of the Florence Police Department was killed, and six other officers were injured — four of them critically.
Investigators on Friday gave a brief account of the mass shooting that left behind a sprawling crime scene that could take another seven to 10 days to fully examine for clues. They said Hopkins faces a murder charge in Carraway's death and six counts of attempted murder.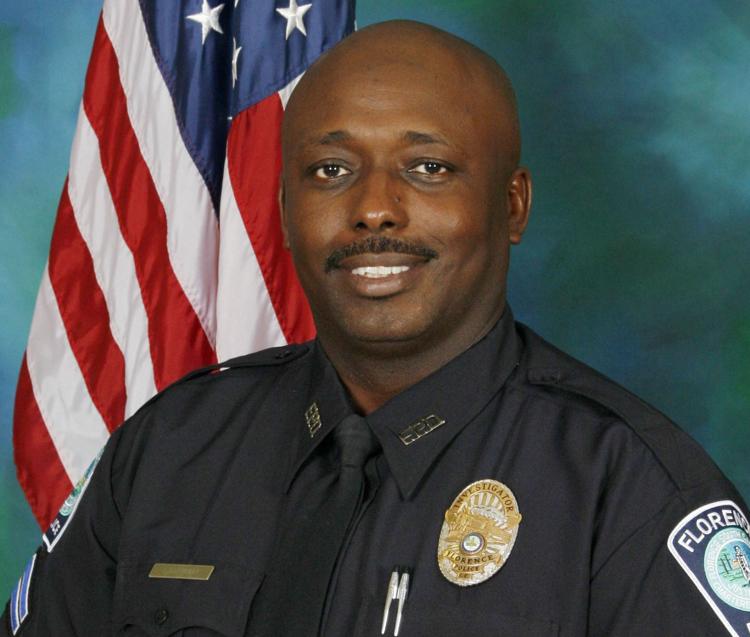 Seth Hopkins, the 28-year-old adopted son who was the reason for the deputies' visit to the family's 6,500-square-foot home, would be charged with second-degree criminal sexual conduct, Lott said.
Both men were released from hospitals Friday after suffering wounds in the shootout. They would be jailed in Richland County, the sheriff said. In all, officials said, five civilians were hurt in the ordeal. Beyond the father and son, the others were not identified.
Judges denied bail for both men during separate hearings.
Sheriff's deputies and state social workers described Seth Hopkins as a danger to children. Richland County sheriff's Lt. Chris Lindler said more victims of sexual assault could come forward in the near future.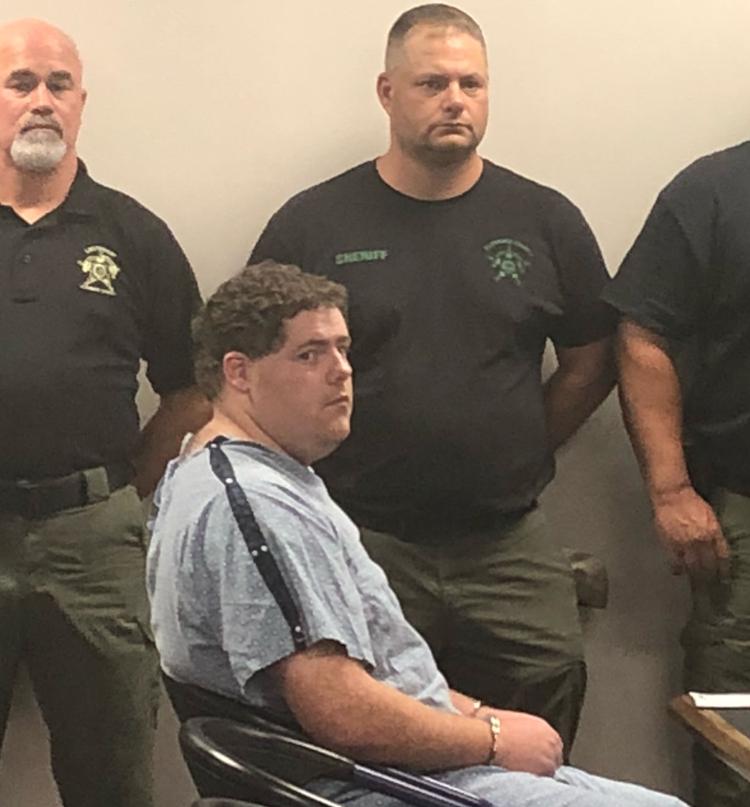 The scale of the crime began to come into focus three days after the mayhem unfolded near Florence, a city of nearly 40,000 residents about 100 miles northeast of Charleston. Though Lott's agency, which has experience investigating police shootings, is leading the probe, other South Carolina investigators have been summoned to help comb through the site and collect the hundreds of bullets littering the unincorporated community west of downtown Florence.
Twenty-five agents from a specialized FBI unit also arrived. The Evidence Response Team helped investigate a 2016 shooting in Dallas that killed five officers and wounded nine others, along with the country's deadliest mass shooting a year ago in Las Vegas that claimed 58 lives and caused injuries to 850 more.
Wednesday's episode in the Pee Dee marked one of the highest casualty counts for law enforcement since the Dallas killings.
The three wounded city officers were Cpl. Brian Hart, Lance Cpl. Travis Scott and Sgt. Scott Williamson. Only Williamson remains hospitalized.
The three injured sheriff's officials were Deputy Arie Davis and investigators Sarah Miller and Farrah Turner. Two of the women were still fighting life-threatening injuries, sheriff's officials said late Friday.
The elder Hopkins, who is known as Fred and is married to Florence divorce lawyer Cheryl Turner Hopkins, was disbarred in the 1980s as an attorney after being accused of wrongly taking legal fees from a client. He spent time in jail then, but his run-ins with the law since have been minor, court records showed. The most serious offense was a disorderly conduct citation four years ago.
Seth Hopkins had no history of arrests in South Carolina, state records showed.
Officials have told WIS-TV that the victim in the sex assault was a foster child who had lived in the family home. But at the time of the shooting, state child welfare officials said, no foster children were there.
'Ambushed very quickly'
Fred Hopkins had talked about shooting M14 military rifles in competitions. On social media, he spoke of celebrating his birthday by taking a young son to the shooting range, where he posted a high score.
Another son, Sean, is a police officer in Santee, state records showed.
Another, Kyle, is serving a 10-year prison sentence for burglary. On his Facebook page, he posted photos of his tattoos, including one that named his parents — Fred and Cheryl — and other loved ones.
"Hopkins," the tattoo on his back said.
"Family first," the ink on his chest said.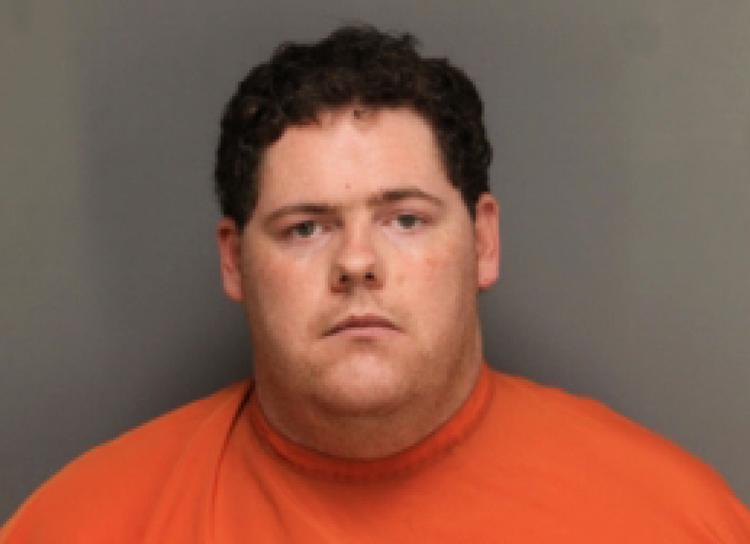 Seth Hopkins, the suspect in the sex assault, posted regularly on Facebook. Late last week, he described himself.
"I can be mean as (expletive), sweet as candy, cold as winter, evil as hell or loyal like a soldier," the post said. "It all depends on you."
He characterized his determination: "Fight until the end."
Other postings made references to guns.
But it was his father, the authorities said, who mounted the deadly surprise for the investigators who came to talk with him.
Lott said the deputies had a warrant to search the house, but they didn't have one for Seth Hopkins' arrest.
About 4 p.m. Wednesday, the shooting began at 932 Ashton Drive. The Vintage Place subdivision, a tiny enclave with brick homes and manicured lawns, filled with the sound of repeated gunfire.
It had come without warning, Lott said. There were no further precautions the deputies could have taken, he insisted.
"These officers were ambushed very quickly," he said. "These officers did absolutely nothing wrong. I don't want anybody to think that their procedures were incorrect.
"This was an ambush."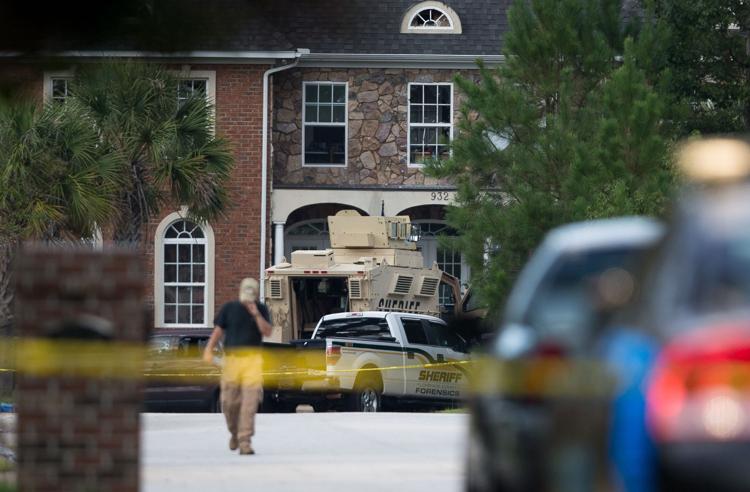 Responding to calls for help, one deputy from the Florence County Sheriff's Office raced down Ashton Drive, said an official with direct knowledge of the investigation. Fred Hopkins' home sat on the end of the street, with children inside. A bullet pierced her cruiser and grazed her head. The car crashed into a house, breaking her legs.
Other officers showed up, but they stayed at a distance. It was clear that the gunman had a high-powered rifle and was nestled in a perch in his home that gave him an advantage. 
Carraway took cover behind his car about 275 yards away, the official said. He was shot in the chest while trying to move to a spot behind a brick wall.
Another officer was 500 yards from Hopkins' house but got struck by a .308-caliber round. The bullet size is the same that is fired by an M14, the rifle that Hopkins had said he used in competitions.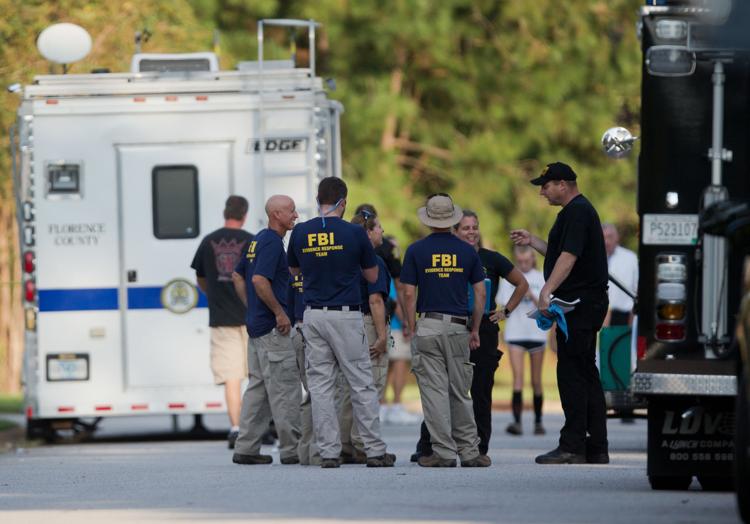 'Complex' probe
On Friday morning, forensic teams combed over a two-block area of Ashton Drive.
Neighbors here tried to return to their normal routines. Two children rode their bikes past the yellow tape that cordoned off the crime scene. Their mother followed close behind.
But it was not a normal morning. The massive police presence was impossible to miss.
FBI officials inspected every inch of the road where Carraway, a 30-year veteran of the Florence Police Department, was killed. The armored vehicle that was used to extract the other wounded officers was still parked at the end of the street near the Hopkins house.
Ten Colleton County deputies had also made the drive from the Lowcountry and helped preserve the evidence.
"This is a large crime scene," Lott explained Friday. "This is a very large, complex puzzle."
As the day waned, Hopkins hobbled into a courtroom for a bond hearing with deputies holding his arms for support.
He asked for a public defender, but authorities objected, saying he didn't want for money.
"Mr. Hopkins lived in a palatial home," the prosecutor said.
The defendant, clad in green jail clothes, slumped his head. A magistrate asked him questions three or four times before he mumbled an answer. He was asked if he had a wife.
"I don't know about that today," Hopkins said, his eyes cast down.
He declined to say much of anything else.
Hopkins had arrived in a wheelchair and grimaced in pain as he sat facing the judge.
The deputies stood along a nearby wall. Some folded their arms and fixed their gaze on the accused killer.