As tropical cyclones in the Atlantic basin get stronger and more plentiful, it is becoming imperative for coastal South Carolina residents to be able to receive emergency alerts from government officials.
In the last five years the Palmetto State has been impacted by nine named storms, with hurricanes Matthew, Irma and Dorian among the most notable.
And through the national Integrated Public Alert and Warning System, authorized municipalities and state and federal agencies were able to keep residents aware of extreme weather threats and evacuations nearby.
The S.C. Emergency Management Division coordinates the public alert and warning systems in the Palmetto State. Agency spokesman Derrec Becker said its most effective systems don't require people to register or sign up to receive the alerts.
Sending Wireless Emergency Alerts is just one way the agency can directly notify people of a potentially life-threatening situation. 
Becker said the agency reserves these messages for "grave situations" when people may be in harm's way or need to take action for their safety. 
The messages are no more than 360 characters and include the type and time of the alert, any action people should take and the agency issuing the alert.
By now, most people who live along the state's coast are used to receiving a sometimes startling ping on their cellphones, periodically alerting them of severe weather, Amber alerts, missing people and even boil-water advisories. These wireless emergency alerts come across the screen sort of like a text message and are designed to grab the receiver's attention with a "unique sound" and repeated vibration, according to the SCEMD.
"This is the fastest way to reach as many people as we need to in the state because it pings, or it sends an emergency alert to people's mobile devices in a given area, and the participating radio and TV stations also receive it as well," Becker said.
The notifications are only sent to devices within the geographical area being targeted and are distributed by local cell towers. Folks don't have to be a resident of the area or need to sign up to receive them. They just need to be in the affected area at the time the alert goes out.
Not all devices, including some older models, are equipped to receive the notifications. People should check with their wireless providers to be sure. 
The SCEMD has authorized more wireless alerts for coastal residents than those in other regions, mainly due to the increased need for hurricane evacuations. Probably the biggest user of the system is the National Weather Service, Becker said.
The National Weather Service marks its most critical alerts for distribution through the Wireless Emergency Alerts system. The agency said it will only issue wireless warnings for tsunamis, tornadoes, severe thunderstorms, flash floods, hurricanes, typhoons, storm surge, extreme wind, dust storms and snow squalls.
According to the agency, severe thunderstorm alerts are only sent when the damage threat is destructive. Flash flood alerts are administered when there is a considerable or catastrophic damage threat. 
In September 2015, some residents of Johns Island and West Ashley credited the Wireless Emergency Alert system with saving their lives when a tornado with 130-mph winds ripped through the area early one morning.
The wireless alert was sent just four minutes before the twister touched down, waking up many people in the community and urging them to take shelter. 
The tornado cut a 7-mile-long swath of oak trees, nearly leveled a home and damaged 80 others. 
"The alert on my iPhone was a savior," Ryan Meadows said in 2015. He had ignored the first alert that lit up his phone and assumed it was a "flash-flood alert."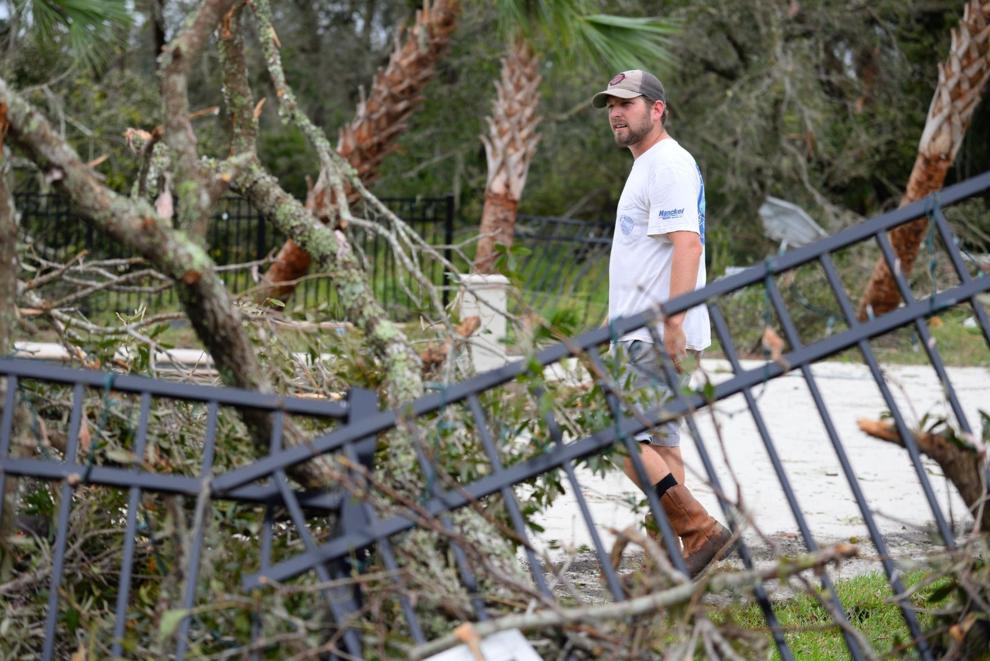 Since people should have more than one way to get information, these wireless alerts are not the only means for the public to receive notifications from officials about emergency situations. State and local governments also work in partnership with the broadcast industry to provide information and instructions in dire situations through the Emergency Alert System.
Most notably, this system allows important messages to flash across TV screens. Standards and procedures for the system's participants are set by the Federal Communications Commission. The SCEMD and broadcasters in the state do not control how cable television providers choose to broadcast the messages over their networks.
CodeRED notifications are another tool used by the SCEMD. Becker said it is an "a la carte'' approach people can take to get public safety alerts on their cellphone through text messages or emails. People can essentially pick what type of messages they want to receive by registering through the SCEMD website.
"The types of messages that are sent through CodeRED are not necessarily immediate life-threatening situations but certainly public safety situations that people need to know about and take some precautions," Becker said.
In the past, the SCEMD has used CodeRED Alerts for missing-person reports at the request of counties, boil-water advisories and even 911 outages. Counties have also used the alerts to supplement evacuation messages sent through the Wireless Emergency Alert system.
Becker said a lot of people have issues with the way they get emergency alerts over cable TV networks, but the SCEMD does not control that. And the agency has experienced a mixture of responses from South Carolina residents regarding wireless emergency notifications. 
Responses have ranged from, "Thank you for sending the alert," to "How could you interrupt my day," Becker said. 
For the most part, people are grateful to get information wirelessly because not everyone pays close attention to what is playing on TVs or has a NOAA weather available. But most folks, nowadays, keeps a cellphone within reach.