The Trump administration doesn't want colleges to consider race as a factor in their admissions processes — but at least one public university in South Carolina plans to keep doing it anyway in its effort to pursue diversity.
On July 3, the U.S. Departments of Justice and Education rolled back seven pieces of Obama-era guidance on affirmative action, which encouraged colleges as well as K-12 schools to consider race when admitting students.
President Trump and his appointees have effectively reverted the government's stance to that of the George W. Bush administration, when "race-neutral" admissions were encouraged.
At USC's main campus in Columbia, where about 77 percent of the 25,000 undergraduate students are white, admissions officials consider race as one factor alongside high school transcripts, test scores and extracurricular activities.
"I can't speak for other institutions, but our practices have been and will continue to be in compliance with the law, so we don't believe the guidance change necessitates any change in our practice," USC spokesman Jeff Stensland said.
"In order to foster a diverse educational environment on campus, the Office of Admissions uses a variety of recruiting efforts to attract underrepresented students to consider USC. Race is one of many factors that may be considered in our holistic review process as we consider students within the context of their educational environment. There is no single determining factor in the admission decision."
While the Trump administration's directive doesn't change the law, proponents of affirmative action worry that the new direction from the White House — combined with a string of lawsuits alleging that affirmative action discriminates against white and Asian-American students — could produce a chilling effect on colleges' efforts to boost diversity.
Eboni Nelson, associate dean for academic affairs at the USC School of Law, has written and researched extensively on the legal status of affirmative action and prefers the term "race-conscious" to "race-based" admissions — since the latter inaccurately implies that a student could get into college based on her race alone.
Particularly in a state like South Carolina, where wide disparities persist between public schools in majority-white and majority-black counties, Nelson said affirmative action is a vital remedy.
"When you think about the consideration of race as one of a myriad number of factors that a university decides to look at ... you are trying to compensate in some way for those students who have achieved even despite those structural inequalities that they have been born into," she said.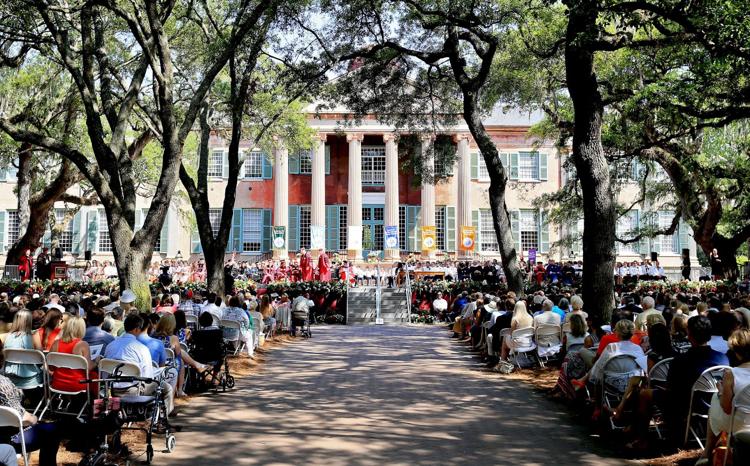 U.S. courts have rejected race-based quotas in college admissions, but they have upheld the authority of colleges to consider race as one factor in admissions. That precedent may be in jeopardy, though, with Trump and a Republican-controlled Congress set to appoint a new conservative justice to the U.S. Supreme Court.
The court most recently reaffirmed its stance on affirmative action in the 2016 case Fisher v. University of Texas, concluding in a 4-3 vote that the University of Texas' consideration of race in admissions did not violate the Equal Protection clause of the 14th Amendment. Retiring Justice Anthony Kennedy cast the swing vote and penned the majority opinion.
Eight states have banned the practice of considering race in admissions, but South Carolina is not one of them. In states that ended the practice, including California and Michigan, some elite public universities have seen their minority enrollment drop significantly, according to a 2014 Century Foundation report.
Other schools in those states found alternative ways to boost enrollment without affirmative action. The study's authors identified five strategies that seemed to work: Adding socioeconomic factors to admissions; funding new financial aid programs; improving recruitment and support; dropping legacy preferences; and creating "percent plans" that guarantee admission to the top graduates of each high school in their state.
In South Carolina, some colleges have tried those strategies. Clemson University recruits students from the Interstate 95 corridor, which encompasses a number of majority-black counties, through its Emerging Scholars Program.
The College of Charleston launched a pilot Top 10 Percent program in 2016, offering admission to the top 10 percent of graduates at public high schools in eight counties. While the program is race-neutral, officials said one of its goals is to improve diversity at the mostly white college.
College of Charleston spokesman Mike Robertson said the Trump administration's directives would not affect the school's admissions policies or its Top 10 Percent program. He said the college does not consider race or ethnicity when making admissions decisions.
"The College uses a holistic review process. The most important factors in that process include: academic preparedness, high school transcript GPA, SAT/ACT test score, state residency status, character, and class rank," Robertson said.
Percentage plans have earned support from some conservative leaders, including former President George W. Bush. As governor of Texas, he helped create a Top 10 Percent program at the University of Texas, opting for what he called "affirmative access" instead of racial consideration.
But Nelson said that even race-neutral diversity efforts could soon come under fire.
"While those kinds of plans may be deemed race-neutral in the strict sense that you're not considering the applicant's race, there is still a consciousness, if you will, with regards to race," Nelson said. "I will be honest with you that I think there will be, on the horizon, challenges to even those types of programs."