Lightning, damaging wind gusts, possibly hail and tornadoes are expected to storm across South Carolina from late Friday morning through the afternoon.
The worst line of the thunderstorms is forecast to reach the coast about 5 to 6 p.m. — just in time for the Friday rush-hour commute, said Mark Malsick, the severe weather liaison for the S.C. Climate Office.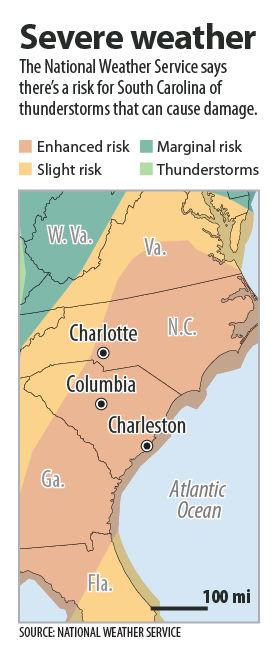 The National Weather Service on Thursday heightened the risk for most of South Carolina below the mountains to "enhanced," meaning a number of severe storms are possible.
The risk area was expanded from the previous forecast for a smaller coastal area, said meteorologist Blair Holloway with the Weather Service office in Charleston.
The later in the day that thunderstorms arrive, the stronger they could be, the Weather Service said.
The storms are pushing across the South with an estimated 100 million people in their path, following a similar line of storms last weekend that tore up the region but largely fizzled out before they reached the South Carolina coast.
This time, the atmosphere will be more disturbed because of a "jet streak," the merging flow of two jet streams, said Charleston-based meteorologist Shea Gibson, with the private forecasting company WeatherFlow. That increases the chance of severe weather and spreads it over a wider area, he said.