Several South Carolina cities scored below average as far as having laws and policies to protect LGBTQ Americans.
Each year, the Human Rights Campaign — a national civil rights organization working to achieve equality for LGBTQ citizens — creates a Municipal Equality Index to analyze LGBTQ inclusion across American cities and towns.
Of the eight South Carolina cities assessed in its 2018 report — Charleston, Columbia, North Charleston, Myrtle Beach, Greenville, Rock Hill, Mount Pleasant and Clemson — six came in below the average score of 58.
Charleston and Columbia were the only cities with above-average scores, 72 and 71 points, respectively.
The survey covers LGBTQ representation in politics, LGBTQ protections for public accommodations and housing, requirements for healthcare for LGBTQ individuals and other similar metrics.
In the campaign's seventh annual report, it looked at more than 500 cities, examined public documents and spoke with city officials. It then scored those cities on a 100-point scale, allocating points if they have LGBTQ-inclusive laws and policies.
For example, a city earned 10 points if it had an ordinance prohibiting housing discrimination on the basis of sexual orientation or gender identity. It got 14 points if it had an ordinance prohibiting municipal government employment discrimination.
The Human Rights Campaign claimed it sent copies of the reports to municipalities for prior review. Some public officials, however, rebutted the findings. For instance, North Charleston spokesman Ryan Johnson said the metric "isn't a true representation."
HRC legislative counsel Xavier Persad noted that the report gave all cities an equal chance to score high. Even if state laws prevented cities from passing certain ordinances or policies, bonus points could be earned in other areas, such as having a bullying policy or serving LGBTQ elders, Persad said.
"Cities of all sizes, large and small, and of all political backgrounds do well and score well on the MEI," he said. "It comes down to local leaders prioritizing enforceable protections."
While the system is not perfect, the report does paint a fairly accurate picture of what LGBTQ protections and resources are available across South Carolina, said Chase Glenn, president of Charleston's Alliance For Full Acceptance. 
"It's a score card, if you will," Glenn said. "An audit that we can hold up to town or cities, and say, 'Here are the things we can do to move the needle and make your city a more welcoming place.'" 
Anti-discrimination laws 
None of the South Carolina cities surveyed have ordinances to protect people from discrimination on the basis of sexual orientation or gender identification in areas of employment. 
Some cities, such as Mount Pleasant, do have anti-discrimination protections in other areas.
Last week, its Town Council passed ordinances establishing anti-discrimination protections in housing and public accommodations. These rules are critical to maintaining a safe and equal environment because anti-LGBTQ discrimination continues to happen on a regular basis, Glenn said.
As recently as five months ago, AFFA received a call from a North Carolina man who was considering a move to the Charleston area. He toured an apartment in a suburb. When the landlord asked who would be moving in with him, the man answered, "My husband and our 4-year-old."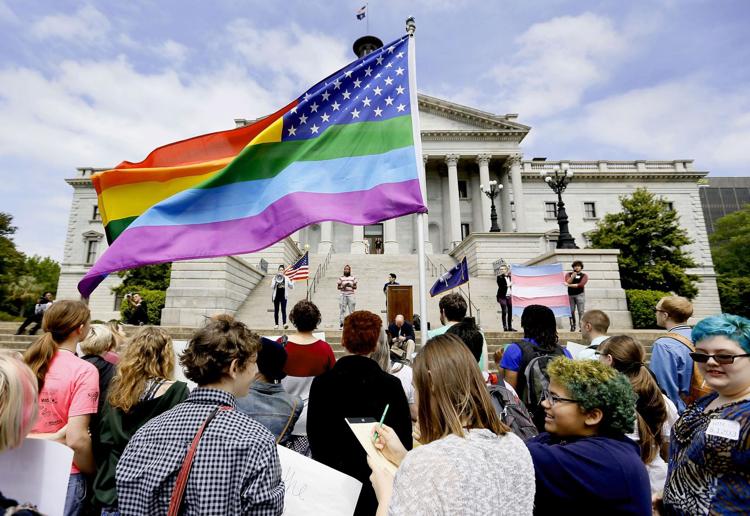 The landlord refused to rent him the apartment, although Charleston has a housing ordinance that prohibits LGTBQ discrimination, Glenn said.
"This sort of thing happens, and it's not reported," he said. "We see the rights of citizens, for equal opportunity and access, being eroded." 
North Charleston has a housing ordinance that prohibits LGBTQ discrimination, but no ordinance for public accommodations, which would include hotels and motels. 
Tony Grasso, president of the Russelldale community in North Charleston, rents six properties. He said he's had several LGBTQ tenants and would like to see an ordinance that enables people, regardless of their sexual preference or gender identity, to use any facility in the city.  
"Should a homosexual be turned away from (a hotel)? Absolutely not," Grasso said. "I think there should be a law that allows anybody in the community to use any business."
North Charleston resident Barbara Williams, who attends progressive Circular Congregational Church in downtown Charleston, agreed. 
"I think it's kind of silly," Williams said.
Law enforcement
North Charleston, Charleston, Columbia, Greenville, Rock Hill, Myrtle Beach and Mount Pleasant received points because these municipalities reported 2016 hate crime statistics to the FBI, and because York County has a human rights commission.
Columbia and Charleston also received points for having an LGBTQ police liaison or task force. 
Charleston added both a police and mayor's office liaison in 2016 to "further our commitment to making sure that we're inclusive of everybody," said spokeswoman Cameron Wolfsen.
The campaign's report said such a step is important because as LGBTQ people are vulnerable to violence arising from bigotry and ignorance. Liaisons build bridges between the LGBTQ community and government agencies.
Crimes against LGBTQ individuals recently became a topic of wider discussion in Charleston after police said a man attacked a transgender woman after making racial slurs about her gender identity.
Protections for municipal staff
Greenville, Charleston and Columbia received points for protections for LGBTQ municipal staff. Last summer, Mount Pleasant altered its human resources policy establishing benefits for same-sex spouses, though this change was not reflected in the annual report. Despite a similar policy change in Myrtle Beach, its report also lacked that information, spokesman Mark Kruea said.
These rules are important to ensure protections for public employees and benefits for their spouses, Glenn said.
A few years ago, in a small town in rural Dillon County, audio recordings surfaced in which the mayor of Latta espoused anti-LGBTQ opinions. After the recording became public, the mayor fired the town's lesbian police chief, Crystal Moore. 
The mayor had only been in office for four months when he fired Moore, who had served in Latta's police department for two decades.