The nation's population has been growing increasingly diverse, racially and ethnically, but South Carolina is still bucking that trend, according to the latest census estimates.
It's a dramatic contrast. In South Carolina, 75 percent of the population increase since 2010 has been due to non-Hispanic white and black residents. In the rest of the nation, 74 percent of the growth was due to Hispanic residents, who can be any race, and to non-Hispanic Asians.
"It's a lot to do with who is deciding to move here," said Mike MacFarlane, South Carolina's census program manager, with the Revenue and Fiscal Affairs Office.
The Palmetto State's rapid population growth has for years been driven by people moving in from other states, and most of those people have been non-Hispanic whites, a demographic that accounted for 59 percent of the state's population increase since the most recent census.  
Consider this stunning statistic: South Carolina accounted for nearly half the estimated growth of the entire nation's non-Hispanic white population, since 2010. The state gained an estimated 235,482, while the rest of the country combined gained 248,645.
"Up until 1980, the only way our population grew was the natural increase," said MacFarlane, referring to the difference between births and deaths. "Since then, we've depended on people migrating to South Carolina, and a lot of them are coming from the Northeast."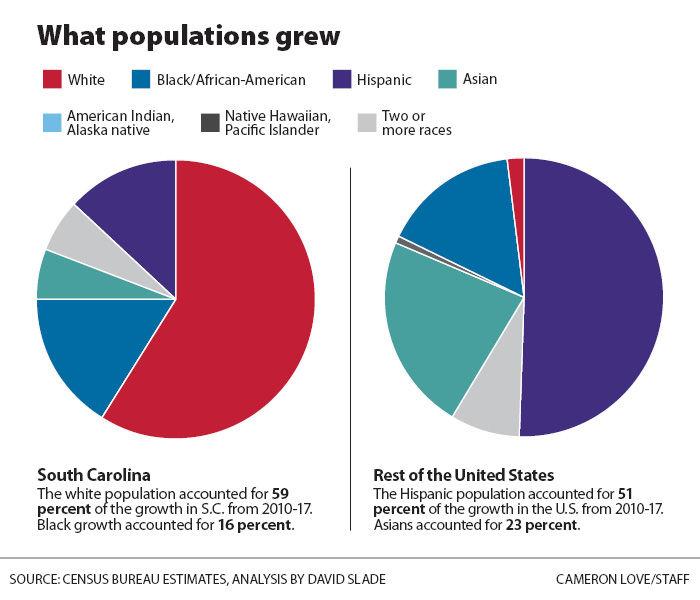 In the state and in the rest of the nation, the Census Bureau estimates that the populations of every racial and ethnic group have increased since the last official census was conducted. How fast or slow certain groups have been growing in relation to each other, due to births, deaths and immigration, is what's reshaping the nation's demographics.
For example, the nation's population is currently about 61 percent non-Hispanic white, down from 64 percent in 2010. That slice of the population is heavy with older people beyond their child-bearing years, and is expected to account for just one-third of the nation's children by 2060, the Census Bureau said.
In the state and the nation, it's the Asian population that's been growing most rapidly since the last census. Across the U.S., the population added more Asian residents — 3.76 million — than the nation's increase in white and black residents combined. But in South Carolina, a 40 percent increase in the Asian population since 2010 amounts to less than 24,000 people, and less than 2 percent of state residents are non-Hispanic Asians.
That's a very rapid rate of growth, but if you're trying to find hundreds of Asian adults, teens and children to cast in a movie that's being filmed in Charleston, it's the actual number of Asian residents that matters. That's the situation facing casting agent Tona B. Dahlquist, who is seeking extras for "The Righteous Gemstones," which is filming in Charleston later this month.
"We are getting good response from the area considering the request and it's demographics," she said Monday. "We are having to reach out to neighboring cities and states as well for this request."
The makeup of the population in a particular state and or region can vary greatly, from the nation as a whole.
Six of the New England states are more than 90 percent white, for example, while Hawaii has a majority-Asian population. The Hispanic population in California, 15.5 million residents, is more than three times the size of South Carolina's total population. And 27 percent of South Carolina residents are black, compared with 12 percent nationally, but the number of black residents in South Carolina is about the same as in Cook County, Illinois, home to Chicago.
"We certainly want to see smart people move here, regardless," said Greenville Area Development Corp. President and CEO J. Mark Farris.
He said the business development group is focused on finding people with in-demand skills to fill Greenville-area jobs. Diversity, he said, is something they want to encourage. "I think that makes us stronger," he said.
Changing demographics are driven by both the size of a population and how fast it is growing or shrinking. For example, a 22 percent growth of South Carolina's Hispanic population since 2010 added 50,070 residents to the state, while 5 percent growth of the black population added 63,973. Meanwhile, the white population grew by 8 percent, adding 235,482.
Add that all up, and the Palmetto State's population looks much like it did before.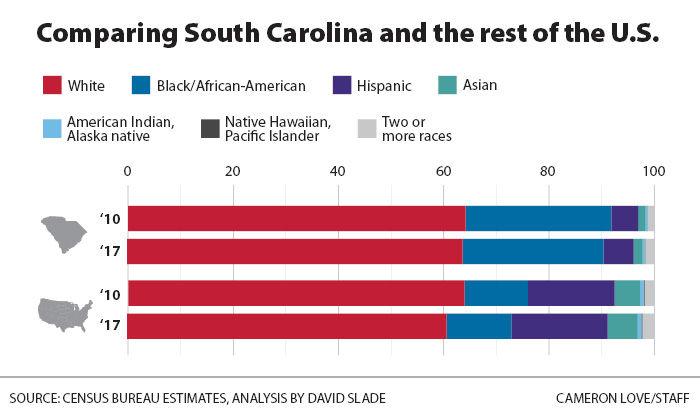 In 2010, the state's non-Hispanic population was roughly 64 percent white and 28 percent black, and 5 percent of residents were Hispanic, divided among many races. In 2017, the state's non-Hispanic population was still 64 percent white, the black population accounted for 27 percent of residents, and the Hispanic population was closer to 6 percent of South Carolinians.