The big blacktip shark came ashore on Sullivan's Island.
According to its satellite tag, the 6-feet-long beast then roamed up and down the Mount Pleasant shopping district, crossed several bridges to reach King Street in downtown Charleston and then headed to West Ashley.
Only after two days and several miles later did the fast-moving "landshark" finally settle down in a quiet Mount Pleasant neighborhood.
It didn't take long for the S.C. Department of Natural Resources marine scientists to guess what had happened to their wayward satellite tracking device: Someone had taken it on a long strange trip.
The pinging tags, affixed to sharks by scientists, are designed to detach after 28 days and float until they are retrieved.
Occasionally, they wash ashore, get picked up by a beach-goer and tossed in a car. The tags are marked, contact information is provided, and there is a reward, so DNR usually is notified promptly — in most cases.
But not this time.
"This one was a little bit unique," said DNR scientist Bryan Frazier, who works with sharks.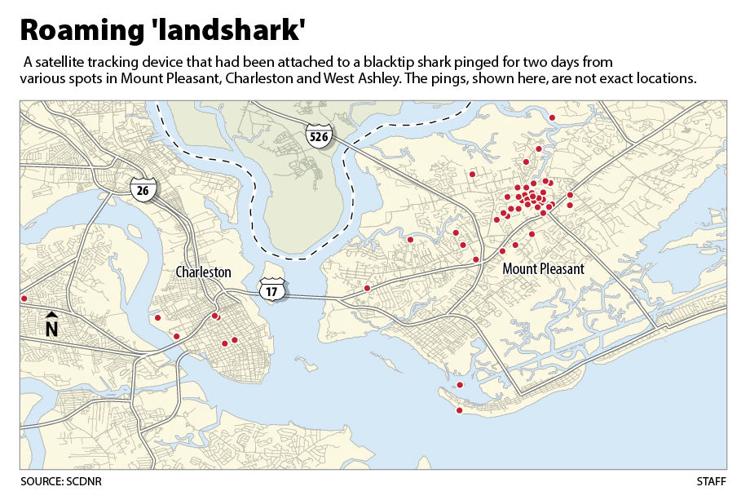 Returning the tags isn't required by law, but the data recorded on the devices is valuable to DNR. They are being attached to blacktip sharks and red drum as part of a study to determine what percent of these fish survive after being captured and released.
That information helps regulators set catch and season limits. But it also gives DNR an understanding about how the hook, the fish's time fighting on the line and its time spent aboard a boat before release affects how many die.
That can be turned into best practice guidelines to offer catch-and-release anglers.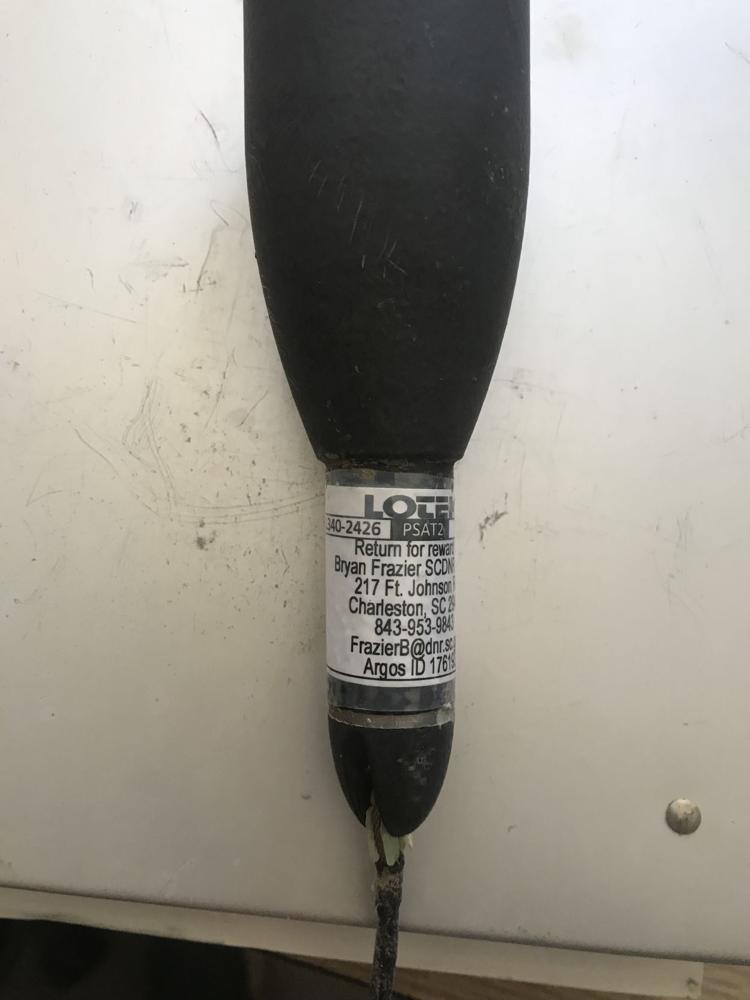 "We're trying to get a better handle on the fishery," said DNR scientist Joey Ballenger, who works with the drum.
In the sweep of tides and currents, the detached tags rarely stay put. Two of three tags put on red drum in Charleston Harbor earlier this year were picked up by a child walking Holden Beach in North Carolina, 150 miles away.
The supposed "landshark" who did the far-reaching drive with this tag, didn't come to a good end.
After it "pinged" for a while in Mount Pleasant's Snee Farm neighborhood, Frazier put out fliers asking for its return. He got a call from a resident who had found it on her lawn, didn't realize what it was and threw it in the trash.
So, the pinger is now dead, the data most likely lost, and the device lying somewhere on or under the Bees Ferry landfill.