AUGUSTA, Ga. — Tiger Woods on Tuesday of Masters week spoke reverently about Augusta National Golf Club crowds.
"You can tell birdie roars and eagle roars," he said. "It's not like most (PGA) Tour events where if you get the ball in the air, you're the man. We do have names on the golf bag, so we are able to get the ball in the air."
But Tiger roars are loudest of all.
They make the best players in the world cringe and they interrupt play on other holes and now Tiger Woods' name is on one of the great comeback stories in sports.
At 43-years-old and 11 years removed from his last major championship, Woods put nagging back trouble on hold and wiggled away from a star-studded field Sunday to win his fifth Masters green jacket.
He is the second-oldest Masters champ; Jack Nicklaus was 46 when he stunned the golf world in 1986.
There were seven keys to an elusive 15th major title that suddenly puts Woods within reach of Nicklaus' hallowed record of 18: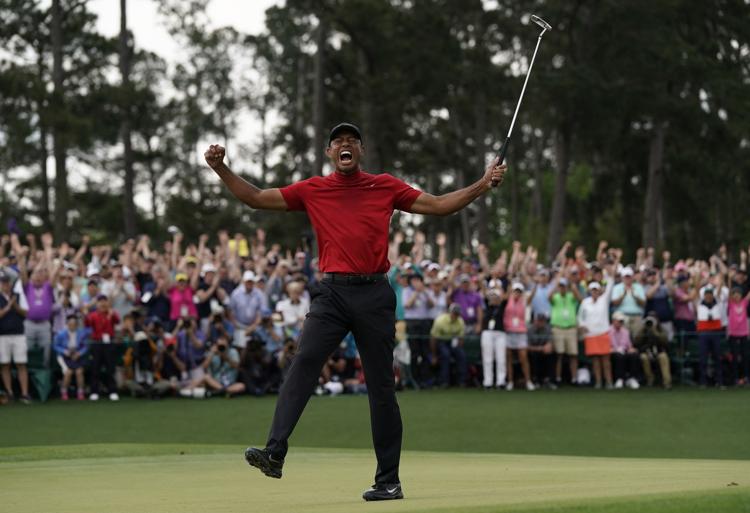 The kids
There were always cheers for Woods after major wins; Sunday they came with tears. Almost everyone in the huge crowd tightly bunched around the 18th green was dabbing at moist eyes as the proud father hugged his son Charlie, 10, and daughter Sam, 11. The children had watched with Woods' mother, Kultida Woods, and his girlfriend, Erica Herman.
The long embraces were right where Woods hugged his late father, Earl Woods, after winning his first Masters in 1997.
Born after the glory days, his kids mostly equate golf with their father's constant pain, Tiger said.
"It means the world to me," Woods said. "Their love and their support, I just can't say enough how much that meant to me throughout my struggles when I really just had a hard time moving around. Just their infectiousness of happiness."
Mind over practice matter
An aching back means limited practice time. That's doubly hard on a famous perfectionist.
But, oh, that wily Woods.
Right-to-left ball placement, "draw" shots that are an Augusta staple, were often precise. When Woods needed a critical 8-iron shot on the par-3 No. 16 hole, his ball flew 178-feet over mostly water. It stopped four feet from the hole to set up a second straight birdie.
Woods also steadily "missed in correct spots" to avoid the kind of calamity tied to Augusta.
Chewing gum
Social media went nuts over Tiger Woods and his gum during the Masters. Gum chewing for nutrition and relaxation has become a thing among some athletes and is about to boom, thanks to the back nine on Sunday.
"I'm chomping on this gum because I usually get hungry," Woods explained. "I keep eating so much. It curbs my appetite a little bit, which is nice."
Tiger's reaction to fans
It was apparent all week that Woods was having fun, smiling more than usual. He could be seen fist-bumping and hand-slapping patrons between holes.
Much different than the stoic Woods of old.
Being a dad surely has something to do with that.
Fan reaction to Tiger
A new generation of golf enthusiasts was getting tired of hearing about vintage Tiger charges. They finally got to see for themselves, many alongside people who watched Woods win his last Masters in 2005.
"You can hear the roars," said Dustin Johnson, the former Coastal Carolina golfer from Irmo who finished in a three-way tie for second place. "You can definitely tell the difference on a roar for me and a roar for Tiger."
Sports medicine
Doctors, physical therapists, sports performance experts and exercise science people should all rejoice. Woods' recovery from injuries bad enough for him to miss the Masters in 2014, 2016 and 2017 is a tribute to modern medicine and technology.
After a repaired Woods contended at the British Open and PGA Championship in 2018, maybe it was just a matter of time.
"I think we all knew it was coming sooner or later," said Italy's Francesco Molinari, who saw his lead fall apart Sunday while playing with Woods.
A (mocked) mock turtle neck
Like it or not, a golfer you know has probably already ordered a Nike mock turtleneck in one of the colors Woods sported at the Masters this week. It was corporate strategy designed to party like it's 2005.
"I told Tiger (earlier this year) I think they are hideous," said 25-year-old Xander Schauffele after finishing tied for second. "He laughed and told me a few words after that. But I can promise you, a half a million are going to sell (Monday)."
Early betting odds favor Woods doing the mock turtleneck thing again next month for the PGA Championship at Bethpage in New York. That's where he will take aim at a 16th major title that didn't look possible last week.
Follow Gene Sapakoff on Twitter @sapakoff