Going around in circles is a metaphor for making no progress, but across South Carolina and the nation, driving around a circle has become a preferred traffic option for safely getting people where they're going.
Roundabouts, as modern traffic circles are known, dramatically reduce serious traffic accidents, multiple studies have shown. But while traffic safety engineers love them, many drivers are still skeptical.
"There's opposition on every roundabout we try to do," said S.C. Department of Transportation Traffic Safety Engineer Brett Harrelson. "But the ones that get implemented, there's a total turnaround (in opinion)."
Just 20 years ago, there were fewer than 200 roundabouts in the nation, and one in South Carolina had just been completed on Hilton Head Island, according to Kittelson & Associates, an engineering firm that maintains a roundabouts database.
Today, there are more than 3,200 nationwide and many dozens in the Palmetto State, particularly in fast-growing coastal communities, including Mount Pleasant and Myrtle Beach.
The first modern roundabout in the tri-county Charleston area was built in Mount Pleasant in 1998, on Mathis Ferry Road to accommodate the I'On subdivision. A Post and Courier article at the time described the roundabout as having "appeared suddenly like something out of space" and said motorists "don't know what to make of it."
Lifelong town resident Carol Sue Dawson was one of those motorists, and she personifies Harrelson's point about people's initial wariness about roundabouts. In 1998, Mount Pleasant voters rejected all four Town Council members seeking re-election, and the Mathis Ferry Road roundabout was one reason.
"The old candidates voted for that (roundabout)," she told The Post and Courier after the election. "I'm looking for an accident to happen there."
Today, there are four roundabouts on Mathis Ferry Road alone, and Dawson — now a retiree with 10 grandchildren — is a big fan.
"My story has really changed," she said. "Using the roundabout every single day, I love it."
"I prefer the roundabouts," Dawson added. "It saves us from having stop signs."
The town has more than a dozen roundabouts now and more are planned, including a controversial multi-lane version at Coleman, Ben Sawyer and Chuck Dawley boulevards.
"Multi-lane roundabouts are still safer (than traditional intersections), but they are complex," Harrelson said.
Myrtle Beach, another of the fastest-growing areas on the East Coast, has at least nine roundabouts, with more in nearby communities.
Traffic safety experts are big advocates because single-lane roundabouts are credited with cutting serious accidents at intersections by about 75 percent. That's because roundabouts eliminate left turns, and the potential to turn across the path of oncoming traffic.
Traffic must slow and yield to enter a roundabout but there are no stop signs or traffic lights — the lack of traffic lights also reduces long-term costs and maintenance. Traffic circles that do have stop signs at the entry points are not considered roundabouts.
"It's kind of like, a square is a rectangle, but a rectangle is not a square," Harrelson said.
In South Carolina, the Department of Transportation has turned 17 dangerous intersections into roundabouts, including five in Columbia and Lexington counties. None have had a fatal accident since, Harrelson said.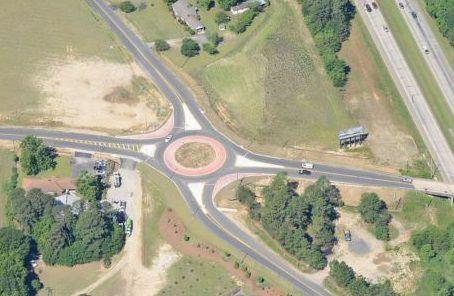 The advantages seen by traffic engineers haven't stopped residents from opposing traffic circles in many communities where they are planned, whether the community is on the East Coast, the West Coast, or somewhere in-between.
"Most people perceive a signal to be better than a roundabout," said Molly LeMin, a Transportation Department project manager with Charleston County, which recently finished converting a James Island intersection at Harbor View and Fort Johnson roads to a roundabout. "Roundabouts are definitely safer."
But for some, roundabouts still seem exotic or unusual.
A 2014 travel guide, Moon Carolinas & Georgia, warned readers who visit Hilton Head of "a confusing, crazy British-style traffic circle called Sea Pines Circle." And that's not the only guide to warn Hilton Head visitors about traffic circles and roundabouts.