In a major announcement, Roper St. Francis Healthcare revealed a $500 million plan on Nov. 3 to move its flagship hospital off the Charleston peninsula after treating and caring for patients downtown for the past 165 years. 
The hospital system said it needs to relocate Roper "so patients can more easily access care closer to where they live and work," and because it needs a building that can better hold up to flooding, hurricanes and earthquakes. Roper Hospital is located in the flood-prone medical district on Calhoun Street between Jonathan Lucas Street and Courtenay Drive. It sits in an area that for decades has been inundated by heavy rainstorms and tidal events, presenting persistently dangerous conditions for both patients and employees. Charleston is also located near a major East Coast fault line, though it has not been hit with a significant earthquake in more than 100 years. 
Where the hospital is moving hasn't been announced yet.
Roper St. Francis CEO Dr. Jeffrey DiLisi pointed out the impending move isn't the first time Roper Hospital has relocated. The hospital originally opened in the 1850s at the corner of Queen and Logan streets and was later moved to a second location at the corner of Barre and Calhoun streets, and finally, to its current, more central location. 
But the center of Charleston is still shifting, DiLisi said. 
"Charleston has got 850,000 people in the metropolitan area now and if you look at where the middle of Charleston is, in that whole metropolitan area, I would argue it's not right here (on the peninsula)," he said, calling Wednesday's announcement "a historic day" for the hospital system. 
Moving Roper off the peninsula — a "focal point" of the system's 10-year strategic plan called Roper St. Francis Healthcare 2030 — marks, perhaps, the most visible evidence yet of the major impact climate change has made, and will continue to make, on the coastal city's critical infrastructure. In recent years, the hospital system had already spent $9 million on projects to keep generators running and patients safe, even if a major hurricane hit.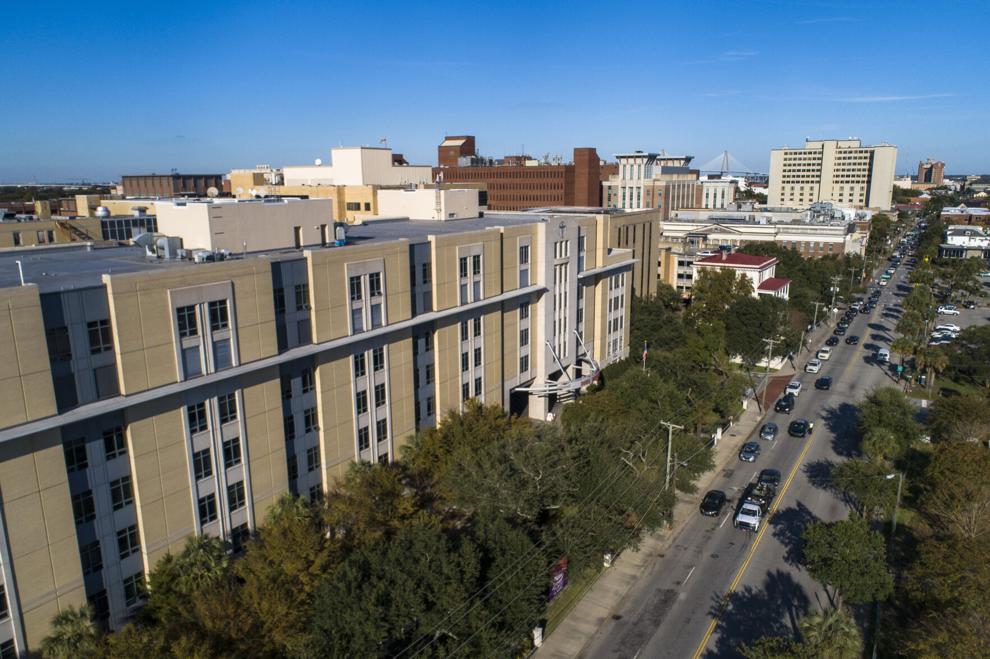 Roper St. Francis Healthcare, a nonprofit system jointly owned by Bon Secours Mercy Health and the Medical Society of South Carolina, is one of Charleston's oldest and largest employers. The fact that it will no longer operate a hospital within the city's historic heart offers an early signal that living and working on the low-lying peninsula is becoming more tenuous. The hospital's intended move has been planned even as federal, state and local authorities scramble to defend against rising waters that threaten Charleston. 
This week, tides are expected to push to levels where the city can flood without any rain at all. Sea levels in Charleston Harbor have risen a foot in the past century, and the pace is accelerating, with the city of Charleston planning for 2 to 3 feet more in the next 50 years. It's in the midst of several projects to mitigate existing flooding, but one that would help drain part of the medical district won't come online until 2024, and a more complex federal proposal to build a sea wall around the city might not break ground until 2026 at the earliest, if the city decides to pursue it.
Charleston Mayor John Tecklenburg said he had discussed Roper Hospital's move with DiLisi already and that he understood the hospital system's need for an updated facility. "We readily all recognize the hospital district is most vulnerable" to rising seas in the city, Tecklenburg said. 
With drainage projects and the seawall, he added, "we're going to figure this out and protect this city." 
Roper Hospital, as part of a nonprofit hospital system, does not pay property taxes, but it's not immediately clear how much money Charleston stands to lose, directly or indirectly, if the medical center leaves the city limits.
Sea level rise isn't the only reason precipitating the Roper announcement. DiLisi joined the system as CEO about 11 months ago and said he was charged from the get-go with figuring out a way forward.
"This is a decision that's been weighing on the organization for a long time," he said. "We've got new buildings all around us. Roper has wonderful tradition, but I will say it's not new. It needed a lot of work."
Over the past year, hospital leaders have considered the cost of staying put and upgrading the hospital at its current site versus building a brand-new hospital somewhere else. 
"Either one, you're talking about half a billion dollars," he said. The plan they settled on presents the fewest problems for ongoing patient care. 
"I think of someone laying in a hospital bed while they're recovering from surgery and jack-hammering going on. It's not great. I wouldn't want to be that patient. I wouldn't want my mother to be that patient. I wouldn't want my wife to be that patient," DiLisi said. "We were all very concerned with the amount of disruption it would cause to just day-to-day patient care to do that kind of a project."
The move will be financed in a variety of ways, he said, and the capital plan is still being finalized. DiLisi would not say how the existing building will be used in the future or reveal if Roper St. Francis plans to sell the property. 
"There's a lot of different options and we haven't made any final decisions on exactly what we're going to do," he said. 
Dr. Pat Cawley, CEO of MUSC Health, suggested Roper's planned move could potentially affect the Medical University of South Carolina's long-term hospital replacement strategy. 
MUSC had already announced plans to replace its main hospital downtown at some point and had tentatively planned to build the new facility along Courtenay Drive, Cawley said. But if the Roper Hospital property becomes available, MUSC might be interested. 
"I do think this raises the question: Should we build it in that place (on Courtenay Drive) or consider other options?" Cawley said. "I do think this will result in MUSC leadership and Roper leadership sitting down and talking about what this means."
The timeline is still unknown. Pending the purchase of a new site for Roper Hospital, a design phase and regulatory approval, DiLisi said the system wants to start building as quickly as possible. "I'd love for it to be open in five years. I'd love to be open as soon as we can."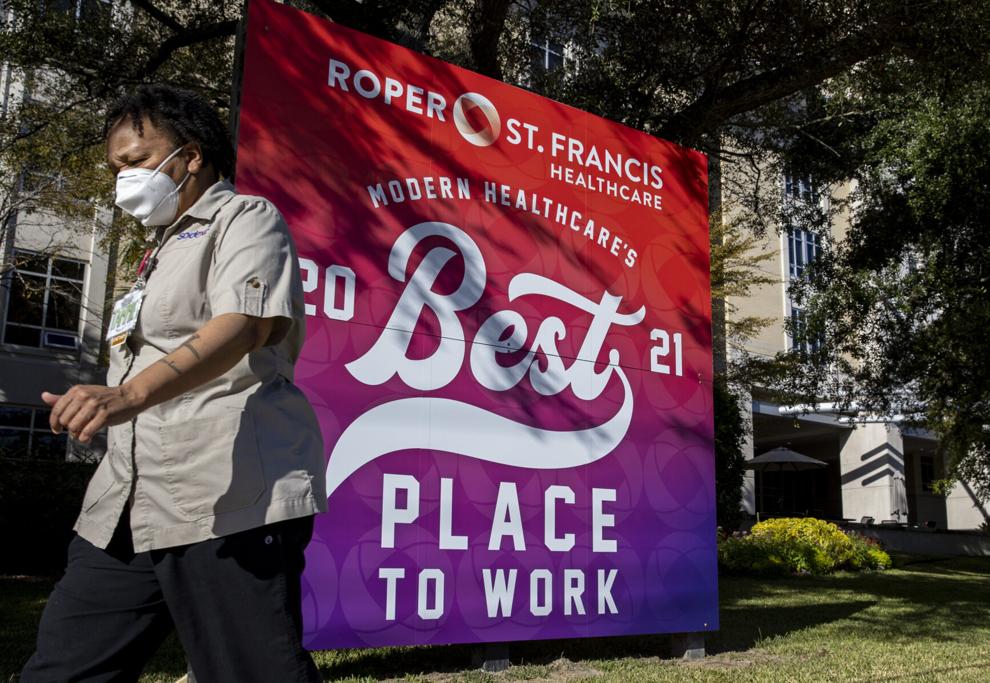 The existing 332-bed Roper building was constructed in 1946 and houses cancer care, heart and vascular care, and an emergency room, among other services. The hospital system also operates hospitals in Mount Pleasant, West Ashley and Berkeley County. DiLisi said he plans to announce Roper Hospital's future location soon. 
"Today, I make this promise that whether you live in downtown Charleston or the farthest reaches of Berkeley, Dorchester and Charleston counties, Roper St. Francis Healthcare will be a short drive away to serve your health care needs," DiLisi said. "This strategic plan serves as our beacon to making primary and specialty care services more convenient for all of the communities we serve."
Even as Roper Hospital departs the peninsula, MUSC and the Ralph H. Johnson VA Medical Center will continue to admit patients to other hospitals located in the medical district. MUSC, in fact, has invested hundreds of millions of dollars building new facilities downtown in recent years. Last year, it opened the $389 million Shawn Jenkins Children's Hospital right next to Roper Hospital on Calhoun Street, making the new facility the most expensive hospital ever built in South Carolina.
"We're committed to the peninsula. We've made investments there," Cawley told The Post and Courier. "We feel good about that. "We're not going to leave. ... Nothing's going to change there."
MUSC's decisions to continue to invest in downtown Charleston stem from long-term planning in the early 2000s, when leaders did consider migrating elsewhere. But they were convinced to stay, in part, by then-Mayor Joe Riley. 
Riley said Wednesday he disagreed with Roper's decision to relocate, but that it was their choice. 
"I think the city of Charleston has been and will continue to make investments so that the city can withstand storms and flooding," he said. "All of the assets in the city, the intellectual assets and physical assets, are huge, and will stay here."
MUSC and the VA, meanwhile, are closely linked, sharing specialists and researchers who move between their downtown buildings. But both systems have expanded their footprint beyond the peninsula in recent years. The VA opened a North Charleston outpatient clinic in 2019, citing downtown flooding as a motivation for the annex. Meanwhile, MUSC has recently acquired hospitals all over the state and moved many of its pediatric services to a new building close to the intersection of I-26 and 526 in North Charleston. In the Lowcountry, it plans to open new facilities in Nexton and on Seabrook Island Road. 
Roper St. Francis Healthcare's strategic plan includes more than moving Roper Hospital. It also announced Wednesday it will expand its Berkeley County Hospital, upgrade its electronic medical records system and extend services in areas where the population is growing. This week, the system purchased a parcel of land in Mount Pleasant where the former Miller Cadillac was located near the corner of Johnnie Dodds Boulevard and Mathis Ferry Road.
All of these changes will take time and money. Many of the key components of the 2030 initiative will require approval through the S.C. Department of Health and Environmental Control's Certificate of Need program, which is set up to evaluate plans for new hospitals and hospital growth. 
Not only will Roper St. Francis need to make a regulatory case for these plans, history shows it will also likely face pushback from competing hospital systems in the region. 
Editor's Note: This article has been updated to reflect the fact that the current Roper Hospital building is the hospital's third location since its founding.