In North Charleston's hardscrabble south end, revitalization and redevelopment often seem to be just out of reach, often promised but rarely realized.
There's confidence that the commercial corridors of Rivers and Reynolds avenues will rise again, along with the surrounding Chicora-Cherokee community. But when?
"This area down here is really going to grow, just because of the port and the intermodal facility," said Omar Muhammad, president of the nonprofit Lowcountry Alliance for Model Communities. "We're trying to prepare for the growth, and enable residents to participate."
Meanwhile, expensive city and county efforts to pump jobs and services into the area have not gone as planned.
A renovation of the former Charleston Naval Hospital at Rivers and McMillan avenues was supposed to be a source of Charleston County jobs and social services, but instead of being finished at the start of 2015 as first promised, the renovation project failed.
It cost Charleston County taxpayers $33 million to settle a lawsuit and buy the property, and now the former hospital may be torn down. Construction of a new county office building is being discussed.
Across the street on the city-owned site of the former Shipwatch Square shopping center, development plans that were to include a new grocery store have repeatedly fallen through. The surrounding area is considered a "food desert" because of the lack of grocery shopping options.
"I have to go to West Ashley or Mount Pleasant to (buy) food, to be in North Charleston," said Smarel Nicole Brown, operator of the Reynolds Avenue vegan restaurant Dell'z on the Macon.
"Do you think they are really trying?" she said. "I think if they were really trying, those things would be here."
City and county officials, and nonprofit organizations, say they are trying.
"Any time you try to revitalize an area, it's a slow process," said Muhammad, with LAMC. "People need to be patient."
The 1996 closure of the Navy base eliminated the area's largest employer, stores closed, and Chicora-Cherokee was among the communities that suffered. A public-private initiative to redevelop part of the base property, the Noisette project, turned out to be another promise of revitalization that didn't materialize.
Muhammad gives the city credit for trying to attract a grocery store at Rivers and McMillan avenues but said many residents in the south end "feel that they do not get their fair share from the city."
Ryan Johnson, North Charleston's spokesman who also handles economic development, said the city's efforts have been extensive, from demolishing hundreds of dilapidated south end structures to building a new fire station near the Military Magnet school. He said the city still owns land at Shipwatch Square for a grocery store, and a new business on a portion of the property, Restaurant Depot, brought more than 50 jobs to the area.
"We understand that Rivers Avenue is a major corridor that's underutilized, in terms of commercial development," Johnson said. 
"If you look for the epicenter of the Charleston region, it's the south end of North Charleston," he said. "If you're looking for proximity and reasonable land costs — I'm no real estate investor, but it seems like the center of the region would be a good choice."
As much as residents want more places to work and shop, there's an underlying fear that if the south end's fortunes improve, residents of the predominantly African-American community may be driven away by rising rents. 
Brown has seen it happen before. Her mother opened the first Dell'z restaurant on the Charleston peninsula, on Cannon Street near King Street, before that section of King Street exploded with expensive restaurants, hotels and apartments.
"When my mom opened Dell'z on Cannon Street, it was a lot like this area is now," Brown said, sitting by the window of her restaurant on Reynolds Avenue, with the top five floors of the vacant former Charleston Naval Hospital rising above the trees a few blocks north. "Friends told her she was crazy."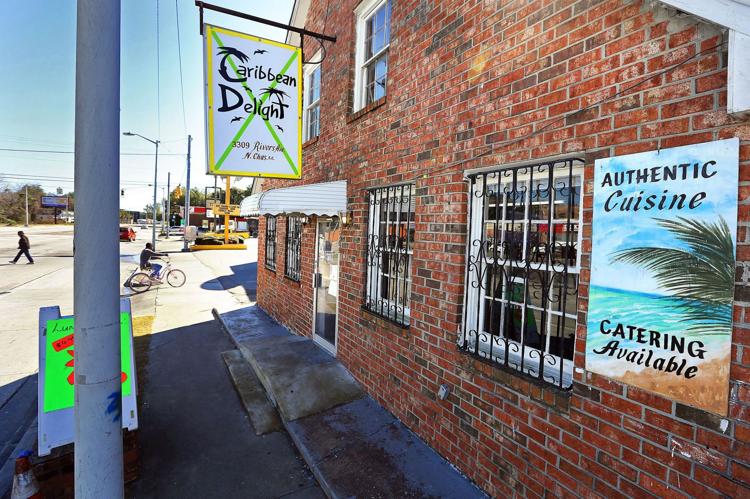 Restaurants, bars and art spaces are often the first to venture in to redeveloping areas, and Brown worries that Reynolds Avenue could become trendy, like East Montague near Park Circle. Brown's more interested in seeing more black women like herself open businesses, and promoting healthy eating in the community by showing residents how to prepare vegan meals.
Dell'z employee Asiah Thomas, who is also co-founder of artist collective Ill Vibe The Tribe, used to live on the Charleston peninsula, and is also worried about the Chicora-Cherokee community changing if economic development prompts higher rents.
"I saw what happened downtown," she said.
The State Port Authority's new Leatherman Terminal and Palmetto Railways truck-and-train intermodal facility on the former Navy base, which abuts the residential Chicora-Cherokee community, is bringing investment, jobs, and the mitigation money to the area. It will also bring truck and rail traffic, which has been an ongoing concern.
Just last week, residents packed a North Charleston Planning Commission meeting to oppose plans for a 600,000-square-foot warehouse on Reynolds Avenue, on the Cooper River side of Spruill Avenue, due to concerns about truck traffic.
Adam Randall and his brother, Matt, started a restaurant on that stretch of Reynolds Avenue three years ago, and The CODfather fish-and-chips business did so well that the Randalls moved to a larger location on Spruill Avenue.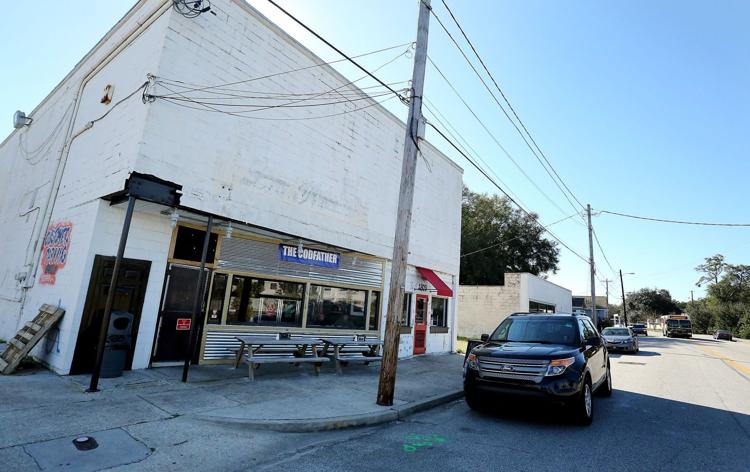 "Reynolds Avenue was good to me," Adam Randall said Tuesday. "People told me, 'Don't go there, you'll never survive.'"
Now located on Spruill Avenue north of Noisette Creek, Randall said business is booming and the area is quickly redeveloping. Holy City Brewing and Firefly Distillery will soon be neighbors. 
"There's potential in everything," he said. "Someone just needs to come along and do it."