It's not often at a chamber music concert that I rank among the older patrons in the room. Before you balk at my inelegance, understand that my focus on this stems from the hope of cultivating new generations of classical music lovers so that we all can continue to enjoy live performances. Pop into a concert during Spoleto Festival USA, and you may find yourself wondering how the art form will flourish in 20 years' time.
Consider then, the sheer joy of bearing witness to a sea of sweetly smiling teens filing into the seats at the Simons Center Recital Hall at the College of Charleston. Imagine spotting them willingly freed of iPhones, fully rapt throughout six works spanning centuries and cities of origin.
Such was my supreme delight Wednesday evening when I took in a top-notch roster of professional musicians at the Charleston Chamber Music Intensive Faculty Artist Concert. And that swell of emotion spilled over to the audience seats, too, as they were filled with fresh-faced proof of the continued vibrancy of the art form.
We can thank Paul Sànchez and Yuriy Bekker for this transfusion of new blood. As founders of the intensive, they are, for the second year, overseeing a week-long immersion hosted by the College that draws mainly high school students, who hail from both the Lowcountry and beyond. During the program, the students live on campus where they engage in master classes, lessons, competitions and plenty of practice, practice, practice.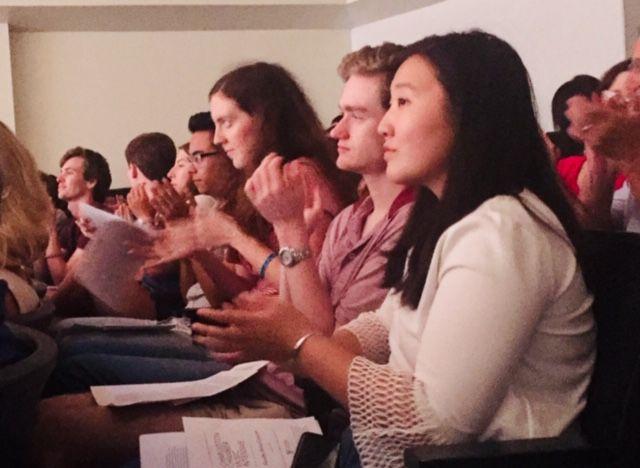 In addition to student recitals and concerts, the intensive gathers its faculty artists to perform a chamber music concert; all are open to the public. Now, since said teachers include phenomenally accomplished musicians from Charleston and elsewhere, the evening also offers a choice chance to listen to live classical music during a time of year in the city when such a concert can be as rare to hunt down as a hot toddy.
Now about that concert. It got off to a sparkling start with Wolfgang Amadeus Mozart's "String Duo No. 1 in G major, K. 423," a three-movement piece written as a favor to a friend. Favor withstanding, it hewed to the composer's nosebleed-high standards, having done so in the capable, captivating hands of Thomas Jakubek on violin and Miles Hoffman on viola. 
From there, we shifted to Franz Schubert's warm, expansive "Trio No. 1 in B-flat major, D. 898." Played with deceptive ease and grace by Jakubek on violin, Damian Kremer on cello and Cahill Smith on piano, the work unfolded ever so delicately to then stridently assert itself to create a masterful tension. I was not the only one impressed: A side glance at the students revealed intent and humbled faces.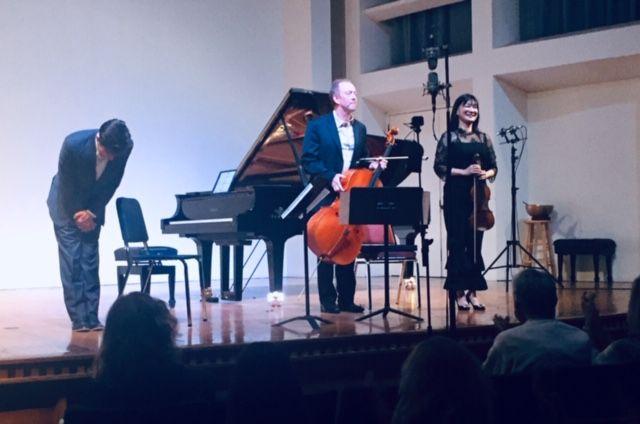 Sànchez's own composition followed, featuring him on piano along with soprano Kayleen Sànchez. The reverent, resonant "Fáeth fiada: a song for soprano, singing bowl and piano" is guided by a text attributed to Maewyn Succat, aka St. Patrick, as translated by Kuno Meyer. The work wended mystical, joining somber strikes of the singing bowl with heavenly vocals that solemnly sang of Christ's journey from baptism through judgment. 
We then were treated to Catalan composer Gaspar Cassadó's "Requiebros," performed with blood-tingling vigor by cellist Natalia Khoma and pianist Volydynyr Vynnytsky. The latter followed that with a solo performance of Ukrainian composer Myroslav Skoryk's "Burlesque," a shortish, challenging caper of a piece that shows off the pianist's mastery.
The program culminated by whisking us from a Charleston summer to brisk Buenos Aires in winter and spring, as dreamed up by Argentinian composer Astor Piazzolo in "The Four Seasons of Buenos Aires for Piano Trio," with Lee-Chin Siow on violin, Kremer on cello and Smith on piano.
Before the trio began, Siow affectionately teased Smith about his youth, as evidenced by his iPad-powered music in contrast to the sheet paper manning the stands before her and Kremer. She then proceeded to wow the crowds with a spirited, seasoned show of prowess. As the musicians ushered in Piazzolo's vibrant spring, I could also feel new beginnings surging throughout the hall, as the next generation of artists reached skyward.