In my glamour-puss days in Manhattan working at glossy magazines, I quickly learned that brandishing perfect nails was de rigueur in the Condé Nast elevator. It was professional armor, I used to say. 
Each week, I would diligently head out from work with a female office friend to a nearby nail salon. There, we would painstakingly pick out an on-trend polish and talk shop while getting lacquered up.
Opening night of Me and My Girlfriend exhibition featuring artists HNin Nie and Grace Stott at Redux Contemporary Art Center on Friday, July 2…
So I wholly identify with the fierce talons (human and otherwise) that dominate the works of Charlotte-based artists Grace Stott and HNin Nie. Together those paws, claws and related female iconography comprise the exhibition, "Me and My Girlfriend," which is now on view at Redux Contemporary Art Center.
The artists are both members of the Goodyear Arts Collective, and are also girlfriends, sharing studio space and similarly converging work talk and nail styles. The sum effect of their gal-palling is an exhibition that manages to bring together both the frothy and the ferocious aspects of being a woman during the #MeToo movement.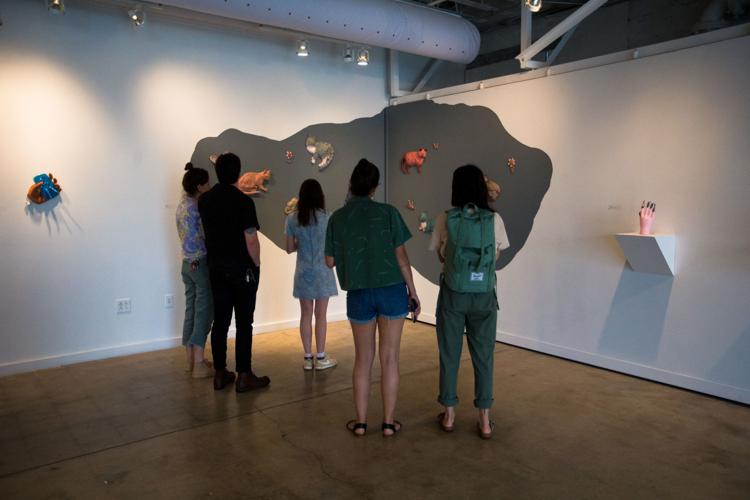 At once cute as pie and unnerving as all-get-out, the work of both artists collectively enables the cloyingly sweet to cuddle up to the chillingly savage, lending a sinister edge to a Hello Kitty world. Through a cross-media array of paintings, sculptures and three-dimensional wall-mounted pieces, the show successfully bears female teeth in all their candy-coated ferocity.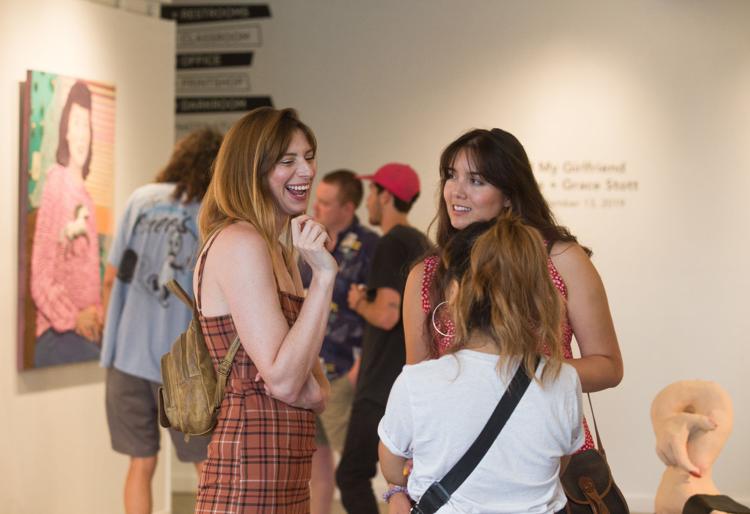 First, there are those nails. Nie, a professional nail technician, dreamed up sculpted, disembodied hands that are at once brightly-colored and take-no-prisoners, creating jarring styles she said she would have loved to try out on clients if she could only find a taker. One set of nails is fire-engine red and raging, devilish with crackling licks of fire. Another is doughy-looking and cherry-hued, with searing steel-colored tips.
As unsettling as nails on a chalkboard, the works of both Nie and Stott reveal just how much weaponry can be in play in these womanly trappings. Along a gallery wall, Nie's pastel-hued paintings conjure comic book women characters, which for me called to mind the female-focused cartoonist Lynda Barry. In one, women frolic in a pink-skied beach scene, oblivious to the shark's fin chugging along.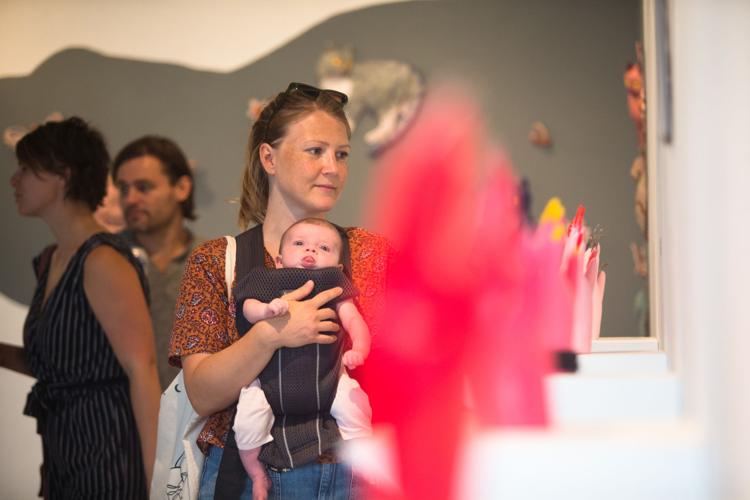 Stott bears some claws, too, of the feline variety, though it's unclear whether these kitties are the sort you'd want to meet in a dark alley. In a corner of the show, ceramic cats crouch, floating together in a dark cloud of a background. Her vibrant ceramic "Lounging Ladies" have just a tad of Edvard Munch yikes-effect. A three-dimensional tableaux with a television and comfy chair displays an arresting female pose on the painted screen. 
Together, Nie and Stott demonstrate with deft and agita-inducing mastery that when girlfriends get together, the results can be both blithely subversive — and artistically spot on.