The deep rock beds under the Charleston area are split apart, creating webs of cracks underground.
Geologists call them "buried faults," and mapping the webs could give scientists a better idea of where and — over a long time span — when a next destructive earthquake could occur here.
That could make a difference in how people prepare — everything from site-specific building codes to managing groundwater supplies.
But until recently the faults were largely unidentified, as the webs were buried too deep to assess. Around Charleston they are as much as a mile underground.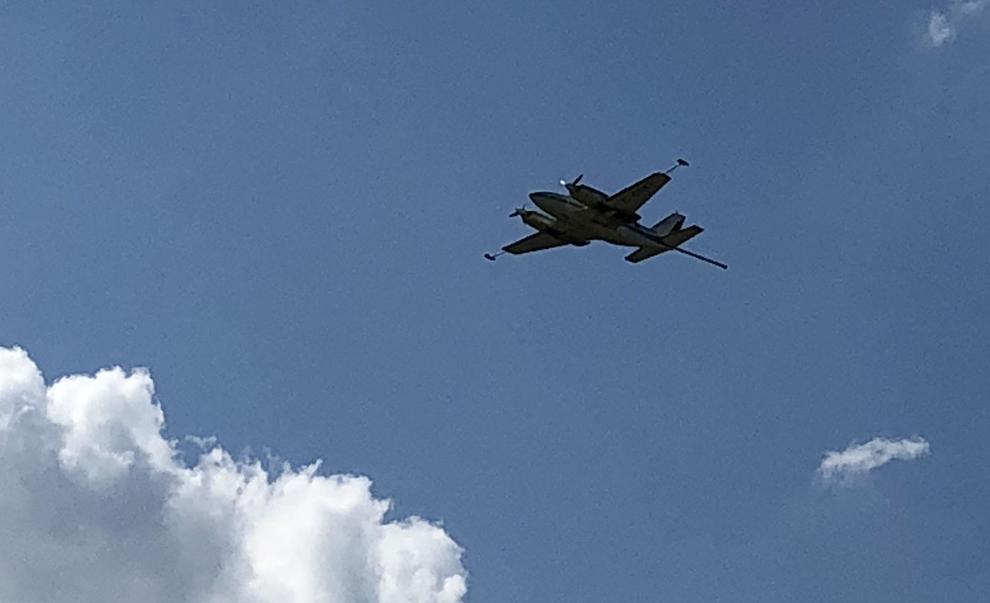 For the next few months, however, a twin-propeller plane is flying grids from Kingstree to Edisto Beach with an antenna sticking out from its tail like a stinger. A U.S. Geological Survey contractor is taking magnetic sensor readings so fine that the data will produce a map of those webs with a resolution of several hundred yards per reading.
"The plane can literally pick up these subtle differences (in the rock) and map them out," said College of Charleston geologist Scott Harris.
"By identifying the most hazardous locations, we can better understand the risks in certain areas," he said.
The rocks are ancient, dating to millions of years old, and have different magnetic intensities. Where there's a split, the differences will show up in lines. Where the lines converge like a web is where earthquakes tend to occur in the eastern United States, said Anji Shah, a Geological Survey research geophysicist heading up the project.
The Great Earthquake of 1886 almost certainly erupted from the convergence of one of those webs. It killed 100 people, leveled nine of every 10 brick buildings in Charleston and damaged nine of every 10 in Summerville.
It was a 7.3 magnitude temblor considered the worst recorded in the eastern United States.
"We can't predict earthquakes but we can prepare for them," Shah said. "We know there is a risk of earthquakes (in the Charleston area). What we don't have a good handle on is what the risk is. What's the likelihood of that (the 1886 quake) happening again, and where?"
In the Western U.S., faults often break the surface in lines and are easily mapped. In the East they are harder to find and the known faults aren't reliable guides to where a quake might happen.
The deadly magnitude 8 earthquake in Peru on Monday erupted along the infamous "Ring of Fire" fault line that includes the western United States. On the other hand, the powerful 5.8 magnitude Virginia quake in 2011 erupted from an unknown buried fault that Shah's survey later found.
The coastal area around Charleston is particularly vulnerable to quakes. A few minor quakes are felt in the Lowcountry each year. As recently as 2002, a 4.4 magnitude quake erupted in the ocean off Kiawah Island, a shaking strong enough to be felt over a wide area and capable of causing minor damage.
Earthquakes tend to cluster in other spots in the state, too, including along the Savannah River, where a minor quake near Aiken on Monday likely erupted from a buried fault.
Quakes in the Lowcountry aren't like quakes in the West. In the softer underground sediment here, the shakes are stronger, last longer, come more frequently and can cause more damage. They literally reverberate.
But the seismic standards in building codes are based on Western quakes. The Geological Survey findings could guide writing codes more suited to specific locations, Harris said.
College of Charleston geologists and students are participating in the survey. They will take to the field afterward to make point-specific measurements to further the research, Harris said.
"We'll (also) be looking for deeper mineral prospects," he said.