WASHINGTON — Minutes before U.S. Rep. Nancy Mace cast one of the few Republican votes in favor of a bill to federally protect access to birth control, she grabbed a roll of white duct tape, her navy blazer and a black Sharpie marker.
If her colleagues could wear messages on their COVID masks, Mace reasoned, then why couldn't she do this?
She cut the white tape into three near-horizontal strips and affixed each of the pieces to the back of her $29 jacket from H&M.
"My state is banning exceptions," her handwritten message declared, capitalizing the word 'exceptions' for emphasis. "Protect contraception," it continued, with the word 'contraception' scrawled in all-caps.
Mace, R-Charleston, was one of eight Republicans who joined House Democrats in voting for a bill July 21 protecting the right to purchase and use contraception without government restriction.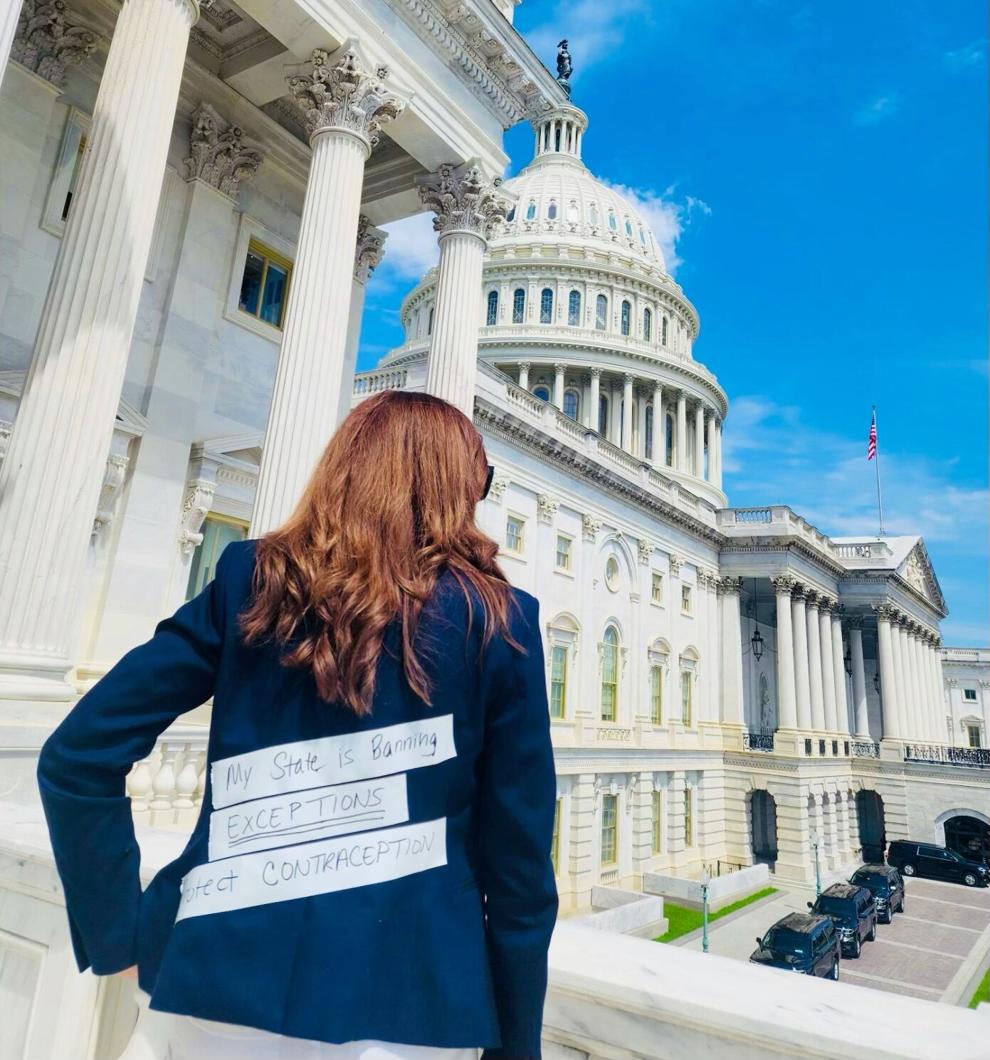 The bill explicitly allows the use of "any device or medication used to prevent pregnancy." Listed examples include oral contraceptives, injections, implants, such as intrauterine devices, as well as emergency contraceptives, which can prevent pregnancy several days after unprotected sex.
The final vote was 228 to 195, with two Republicans voting present and six GOP members not voting at all.
Democrats launched the bill after an opinion last month from conservative Supreme Court Justice Clarence Thomas suggested that the court could go further after overturning federal abortion rights.
In his concurring opinion supporting the end of Roe v. Wade, Thomas said that the court should now review other precedents, including married couples' use of contraceptives in 1965, along with rulings that affirmed the rights of same-sex marriage in 2015 and same-sex intimate relationships in 2003.
While Thomas did not specify a 1972 decision that legalized the use of contraceptives by unmarried people, Democrats say they consider that at risk, as well. Republicans have accused Democrats of manufacturing a crisis, saying there is no serious effort underway to erase the right to use contraceptives.
During the floor vote, Mace was the only lawmaker who sought to make a political statement via tape and jacket.
"For me, this was articulating policy," Mace told The Post and Courier. "This isn't a publicity stunt. This is very real."
She confirmed she was able to enter the House chamber, where there are strict rules of decorum and a dress code, to cast her vote.
Mace, who identifies as a "pro-life," said she worries that her Republican colleagues are getting swept up in pushing for abortion restrictions. She said the reversal of Roe v. Wade has been "too much of a hot topic to talk about and throw around as a bomb for fundraising" without pausing to think about the impact these restrictions will have on women and families.
"You've got to get to the root of the problem, and nobody at the federal level or even the state level is addressing it," Mace said. "And if you are going to ban abortions, you need to ensure that every woman has access to contraception."
Post-Roe, South Carolina lawmakers recently proposed legislation that would ban abortion with no exception for rape or incest but allow the procedure only to save the mother's life or prevent a serious, lifelong health problem.
Mace called the actions of her home state lawmakers "disappointing."
"To see them turn their back on what was already decided by the Legislature, and to feel emboldened that they can ban those exceptions is wrong," Mace said.
But she also praised South Carolina and its governor for signing a law earlier this year that allows women over 18 to buy birth control pills and other hormonal contraceptives without a prescription. 
After photos of Mace's political fashion statement began circulating on social media, some users suggested Mace was engaging in a political stunt.
Democrat Annie Andrews, who is running against Mace to represent South Carolina's coastal 1st Congressional District, responded with a political fashion statement of her own.
In a photo posted to Twitter, Andrews had a message taped to the back of her short-sleeved navy shirt. Echoing Mace's design choice, Andrews' response was also broken up into three strips of tape.
"Don't play games w/ women's healthcare," the message said. "Codify Roe"
July 21, 2022
Katie Arrington, whom Mace defeated in the June Republican primary, was also among the critics.
"Be a stateswoman, not a billboard," Arrington tweeted, before saying Republicans need more representatives like U.S. Rep. Matt Gaetz of Florida, who voted against the measure.
Mace's vote marked the second time in three days that she has broken rank with her party.
Earlier this week, Mace was one of 47 House Republicans who voted with Democrats to federally protect same-sex and interracial marriage.
While the House bill would enshrine the right to contraception as a law, it faces an uphill climb getting through the Senate.
The Associated Press contributed to this report.