A Charleston County Sheriff's Office incident report released Wednesday has limited information surrounding the suspicious disappearance of a woman from Edisto Island earlier this month.
Tina Diana Snipes, 43, was last seen at 3 p.m. Aug. 15 at Horizon E-Z Shop gas station on S.C. Highway 174 near Maxie Road. She was wearing a necklace, sunglasses, a textured tank-top, yoga pants and flip-flops. Her hair was up in a bun.
Deputies received a call from a woman on Aug. 17 who said she hadn't seen Snipes in several days, the report said.
The woman asked deputies to do a welfare check at Snipes' home on Maxie Road, the report stated.
Upon arriving, a deputy, located some suspicious circumstances, the report stated, but it didn't provide further details.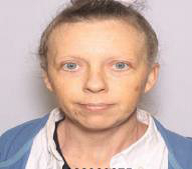 An investigation into Snipes' whereabouts is ongoing. 
Detectives are asking anyone who knows where Snipes is, who knows anything about people she associates with or who may have any other information that could help in the investigation to call the Sheriff's Office at 843-743-7200.
They can also contact Detective Goldstein at 843-670-1183 or bgoldstein@charlestoncounty.org.
Anonymous tips may be sent to Crimestoppers of the Lowcountry at 843-554-1111.