COLUMBIA — Recycling your Coke bottles can actually create jobs in South Carolina, according to the state Commerce Department.  
The problem is that not everyone has a good handle on what can be recycled through their bins.  
Empty plastic beverage bottles are good. The six-pack rings that come with the bottles are not and, like shrink wrap and Styrofoam, could make a pile of recyclables worthless.
South Carolina is fortunate that it wasn't impacted like other parts of the country by China's recent ban on U.S. recyclables, due largely to unwanted plastics in the loads, according to state and local officials.
Plastics put in curbside bins or dropped off at the state's nearly 600 roadside recycling centers largely stayed in the Carolinas — or at least the Southeast — since demand here still exceeds supply, said Tommy Crosby with the state Department of Health and Environmental Control.
"I struggle to keep three shifts going because I run out of raw material," said Brad Dutton of Charleston. He is president of Crescent Recycling, which has processing plants in Florence and Greenville that supply a subsidiary in Alabama.
"We can't make enough to supply our plant," he said, noting he often must import plastic waste from Mexico and other Latin American countries.
South Carolina businesses are turning recycled plastic into a variety of products, including carpet, car parts, furniture stuffing and sprinkler heads. They could ramp up production if people would stop trashing their recyclables, according to the state Department of Commerce.
So the agency will be pushing a bottles-means-jobs message next month in an ad campaign. How much it's spending is not determined. 
"If people would recycle more and the right things, we'd have additional jobs created, additional investment," said Chantal Fryer, who leads Commerce's recycling division.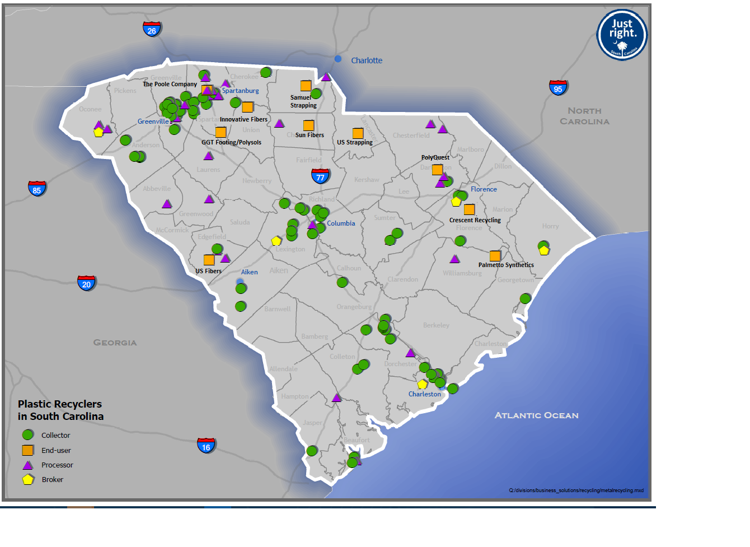 South Carolina recycled roughly 37,500 tons of plastics in 2016-17, the latest fiscal year available. That's up from about 24,000 tons five years earlier, according to the state's environmental agency. 
But that's still a fraction of the tons trashed. About six billion plastic bottles end up in landfills annually across the Carolinas.
If every household in the Carolinas committed to recycling just two more bottles weekly, they'd generate 300 jobs, according to the Carolina Plastics Recycling Council, which created the ad campaign. 
'They don't have time' 
Throwing the wrong plastics in the bin, such as contact lens cases or baby toys, can "contaminate" a bale, said Jes Swanson, recycling coordinator for Spartanburg County.  
"People do 'wish recycling,'" as in they wish it could be recycled, she said. "It can result in an entire load being thrown away."
She recalled seeing a Chips Ahoy bag — which is actually layers of plastic and aluminum — sticking out of a compacted bale, which are generally 3-to-5-feet wide and can weigh 1,000 pounds. Such contaminated bales are why China cracked down.
That's because plastics are not created equal. There are seven main types of plastic, made of varying chemical compositions that melt at different temperatures.
Recyclables in highest demand are made of PET, or polyethylene terephthalate. Those include bottles of water, soda, soap, and lotion, and they are stamped with the number "1" inside their triangular-shaped "please recycle" loop.  
Of the roughly 100 businesses that make up South Carolina's plastics recycling industry, 10 specifically process PET plastic, turning chopped up plastic flakes into fibers that other businesses turn into t-shirts, pillows and even trunk liners, Fryer said. 
At Sonoco's Columbia recycling facility, which sorts what's collected by Midlands governments, a light scanner automatically recognizes and separates PET plastics for bundling. The company pays for the bottles to be cleaned and processed, then buys back the resin to make plastic trays for berries and other produce — which can be recycled again, said Mike Pope, president of Sonoco Recycling. 
Employees at the facility manually sort other plastics. No. 2 plastics — which are also highly marketable and include milk jugs and laundry detergent bottles — are easy to spot and separate. Higher numbers are more of a challenge, Pope said. 
Some of those plastics are salable. But unless employees recognize the packaging — such as butter and yogurt tubs, which are No. 5s — "they don't have time to lift it up, hold it up to the light and look at the number," he said.
Other plastics will end up in the landfill. 
Don't recycle this! 
No-nos for recycling bins include the single-use plastic shopping bags that some local governments in South Carolina have banned. Mount Pleasant's ordinance, the state's most extensive so far, is set to take effect next year. 
While the bags are recyclable — and officials encourage taking them to bins outside many grocery stores — the facilities that sort residential recycling can't handle them.
"They float like paper but then twist and get caught in our equipment," Pope said. "We have to shut down once or twice a day and put people in protective clothing and harnesses" to retrieve the tangled bags.   
Sonoco's sorting facility is among several in South Carolina. Pratt Industries sorts what Spartanburg County and other Upstate governments collect. Charleston County has shipped about 218 truckloads monthly to Horry County's facility since August 2015 but is building a new facility of its own.
Like other local governments, Charleston County isn't making the revenue it once did on recycling. 
China's ban has driven prices down locally. But the biggest culprits are the "contaminants" — the unwanted plastics in loads — that lower the value of what can be recycled, according to the state's environmental agency, which has its own "recycle right" web page. 
Still, the benefits of a recycling program go beyond both local revenue and jobs, Swanson said. 
"The more recycling we do, the less likely we'll have to build another landfill," she said. "Let's keep as much out of the garbage as possible."