For decades, birders in the Lowcountry have trekked in and out of forests and wetlands searching for one of North America's rarest songbirds. For most of them, it was to no avail.
The Bachman's warbler holds great significance in South Carolina. Charleston clergyman and naturalist John Bachman first discovered the rare bird in the 1830s. His friend, renowned ornithologist James Audubon, was the first to describe it.
But few have ever seen it.
In fact, one of the last people believed to have seen the warbler was a Charleston doctor who died last year. In September, the federal government officially declared the bird extinct.
Mount Pleasant attorney Jim Buxton remembers searching for the Bachman's warbler when he was 12 in the mid-1980s. His grade-school science teacher Margaret Harrison had rekindled his love for birds. And her husband, Julian Harrison, would allow Buxton to join him and other legendary local birders, including Perry Nugent, in search of the warbler.
"I was a little kid and I just remember them talking about, you know, trying to get lucky to find this or hear this Bachman's warbler," Buxton said.
They looked for the bird and listened for its song in areas like I'on Swamp in Awendaw. Nugent would even play a recording of the bird's song from a tape recorder attached to his belt while they were searching.
Buxton never saw the warbler. And he never heard it.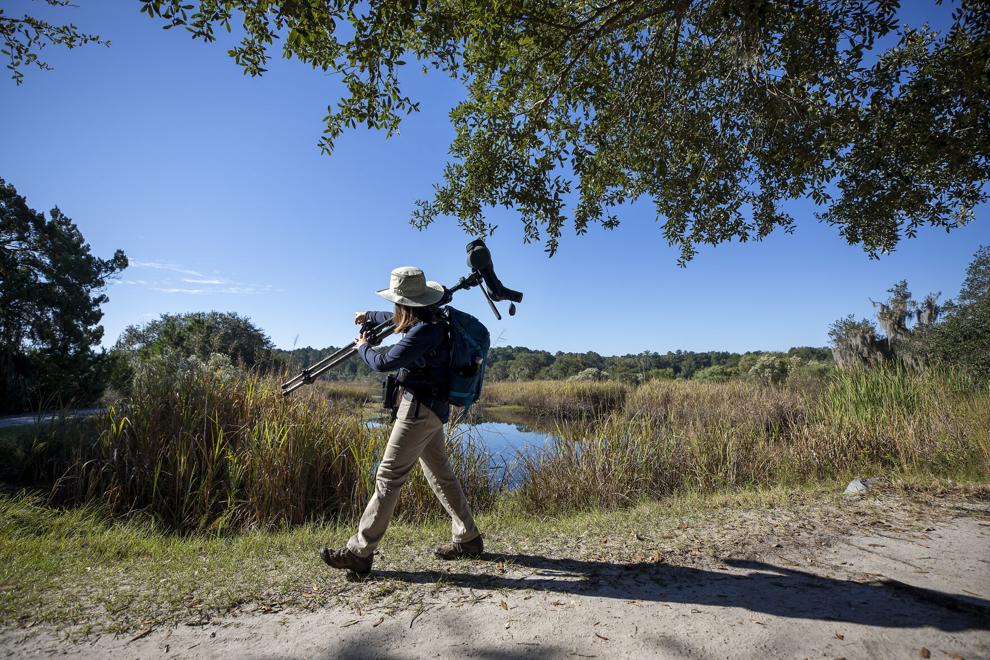 But Dr. Thomas Rivers did. In addition to leading a 40-year career in progressive obstetrics in Charleston, Rivers was also an amateur ornithologist who helped rediscover the Bachman's warbler in South Carolina. He died in November at age 86.
Cacky Rivers said her late father did a lot of work for conservation issues and brought about greater awareness of birds. Rivers' wife Mary still has a book titled "South Carolina Bird Life" that was published in 1949 by the University of South Carolina. The book documents one of her husband's sightings of the Bachman's warbler.
According to the book, Rivers and Thomas M. Uzzell Jr. saw a bird they believed to be a male Bachman's warbler in May 1948 at Fairlawn Plantation. The bird was later confirmed to be a Bachman's warbler by officials who went out to see it.
The book described the warbler as one of the most elusive and unpredictable birds in the country.
"Though it sings close at hand, its small size, the density of the undergrowth which it frequents and, its constant activity make it virtually impossible to see," the book said. Its song is difficult to describe but is said to be "buzzy" and similar to that of Parula warblers.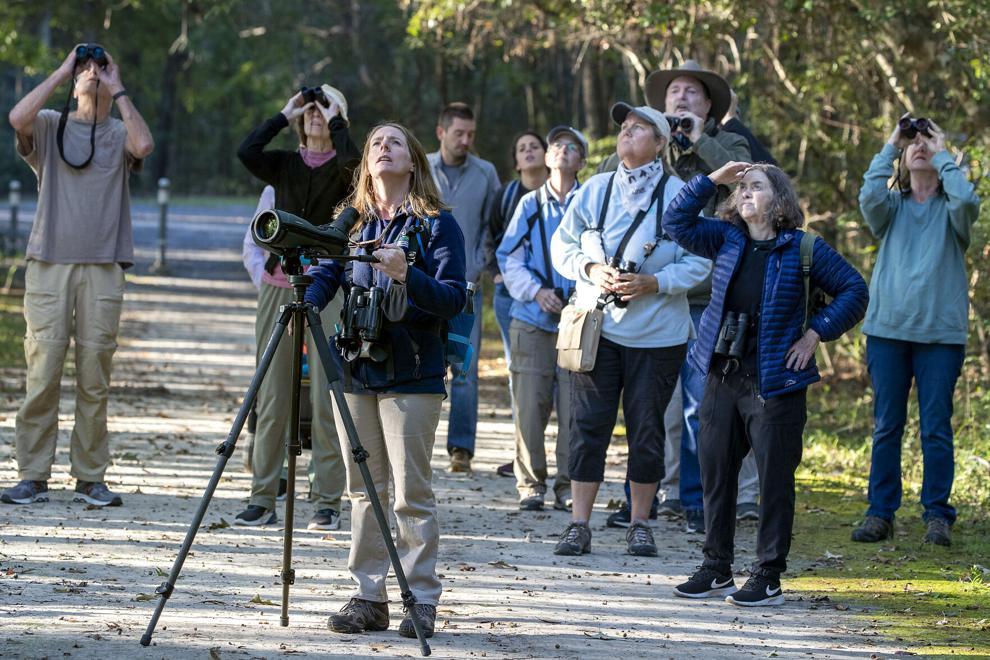 Audubon wrote about the first discovery of the Bachman's warbler in "Birds of America," his famed collection of illustrations and descriptions of several bird species.
In the collection, he credits his friend Bachman as discovering the "pretty little species of Warbler" that was named after him. The first one Audubon obtained was a female believed to have been found in July 1833, just a few miles from Charleston.
"According to my amiable friend, it was a 'lively active bird, gliding among the branches of thick bushes, occasionally mounting on the wing and seizing insects in the air in the manner of a Flycatcher,'" Audubon wrote.
These birds were among the smallest warblers, averaging about 10 to 11 centimeters long. They were typically yellow and olive-green in color and were known for their slender bills that had a slightly downward curve, according to the U.S. Fish and Wildlife Service. Historically, the species was known for dramatic changes in the size of its population.
"It's one of those ones (species) that we don't know a ton about because the data that exist are from quite a while ago," said Matt Johnson, director of the Audubon Center at Francis Beidler Forest in Harleyville.
Older ornithological records show that the bird nested in swamps or wetlands. Areas like the Francis Beidler Forest, The Francis Marion National Forest and the Congaree National Park are places in South Carolina where Bachman's warblers would have existed, Johnson said.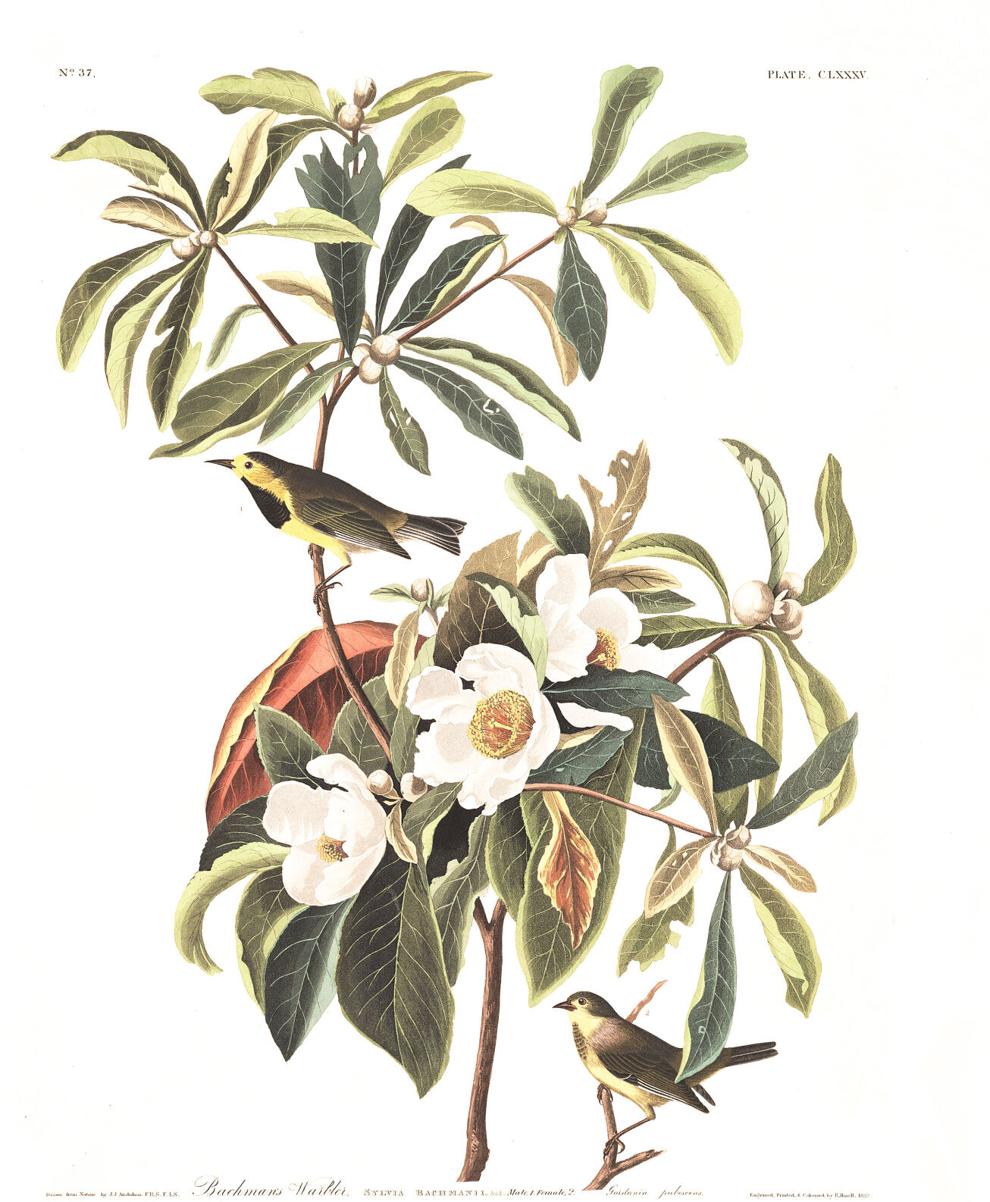 The loss of mature forest habitat and widespread collection are the primary reasons for the bird's extinction, the Fish and Wildlife Service said. The service said the bird has not been seen in the United States since 1962. It was last documented in Cuba in 1981.
The warblers would have likely nested in the United States in the summer and spent winters in Cuba or the Caribbean.
Johnson said the birds existed in a landscape that, at the time, was being heavily logged, converted to other habitat types or used for agriculture.
"I just think South Carolina had a lot of the habitat for this bird. A lot of the records indicate how there were quite a few of them documented from South Carolina," Johnson said. "You see that from other states, too, but it seems like this was a species that was really well-represented in the state, which is cool but also kind of sad."
The Fish and Wildlife Service said protections were provided too late for the Bachman's warbler and 22 other species that were recently determined to be extinct. But the Endangered Species Act of 1973 has been successful at preventing the extinction of more than 99 percent of the species listed. Fifty-four species have been delisted from the act due to recovery. And several others have been downlisted.