South Carolina's public school system has become a national leader in Montessori education, apparently because it embraced such schools early on.
The Palmetto State has more public Montessori programs than any state except California, according to a new report from the Riley Institute at Furman University.
As of 2016, South Carolina had 7,402 students participating in Montessori programs at 45 public schools in 24 districts.
Most Montessori schools across the country are private, but a majority of South Carolina's are public. And most of the students in South Carolina public Montessori schools come from low-income homes, according to the report. Forty-five percent are racial minorities.
In that respect, the schools reflect the original mission of Maria Montessori, the early 20th-century Italian physician and educator who developed her education model for students living in a low-income apartment building.
Comparing public Montessori students to peers from similar backgrounds in traditional public schools across the state, Riley Institute researchers found that Montessori students showed more improvement on standardized tests in English, math and social studies — although results were mixed for science and writing. The advantage held true for students from both both low-income and higher-income families.
"Montessori education is often thought of as an elite approach to education for privileged students, primarily available in the private sector," the report states. "However, because of the promise the model has offered to students across the world for over 100 years, considerable investment was made in South Carolina to implement Montessori in public schools across the state."
While the state's public Montessori schools are diverse overall, the report did find that Montessori students were more likely to be white and higher-income compared to non-Montessori students in the same school district.
Researchers also found that Montessori students showed higher levels of creativity, higher school attendance rates and fewer disciplinary problems than their peers in non-Montessori schools.
Summer Ramsey, director of marketing for the Riley Institute, said the new report gives educators across the country a glimpse into how public Montessori schools work in a state that has embraced them.
"There's really a dearth of research on Montessori, much less than on other models, so that is what this study seeks to do," Ramsey said. "It seeks to fill the gap."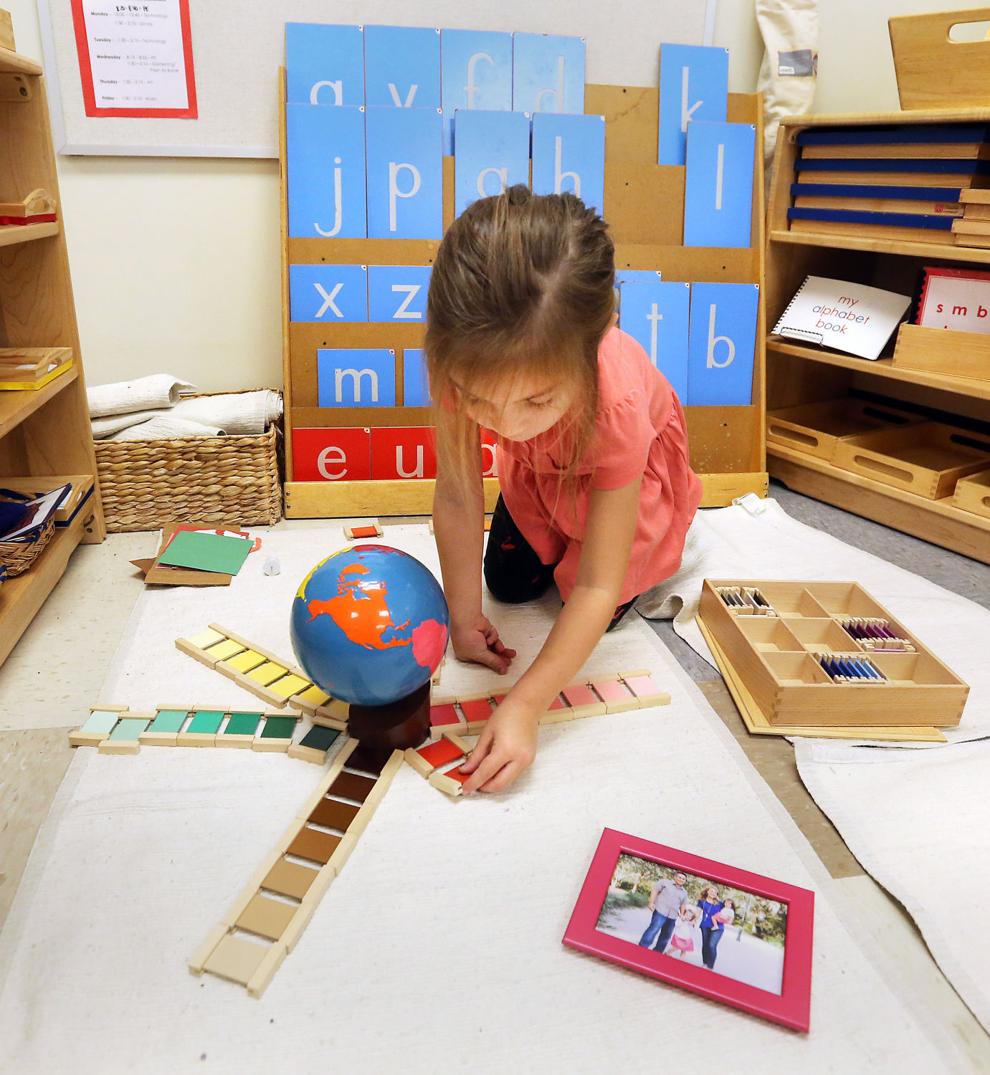 'We just want them to keep learning'
The Riley Institute report helps answer an open question, according to statistician David Fleming:
"Can it (the Montessori approach) work in the public sector?"
Montessori schools are designed to let students learn at their own pace in a unique environment — one that can be difficult to create in a public school that must adhere to state standards, federal funding mandates and standardized testing.
Montessori classrooms often combine children from a broad age range: Age 3 through kindergarten in primary classrooms; grades 1 through 3 in lower elementary; and grades 4 through 6 in upper elementary. Each school day includes about three hours of self-directed activities, with children choosing their own tasks involving a set of classroom materials.
In the primary classrooms at Murray-LaSaine Elementary, a public Montessori school on James Island, students were quiet and busy on a Wednesday morning in January. They waited their turns to trace sandpaper letters with their fingers, arranged blocks according to color, and prepared snacks and washed dishes for their classmates.
Classmates Nora Wildes, 5, and Mary Thornton, 4, worked together to place the numbers 1 through 100 in order on a wooden board. The state math standards don't require students to count to 100 until kindergarten.
Principal Meredith Wallace moved to Charleston County two years ago after working at Montessori charter schools in Maryland. She was drawn here in part because the county and state had a reputation for supporting public Montessori programs.
To the extent that she can, Wallace has helped create a world apart from traditional public schooling. There are no prizes or sticker charts for good behavior, no special recognition for perfect attendance or honor roll, and no letter grades. Wallace wants students to learn the intrinsic reward of a job well done.
"There's no need for us to put a letter grade on what they can do. We just want them to keep learning," Wallace said.
Some more faithful than others
South Carolina's first public Montessori program opened 25 years ago at the Walker Gamble School in rural Clarendon County, where a kindergarten teacher convinced administrators to give it a try.
That teacher, Linda Mims, went on to earn her doctorate and become the S.C. Department of Education director of early childhood programs in 2001. At a time when few states were supporting public Montessori programs, South Carolina adopted Montessori as an official early childhood curriculum.
The Walker Gamble School later abandoned its Montessori program, but the idea caught on elsewhere. The state now accepts six alternative certifications for Montessori teachers, including a specialized master's degree at Lander University that enrolls about 20 students a year. 
"South Carolina is a wonderful hub for Montessori," said Timothy Purnell, executive director of the American Montessori Society. "Low-income students are now afforded an opportunity for an education that is self-directed. It's vastly different than most education systems we see today."
Still, slapping "Montessori" on its sign is not a guarantee that a school lives up to Maria Montessori's ideals. The cost of renovations, materials and teacher training to convert a school to Montessori can run into the hundreds of thousands of dollars, and some teachers interviewed in the Riley Institute study said district administrators often don't understand the Montessori model.
In the Riley Institute study, researchers sent longtime Montessori educators to observe 44 schools across the state and found that 22 were very faithful to the Montessori model, 14 were somewhat faithful, while eight were not very faithful.
Researchers declined to say which schools received which ratings.
According to S.C. Department of Education Montessori consultant Ginny Riga, there is no single clearinghouse for information on which schools are running a successful Montessori program.
"I always say to people, 'Go visit,'" Riga said. "Is this a good school? They have to go visit to determine it for themselves."