The North Charleston Housing Authority's got 99 lots but not a house on one.
That's a problem, but it could become an opportunity.
The vacant lots in Horizon Village are the remnants of a decade-old promise to build homes that would be sold at affordable prices, on a portion of the land where the state's largest public housing project once stood. The housing authority now hopes to sell the lots to a single buyer, for a minimum of $1.4 million, and that's where an opportunity could arise.
"With the money from the sale of the lots we can build more affordable housing," said Gary Scott, executive director of the housing authority.
"We're not in the business of building houses," he said. "We build apartment communities."
So how did the authority come to own 99 single-home lots, with connections to public utilities, public streets and an approved development plan already in hand?
They were part of an ambitious plan developed in the early 2000s to replace the sprawling 68-acre, barracks-style North Park Village public housing complex, which was built during World War II. With $30 million in federal funds in hand to get work started, the North Charleston Housing Authority laid out plans to build a mix of more than 500 rental homes, apartments for seniors and homes sold at affordable prices.
Most of that housing was built and is occupied.
One part of that plan that proved troublesome was Spring Creek at Horizon Village, a 130-home development of ranch homes and townhomes that would be sold for prices starting around $130,000, with potential assistance to help buyers. The authority leased that land to a developer, but after 31 homes were built "the developer who had those 130 lots went under, and the housing authority got the land back," Scott said.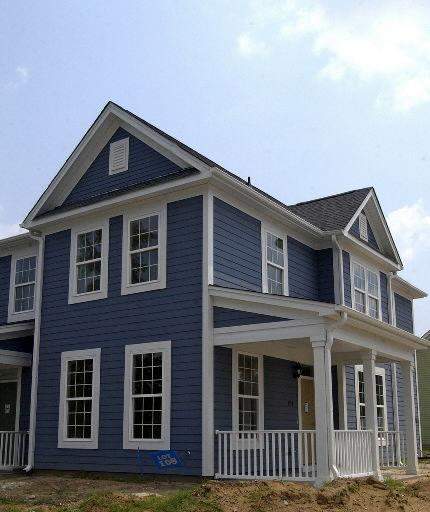 Attempts to reach the Maryland-based developer, TCG Development Services, were unsuccessful Monday. An attempt to reach a company executive on his cellphone was also unsuccessful.
The development lots owned by the authority are located between Spruill and South Rhett avenues, just south of Noisette Creek. The minimum bid price, $1.4 million, works out to a minimum of $14,141 per lot — a bargain price for building lots with roads, public utilities and development approval in place.
"The market is strong these days, and a lot of people are looking for land," Scott said. "The location is a good one."
Scott said there are no restrictions on how the land can be used, other than city of North Charleston's zoning regulations. The city is otherwise not involved, North Charleston's spokesman Ryan Johnson said.
"Whoever purchases that land, it will be up to them to do whatever they are going to do," Scott said.
The authority's deadline for bids is 2 p.m. Tuesday. Scott said Monday that bid documents had been requested by seven or eight people or companies.