The heartbreaking news hit thousands of email inboxes across Charleston County late afternoon on Friday, March 16.
That magnet school you applied for? You're on a waiting list.
Applications for seats in Charleston County School District's public magnet, charter and Montessori schools have more than tripled since 2015, while the number of seats in those schools has stayed roughly the same.
A record 6,035 students submitted 12,991 applications for 2,339 available seats via the district's online school choice system this year, often applying to several schools at once. Most schools conducted a lottery to determine who would get the available seats.
Charleston County's district has led the state in embracing the public "school choice" movement over the past two decades, and demand for its specialized schools has far outstripped supply.
The proliferation of school choice also brings a downside: For students and parents who look to these schools as the key to a bright future or as an escape route from a failing neighborhood school, the process is more stressful than ever.
Before the start of elementary, middle and high school, some students and their families now think in terms of "stretch" schools and "safety" schools, as if they're applying to college. Some hedge their bets with private tutors and pricey preschools, hoping to land a coveted spot in an elite kindergarten.
Barbara Rabon, the district's coordinator of school choice programs, fielded her share of calls from stressed-out parents in the past two weeks. She always encouraged them to take a second look at their neighborhood school, assuring them that their children already benefit from having a supportive and involved parent.
"We have to encourage parents because part of a strong school is parent support," Rabon said. "There are many schools where parents would be amazed because it's not on their radar."
Begging for a chance
Fifth grader Keveon Ford has straight As in the Advanced Studies program at Ravenel's E.B. Ellington Elementary School. Looking for a fresh academic challenge next year, he applied to three magnet middle schools — and got wait-listed at each one.
Keveon is zoned to attend Baptist Hill Middle/High in the fall, but he looked at its test scores and talked to his teachers, and he felt it wouldn't live up to the rigorous standards at his elementary school. Instead, he hoped to attend Buist Academy, a magnet school with a lower acceptance rate than most Ivy League colleges.
"My teacher, she told me that Buist is a very good school, so that's my No. 1 choice," Keveon said. "She told me if I applied to Buist when I go to middle school, it could get me into Academic Magnet, and then I could have a good career."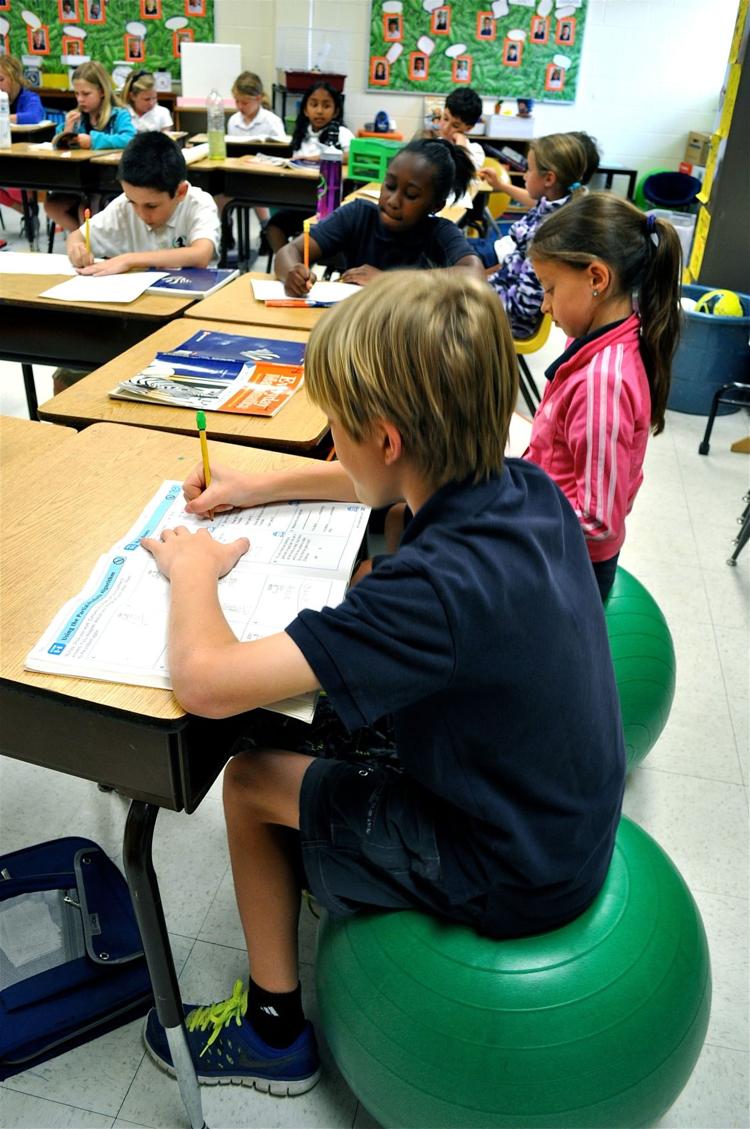 Last he checked, he was No. 43 on the waiting list at Buist and No. 15 at Haut Gap Middle. C.E. Williams Middle? Somewhere in the 90s.
So, after school on March 26, Keveon buttoned his plaid dress shirt all the way to the collar and rode with his grandparents to the district office. Rising to the podium with a typed speech in hand, he begged the school board to make good on a long-ago promise to create an Advanced Studies middle school in the county's southern end.
The board heard him out but took no action that night. Meanwhile, everyone he knows is on a waiting list.
"It wasn't only me. It was my whole class," Keveon said. "When we see that we're put on the wait list, that demotivates us. Because if we don't get into a good school, we will have a fixed mindset."
Paying the price for public school
The Cowan family currently spends $1,700 a month to rent a two-bedroom house in West Ashley. It's more than they want to pay, but it's the price of admission for one of the most sought-after elementary schools there.
St. Andrew's School of Math and Science is a partial magnet, meaning that families who live within its attendance zone, like the Cowans, may attend automatically. Everyone else must enter an increasingly competitive lottery.
The family didn't move to the neighborhood just for the school, but now Laney Cowan can't stop singing the school's praises. It's a good fit for her first-grade son Jacob, equally accommodating to his mild autism and his off-the-charts academic performance. 
She figures her family pays more for rent than it would on a mortgage, but with home prices soaring in the St. Andrew's attendance zone, they can't get a loan big enough to buy a house there.
Looking to buy, but priced out of their own neighborhood, they put in a lottery application this year so Jacob could stay at a school that's come to feel like home.
He is stuck at No. 2 on the waiting list, so the family's plans are on hold. Laney owns a wedding cake business and her husband owns a roofing company, and a sizable chunk of their income goes to rent. They'll keep paying it until something changes.
Beyond elementary school, Cowan said if her son doesn't get into a magnet middle school, she'll likely opt for private school.
"I can't waste my child's future on the lottery system," Cowan said.
On the edge at Buist Academy
Matthew Akery had scarcely held his newborn daughter in his arms when friends and neighbors started asking where little Eleanor would go to school.
He joked he has learned something about the parents in his neighborhood: "They really enjoy stressing each other out."
He grew up in home school and a private Christian school, while his wife Natasha grew up in public schools. They talked over Eleanor's options at home, being careful not to get caught in the frenzy of school-choice application season.
Friends gasped when they decided to send Eleanor to preschool at the traditional public school in their attendance zone, Chicora Elementary. Beyond the stigma of a high-poverty school in a crime-troubled neighborhood, the Akerys say they love the teachers at Chicora. Eleanor has made friends, and she's excelling academically.
With Eleanor heading into kindergarten this fall, the Akerys applied for Buist. The odds of her getting in were slim, but they thought Eleanor might thrive in a school for gifted children.
Natasha began to have second thoughts when she took Eleanor to the downtown campus for the entrance exam, an additional hurdle beyond the lottery at Buist. Speaking with other parents in the lobby, everyone she met was looking for a free public school that would rival the expensive private education they had paid for in preschool.
She also noted there were a lot more white families in the room than she saw at Chicora. Heavy questions surfaced for Natasha, whose Korean-American heritage brought her unwanted attention at a majority-white school growing up.
"I started thinking about whether it's an intentional or unintentional segregation of our schools," she said.
Eleanor is on Buist's waiting list for now. Whatever happens, they'll shelter Eleanor from the frenzy they see in other families this time of year.
"It consumes their entire mood for weeks at a time," Natasha said. "It's crazy to me that we have a school system where parents are so worried about where their kids are going to go to school."
On top and stressed out
For those fortunate enough to get in, Charleston County School of the Arts promises unrivaled arts education in grades 6 through 12.
Students who pass their audition and are accepted have earned top honors in national writing competitions, assembled portfolios of stunning visual art, and performed each other's original orchestral compositions in community concerts.
In her senior year, Taylor Kahn-Perry looked around at her classmates and saw something else: sleep deprivation, anxiety and crushing bouts of depression.
"It's normal to feel stressed all the time and generally unhappy. It's just accepted," Taylor told the school board on March 26, the same night Keveon Ford rose to the podium to plead for more school choice.
She knows part of the stress is universal. Growing up is hard and strange, and college and careers loom large on the horizon for students at any school.
But she also knows that parents' anxiety about elite magnet schools like SoA inevitably filters down to students. She hosted a roundtable of her classmates on mental health recently, and she's been sharing her findings with school administrators and district officials. She hopes the district can provide better mental health support and close what she calls an "empathy gap" between teachers and students.
"People are just starting to see high school as a stepping stone to college entirely," Taylor said. "It's lost as a space for students to learn and to grow and become empowered individuals for four years. ...
"It definitely goes back to what is the goal of this K-12 education?" she added. "Is it to educate and empower a student, or is it to get a student to XYZ destination when they're 18 years old?"
A cottage industry
After leaving the Charleston County School District in 2014, former Superintendent Nancy McGinley made a brief foray into the cottage industry of school-choice consulting.
Along with a team that included former School Board Chair Toya Green, McGinley helped launch School Search K12, helping personal and corporate clients navigate the panoply of school options in the tri-county area.
The company touted its services as an employee relocation perk for corporate clients, and its website featured a testimonial from the Charleston software company Boomtown: "Learning success starts with the right school."
McGinley said she is no longer involved in the business, but she knows families still struggle to understand their options.
There is no single architect of Charleston County's school choice system, which has morphed and expanded since the 1990s. However, McGinley played a leading role in pushing for its growth during her tenure, from 2007 to 2014. 
The district added 15 new choice schools during those seven years, attempting to provide equal access in every part of the county.
The growth of school choice slowed to a trickle after she left. It even faced a backlash as some residents lamented how specialty schools had fragmented their neighborhoods and scattered their children across the district. While some neighborhood schools have been reinvigorated by converting to partial magnet programs like Montessori, others have seen a mass desertion.
One new Montessori program will open at Frierson Elementary this fall, part of an attempt to bring Wadmalaw Island families back after years of lagging enrollment.
Meanwhile, across the county, families keep refreshing their email inbox as the waiting lists grow longer.