The Preservation Society of Charleston announced Thursday night the 18 winners of the 67th Carolopolis Awards, the organization's annual recognition of exemplary preservation projects in Charleston and the Lowcountry. 
This year's ceremony, held in the College of Charleston's Sottile Theatre — and, for the first time ever, was also livestreamed — represented one of the largest groups of winners since the awards program launched in 1953, most known for its iconic black, garlanded plaque that graces the structures which have won its nod.
Each year, the Carolopolis Awards program (the name is a nod to Charleston; it was created from the Latin word for Charles, "Carolus," and the Greek word for city, "polis") recognizes both individual property owners and project teams working on rehabilitations of interiors and exteriors who expend a noteworthy investment of time, consideration, rigor and resources, requisite components to exceptional caliber restoration and preservation.
Launching the program, Elizabeth Kirkland Cahill, the Preservation Society's board chair, said, "With these distinctive Carolopolis dials ... we're honoring people who have chosen to do the right thing, often and always at considerable expense and inconvenience. Each of these projects is its own gift to Charleston."
Such a strong roster of recipients could be viewed as a testament to the vitality of the region's preservation movement, as well as to that of the advocacy organization. Last year, the group celebrated the centennial of its 1920 founding by Susan Pringle Frost. At the same time, it may also demonstrate that restoration projects have remained robust over the course of the pandemic.
Winners spanned diverse projects, from residences on the National Register of Historic Places to once and future restaurant sites, from one of the commensurately scant extant Freedman's cottages to a formerly proud post office. Together, the structures offer insight to the city's fabric spanning centuries.
Some of the projects entailed Herculean feats of engineering or woodworking, while others called for deep history dives to best reconstruct a structure's original design. The concentration of winners was connected throughout peninsular Charleston, while also including a project in Hollywood. 
"We're here tonight to celebrate an incredible group of projects ... who have come together to make Charleston a better place," said Preservation Society Executive Director Kristopher King. With each award, he shared the building's backstory, while also offering details that underscored the expertise, intricacy, rigor and collective effort reflective of the winning projects.
Among the winners was one recognized for commendable efforts spanning both exteriors and interiors, 5 Cumberland St., which houses the restaurant Bumpa's and was restored by owner Kinsale LLC, David Richards, Architect, and Crest Industries. 
Exterior awards comprised the majority of those given, mainly acknowledging projects across the peninsula. There was a strong showing in the Cannonborough Elliottborough neighborhood, including 84 Cannon St., owned by Marion and Lori Hawkins with a team of American Vernacular design and Black Pine Forestry; 85 Spring St. by owner BBRE 85 Spring Street, architect Stephen Ram; and 133 Cannon St. by owner Tift Properties, designer Andrew Gould and Arnett Construction.
An Exterior Award was also given to a project on the East Side, a Freedman's cottage at 227 Nassau St., with King noting the paucity of these historically significant residences, due to the demolition of many of them. The project was the combined effort of owner Nancy Eckstein, Mulberry Street Development, Glenn Keyes Architects and Rockwell Construction. 
Another award is headed for Hollywood to Yonges Island Post Office, a brick structure owned Stevens Towing Co., which was rehabilitated by e.e. fava architects and Johnston Contracting.
Interior Awards were granted to the synagogue Kahal Kadosh Beth Elohim, an initiative of owner Kahal Kadosh Beth Elohim, Glenn Keyes Architects, Dillon Construction, The Ways of Wood, Rhode Construction and Koozer Painting.
Sottile Theatre, the building in which the ceremony took place, was also honored with an Interior Award for its painstaking refurbishment of original murals and decorative features, recognizing its owner College of Charleston, architect McMillan Pazdan Smith, AJAX Building Co., Bennett Preservation Engineering and Rogers Art Conservation.
Pro Merito Awards were given to several projects. Among them was The Faber House, 635 E. Bay St., a Palladian home on the National Register of Historic Places, which was previously restored by the H.A. DeCosta Co. The team honored included owner TERAS LLC, Constantine Architecture, Artis Construction, Atrium Builders, Renaissance, South Construction Co., UpSouth Masonry, Bennett Preservation Engineering and conservator Frances Ford. 
At the ceremony, King discussed the standout effort of another Pro Merito Award winner, 288 King St. The former site of Jim 'N Nick's BBQ was shuttered when deemed structurally unsound, and its rescue entailed an extensive effort involving concrete reinforcement walkways, numerous blocking of this main peninsular artery and exacting restoration of existing materials. The award was given to Blas-Milani Real-Estate Holdings, Bill Huey + Associates, Renew Urban Charleston and ADC Engineering.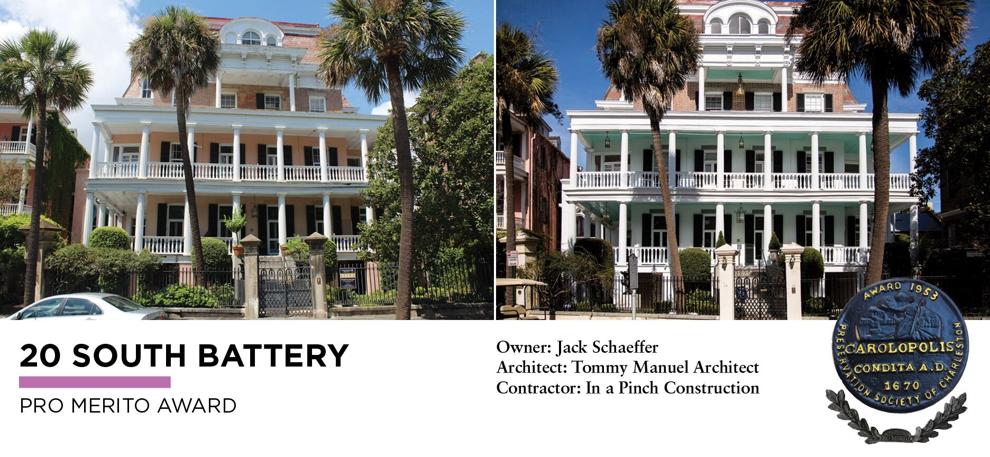 Another Pro Merito Award went to a project of particular poignance to the organization. That was given to 20 South Battery, owned by Jack Schaeffer with a team of Tommy Manuel Architect and In a Pinch Construction. It was, after all, the site of Frost's very first gathering of the organization in 1920. 
As the organization enters its second century, the site of its first meeting now stands as proudly as it did when first built, proof of the abiding power of preservation. 
At the ceremony, Cahill also announced the organization's fundraising campaign had raised more than $6.3 million, which will help propel it into its second century of advocacy.
"We look ahead to spirited, principled and untiring preservation advocacy, just better funded now," she said.
Find more information about the Carolopolis initiative and a full list of recipients at preservationsociety.org.