It's shortly after noon on April 11 in Pelzer. An officer at Perry Correctional Institution makes her rounds in the dorm. She sees a commotion on the other side of the building, a fight between inmates.
As she approaches the wing, she sees inmates assaulting someone on the floor — another correctional officer. She calls for backup. But when help arrives, guards find inmates have taken the officer hostage. Calls for more help go out to local law enforcement agencies.
Now the inmates in the A wing have begun to riot.
They damage windows, lights and sprinkler systems. They start a fire. Like the growing blaze, the riot spreads to the B wing. More property is destroyed. More law enforcement agencies converge on the prison. More than an hour goes by before two prisoners carry and release their hostage outside. He's gathered up and taken to the hospital.
After more than four hours, officers gain the upper hand and the melee ends. But the deeper problem remains.
South Carolina's prisons are dangerously understaffed, creating a powder keg that not only affects guards and inmates but also the public beyond. Chaos inside the prisons has bled far beyond the locked cells and concertina wire fences in the form of violence, intimidation and financial scams.
As of Nov.1, 37.5 percent of the available positions at Perry were vacant, the S.C. Department of Corrections says. But the situation there can be found in many of the state's prisons.
In January, McCormick Correctional Institution near Greenwood had the highest rate of vacant officer positions at the state's men's maximum-security prisons. Nearly half of the jobs were empty. The facility with the fewest vacancies, Kirkland Correctional Institution in Columbia, still was 21.5 percent below where staffing levels should be.
System-wide, from November 2011 to November 2016, the number of filled correctional officer positions fell from 86.3 percent to 70.4 percent. The department also cut about 350 of available officer jobs in that same time period.
Former officers say low pay, long hours, poor management and not feeling safe all keep employees from staying with the department for long. Consider that correctional officers starting out earn about $4,000 less per year than a garbage truck driver in the city of Charleston.
South Carolina isn't alone. Low pay is endemic in prisons across the country. This and other factors have contributed to riots and lawsuits. In one complaint filed in Mississippi last year, the family of a murdered guard alleged that prison officials knew the officer was on an inmate hit list when a riot broke out.
Prisons across the country are dealing with a decline in staffing. Dire shortages of correctional officers have been reported in New Mexico, Kansas, Nebraska, Michigan, Missouri and West Virginia, according to The Pew Charitable Trusts. In Kansas, the state has taken to hiring 18-year-olds to fill gaps, leaving the teens to manage hardened criminals in high-risk prison units.
"I think the problem is the United States has the highest rate of incarceration in the world," said Nicole D. Porter, director of advocacy at Washington, D.C.-based nonprofit The Sentencing Project. "And the rate of incarceration comes at a cost that elected officials have historically been unwilling to pay for."
SCDC officials have taken steps in recent months to increase the number of officers in the system. About 400 people have been hired since July 1 after a change in hiring practices — such as allowing applicants who have relatives serving a prison sentence. That number is up from about 700 hires in all of 2015.
"We realized we need more staff," SCDC Director Bryan Stirling said. "We're recruiting, training. It's a multifactorial approach."
But the situation has become dangerous to people both inside and outside the fence. With fewer eyes watching inmates, they've been able to get better and more crafty at smuggling in things like cellphones, paying off correctional officers and experimenting with drones to get things inside.
The result can end in imbalance and bloodshed.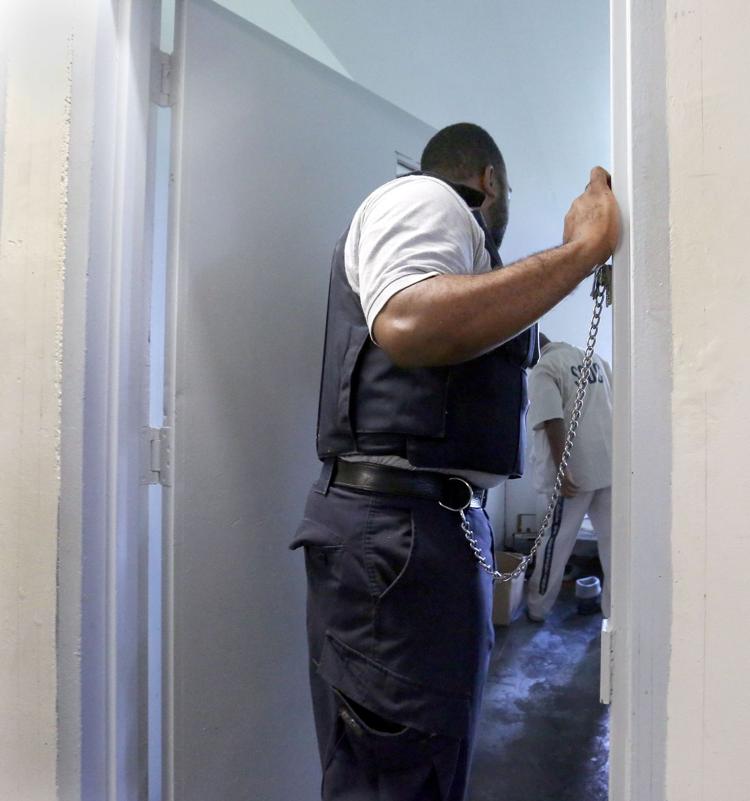 Danger to society
About 5:30 a.m. on March 5, 2010, Robert Johnson started getting ready for work.
Johnson, a contraband captain at Lee Correctional Institution in Bishopville, knew inmates were unhappy with him. He was too good at his job — too good at keeping illegal materials out of their hands.
Johnson headed to the bathroom in his Sumter home. He heard a loud boom as someone burst through the front door.
"Police," the intruder yelled.
"Who is it?" Johnson yelled back, suspicious. He thought about his wife, Mary, asleep in the bedroom.
The two men met in the hallway. Johnson recognized the figure. Former inmate Sean Echols stood before him.
Johnson tried to rush Echols, but Echols was much bigger. And he had a gun.
Echols pushed Johnson down and squeezed off several rounds. Six bullets struck Johnson in the chest and stomach.
When Johnson came to, he found himself lying by the tub. Mary held a towel to his stomach.
Johnson waited for emergency crews. He felt no pain as he recited Scripture with Mary — something he did until he made it to the hospital.
Once there, doctors assessed the damage. Bullets had sliced Johnson's liver, shredded his abdomen, broken his ribs and caused other injuries.
He was in danger of bleeding to death. Doctors pumped 63 units of blood into his body.
Johnson lay hospitalized for four months after the shooting, receiving care and therapy. He went on to endure more than 20 surgeries.
Now that he's regained the bulk of his health and the ability to move around, Johnson has made it his mission to crack down on cellphone use in prisons.
"That's what cellphones can do," Johnson said this summer, speaking of the hit Echols agreed to carry out for a prisoner in exchange for $6,000. "That's why I go wherever I can to talk about cellphones. It's a threat."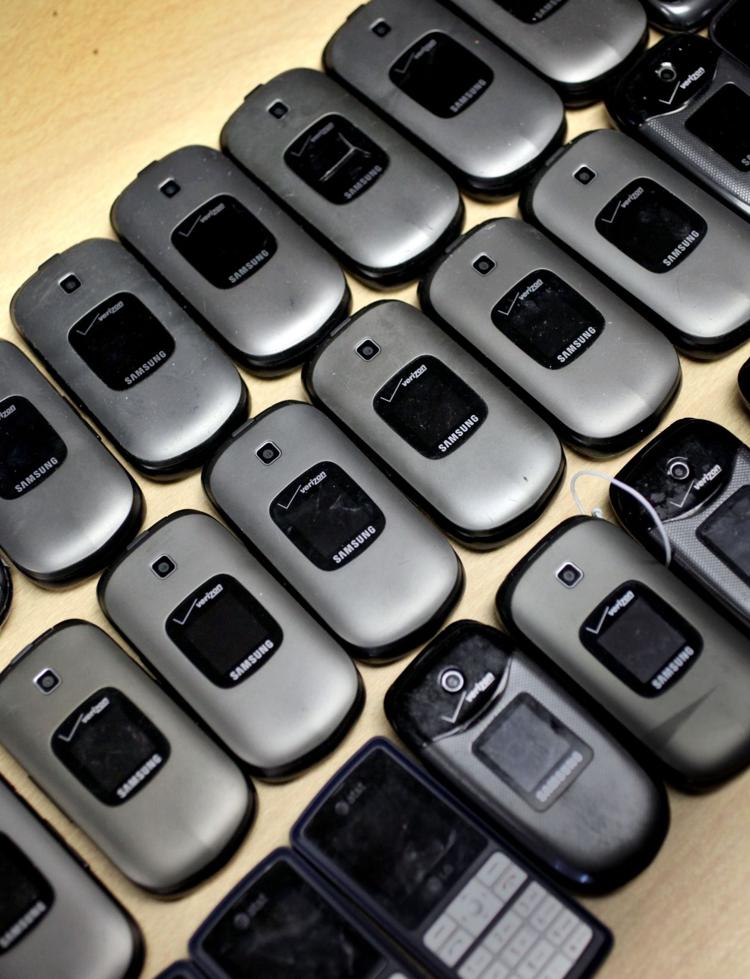 When Johnson first started working at Lee in 1995, the prison had enough staff to properly police the dorms. Each of the two wings had two officers. Today, he says there is a direct correlation between the growing number of vacant correctional officer positions and the increase in contraband — phones, drugs, favors — making it into the prisons.
On a good day, a wing has one officer. Some days, an entire dorm has just one officer for more than 250 inmates. This means prisoners must be locked-down in their cells.
"With two officers, someone was always available watching the inmates," Johnson said. "Once they started cutting back on that, they dropped down and dropped down and we never recovered. The shorter-staffed we got, the more bolder the inmates got about getting contraband in.
"Once cellphones became so small and so available it made it easy to get in and hide," Johnson said. "And that, with shorter staff, just made it blow up exponentially. We went from hardly none to thousands just that quick."
Inmates use the phones to run scams on the public, often preying on the elderly and talking them into handing over credit card and bank information. And then they sell the numbers to other inmates.
Johnson knew of one inmate who bought a house for his girlfriend and a car for his daughter using stolen credit card information.
Prisoners also use the phones to intimidate witnesses and rivals, and to continuing running criminal enterprises from inside.
In September, seven South Carolina inmates were among 15 people indicted on federal charges connected with a wide-ranging drug trafficking conspiracy.
The inmates — at McCormick, Ridgeland, Perry, Lee, Walden, Graham and Broad River correctional institutions — are accused of using contraband cellphones to distribute methamphetamine through the U.S. mail from California to the Upstate and other parts of South Carolina.
Taking a contraband cellphone away from a prisoner often is the most dangerous thing an officer can do.
"If you think about it, this guy paid $800 for a phone and I'm about to take that phone," Johnson said. "So he's desperate. He's going to fight. Or if there's information that would hurt him or the gang, he's going to fight for that phone."
Confiscating phones gives officers access to scores of information that could help them to continue to crack down on contraband, including the phone numbers of turncoat prison staff providing illicit help to inmates .
"One phone we found, the investigator was able to get six staff members," Johnson said. "Their phone numbers were in that phone and he got the records and it showed where that phone had been used 10,000 times in two months. (The inmate) would have protected this phone because he knew those people working for him would help him make that money."
The threat of violence coupled with potentially lucrative underground contraband can lead good officers astray.
"When you're short-staffed, and the inmates know you're short-staffed, the inmates take advantage of it," Johnson said.
Over the summer, The Post and Courier visited Lee Correctional Institution and Lieber state prison in Ridgeville to get a better idea of what life was like for officers and inmates inside the two facilities. Prison officials allowed a reporter and a photographer to see a "character" dorm, for the prison's best-behaved inmates, and a "step-down unit," where inmates who had been in solitary confinement for extended periods go to be re-socialized. Attempts to visit the larger units housing the prisons' general population were denied. 
Corrections officials said they simply did not have enough staff available on those days to keep the reporter and photographer safe.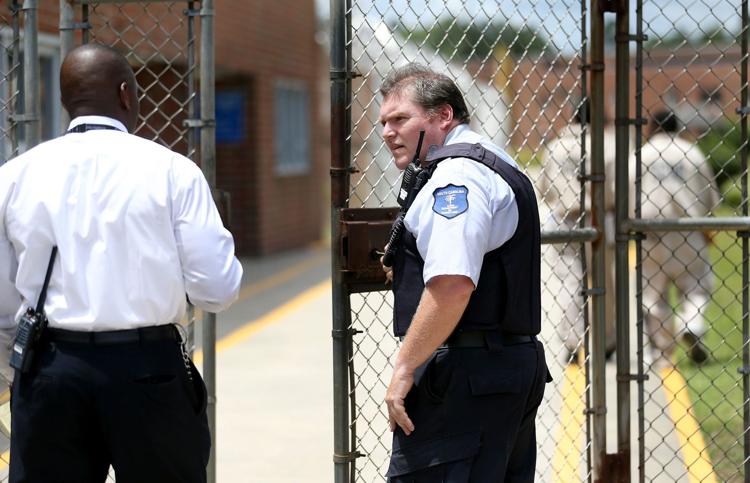 'You take abuse, you're spit on, all kinds of stuff' 
On March 8, 2008, Baxter Vinson was in the Behavior Modification Unit at Broad River Correctional Institution serving a 30-year sentence for rape and burglary. He has borderline personality disorder.
At about 11 p.m. officers found Vinson and saw he had sliced both of his arms and his abdomen. About 90 minutes later, officers strapped Vinson to a restraint chair in the solitary confinement unit. A nurse tried to press Vinson's protruding intestines back into his abdominal wall. Two hours passed.
Finally, at 2:23 a.m., Vinson was taken to a hospital. Surgeons found that he had a staph infection and removed his appendix.
Such harsh treatment of inmates with mental illnesses spurred a class-action lawsuit that alleged the S.C. Corrections Department relied on forced isolation, pepper spray and other draconian measures to subdue unruly prisoners with psychiatric issues.
In a prison interview later with attorneys, Vinson said officers dealt with inmates who physically harmed themselves as if they had behavior problems, not mental health issues. He told a lawyer that four known cutters killed themselves in custody in a 12-month period.
"I mean, all this happened in a year's time, you know," he said. "It's just like SCDC said 'The hell with them, if they gonna die, they gonna die.'"
After a circuit judge delivered a scathing ruling against the department in 2014, SCDC began to change how it polices misbehavior. For starters, the department cut by half the number of prisoners in solitary confinement, from 1,620 on Jan. 1, 2015, to about 800 as of this summer.
The changes in the discipline policy made an already challenging job even tougher, spurring more officers to head out the door.
"Things happen at prison that scare officers and they say, 'Oh no, this is not for me,'" Lee Correctional Warden Cecilia Reynolds said. "They get another job with a pay increase."
There was a time when there would be as many as three officers patrolling one wing of the dorm. Now, most dorms have one officer per wing during the day — each overseeing 128 inmates. On evenings when there's only one officer for the entire dorm, inmates have to be locked in their cells, which creates other problems.
"Lockdown heightens the stress level," SCDC Deputy Director of Operations Michael McCall said. "It's stressful for staff, it's stressful for the inmates. Officers get intimidated by inmates and then resign because of the pressure."
Plus, officers work long hours — usually 12-hour shifts — and often get called back to work overtime when members of the already depleted staff have to miss work for one reason or another.
SCDC officials are looking at a better way to manage overtime, attempting to schedule it instead of springing it on already drained officers as they're leaving.
Having only one officer on each wing during the day takes away the power of numbers and the comfort of knowing there's someone there to watch each other's backs.
And inmates can take advantage of that.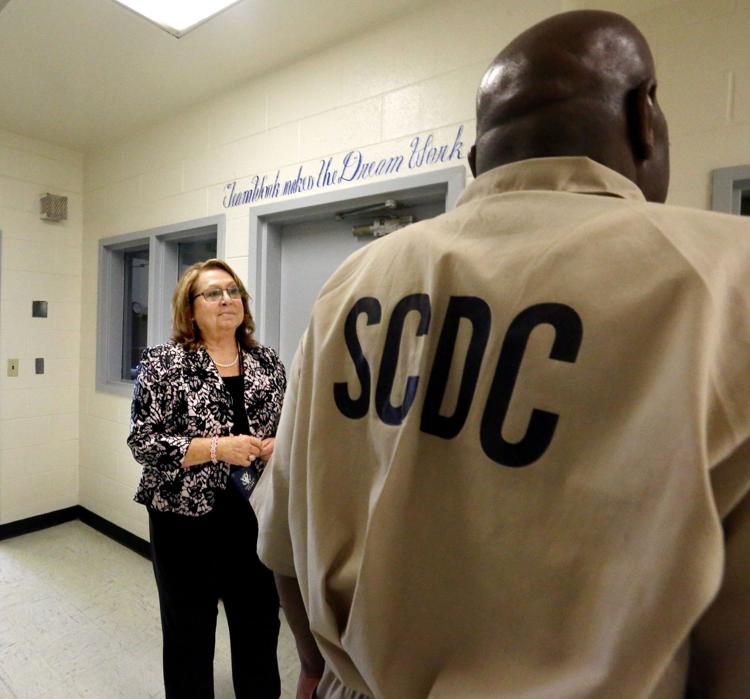 Tension and chaos
While the vacancy rate has steadily increased during the past five years, the number of assaults on officers has fluctuated. There were 424 inmate assaults of officers in 2010; 376 in 2015.
But inmates and officers, who spoke on the condition of anonymity, said those numbers don't reflect what life in prison really is like. They say the statistics don't adequately capture the tension and chaos inside.
And not being able to adequately pay the officers who are there makes it hard to keep them employed.
Sen. Paul Campbell, R-Goose Creek, said turnover remains a persistent problem at the Corrections Department due to the low pay. Once trained, new officers can fare better elsewhere, he said. 
"When they take a position with corrections, they get their certification," he said. "And with a certification they can go work for county, city or another agency making another $10,000. We train them, we get them certified, and we lose them. So we need to look at the way we fund that position."
Prior to this year, correctional officers had not gotten a pay raise in at least 15 years, Stirling said. Starting pay is now $26,375, thanks to a $1,500 increase approved by the General Assembly during the last legislative session, which ended in June. Stirling said he plans to ask for another $1,500 salary bump next year.
But even with those increases, correctional officers at SCDC are among the lowest paid law enforcement jobs in the state.
For example, the Charleston Police Department starts its officers at $34,000. State troopers start at about $38,273 after graduation from the academy.
"Until South Carolina decides they want to pay people for that dangerous job, they are not going to get the best people to work there," said Johnson, the former contraband captain at Lee. "You take abuse, you're spit on, all kinds of stuff. You're being attacked. So who wants to come for that little bit of pay for nothing?"
That leads to more crime, but in this case, it's the officers who are breaking laws.
For example, when Johnson still was working for the department, an officer could make $600 bringing in 1 pound of tobacco.
"One officer told me, when we caught him, that he made $50,000 during the time he worked for the inmates," Johnson said.
And it's a problem that persists throughout the department.
In September, two former Broad River officers were charged with misconduct in office after being accused of allowing inmates to go outside to retrieve contraband items and keep them.
Less than a week before that, a Turbeville Correctional Institution officer was charged with misconduct in office after being accused of withholding information about an attempted murder.
And the shortage of staff impacts inmates, who become victims of assault and even murder when officers aren't around to supervise them.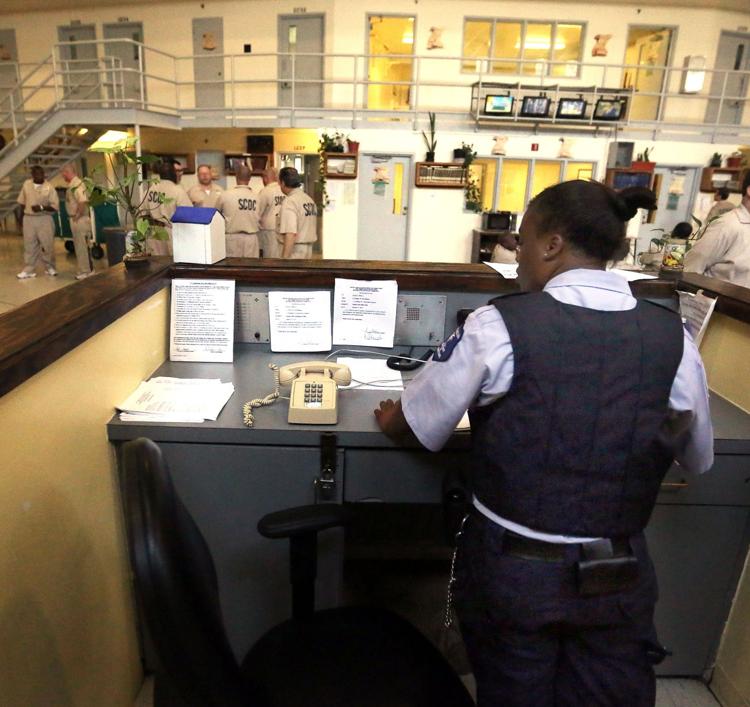 Anxious, angry inmates
On the afternoon of June 22, inmates forced their way into the cell of Ae Kingratsaiphon, a convicted murderer who began serving a life sentence in 1999.
Kingratsaiphon and another man were stabbed in the cell at Lee Correctional several times with homemade shanks, officials said. Kingratsaiphon died on the scene and the other man was taken to the hospital.
Three men were charged in July with murder and attempted murder in connection with the stabbings.
An inmate at Lee, who spoke on the condition of anonymity, said it took more than 30 minutes for officers to discover Kingratsaiphon as he bled out.
Johnson said officers are instructed to do rounds every 30 minutes in the dorm, but it's easy for inmates to distract them and hold them up from keeping an eye on things.
"I've had that happen to me," he said. "Inmates do divert you. They say, 'I need you,' and keep you from doing your rounds while these guys go on down there and are beating up this other inmate."
When staff is short, prisons have to keep inmates locked in their cells, something that causes anxiety for both inmates and officers — and can lead to tense incidents.
"I can't stay at my house for more than a day before getting stir crazy," Reynolds said. "They're in an 8-by-8 room, 24/7. And if they're locked down, they get to shower every three days. There's anxiety.
"If I get a headache at home, I can take some Tylenol," she said. "Here you have to get an officer, ask them for Tylenol, and have them bring it to you. (The inmate's) banging his door, aggravating other inmates. It changes the energy."
Criminal defense attorney Elizabeth Franklin-Best, who is representing Kingratsaiphon's family, has interviewed several inmates over the years who told her of others who had not been outside in more than two years. They say they are not given regular haircuts or shaves and are not able to take regular showers.
"When I spoke to an inmate (recently), he said they just came off 12 days without a shower," she said. "And when they complain to the guards, they're told it's because of staffing."
Reported assaults between inmates have fluctuated, but decreased overall in the last six years or so. In 2010, there were 343 reported assaults between inmates. That number dropped to 288 in 2015, the most recent figures provided by SCDC.
But experts say it's hard to catch and report every fight that happens in prison, especially when many are reluctant to snitch on other inmates.
There also was a significant drop in inmate deaths in 2011, from 75 in 2010, to 58. Since then, inmate deaths have slowly ticked up to 76 in 2015.
The majority of these deaths are reported as being from natural causes but homicides have steadily increased in the past few years. There were two in 2011, none in 2012, one in 2013, two in 2014 and three in 2015.
Franklin-Best questioned the categorization of some of those deaths.
"They'll determine that a 32-year-old died of natural causes," she said. "When you see numbers like (only three homicides), it begs for additional scrutiny."
As of Saturday, there have been five reported homicides at the state's prisons this year. Kingratsaiphon at Lee, as well as killings at Lieber, McCormick and Evans correctional institutions. Evans is a medium-security facility.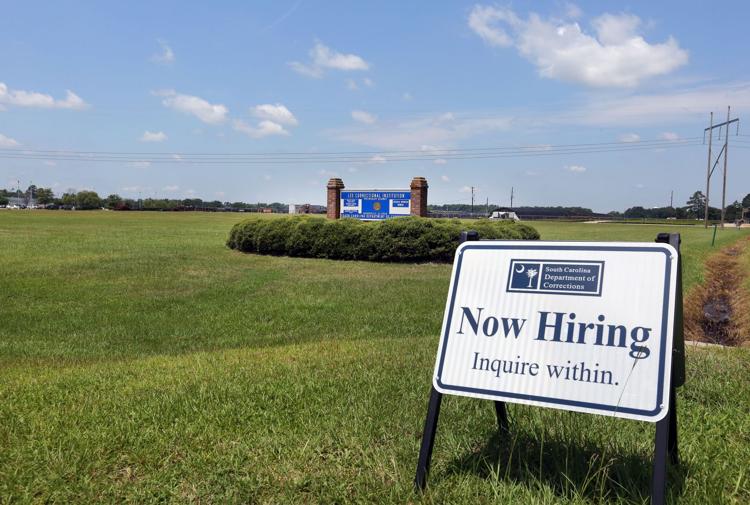 A continued threat
Left unchecked, the officer shortage could easily lead to more riots, hostage situations and complete facility takeovers, experts say.
SCDC is working to get control of the staffing issues. In addition to trying to, again, increase base pay for correctional officers, Stirling earlier this year changed two key policies that were knocking a lot of potential employees out of the running across the department.
First, a relative couldn't apply for a job and work in the same facility as someone already employed by SCDC. Second, if an applicant had a relative who was incarcerated, he or she couldn't work for the department. Stirling, who took control of the department in 2013, got rid of the policies.
The department also started one-day hiring to cut down on the lag time it takes for officers to get to work. It used to take 90 to 100 days from interview to the first day on the job. Now officers are vetted in one day and report to work on the first day of the next pay period.
Officials also have reinstituted a management program to get officers to invest in their careers with the department.
With the unit management program, the goal is to have one manager who has an administrative assistant, a counselor, a case worker and a mental health specialist assigned to the dorm. And there would be one officer assigned to each of the two wings in the dorm.
"Unit management gives managers a buy-in to the career earlier, and they can see the career track," Stirling said.
Leadership at the prisons also is going to be a concern for the department going forward. Of the department's 22 wardens, all but three are eligible for retirement.
But even with the hiring of 400 new officers in the second half of the year, staffing continues to fall because of the exodus of officers. There still are 749 vacant positions system-wide.
And the challenge remains of keeping those who are on staff. Johnson said it was rare for new officers to last more than four months.
"We would hire 10," Johnson said of his time with SCDC. "Five might stay at the end of three months. At the end of four months, we might have one from that original 10. So we have to go out and hire some more. It might take us a year just to get 10 who stay."
In July, about one-quarter of Lee Correctional's officer positions were vacant, leading to several — if not all — dorms being locked down nightly at shift change. Since then, overtime changes have improved the number of lockdowns happening at Lee. But as of Nov. 1, almost half of the prison's officer positions still were vacant.
When the prison is locked down, instead of going to bed at 10 p.m., inmates had to be locked in their cells at 5:30 p.m.
McCall, the deputy operations director, said operating a prison that way can easily lead to unrest.
"The inmates are angry, so the officers are (anxious)," he said. "Do you understand the threat of that?"