ORANGEBURG — Home to a shrinking population and a city littered with vacant storefronts, Orangeburg County is bracing for more than $400,000 cut in state funding — money that would instead go to fast-growing places such as Myrtle Beach.
South Carolina's funding for local governments is based on population and hasn't been adjusted since the last national census in 2010. Under current rules most South Carolina counties will collectively lose millions after the 2020 census as the state redirects funding to high-growth areas. 
"I sit, as a merchant, in the (Orangeburg) county seat," said George Dean, who has operated the men's clothing store Dean's Ltd. on Russell Street for 47 years. "I stand in front of my store every day and see seven vacant storefronts."
Across the street, two closed stores have chains and padlocks on the doors. Another has a tax notice duct-taped on the exterior.
Dean, 77, teared up while discussing the longstanding challenges in South Carolina's rural counties along the Interstate 95 corridor, dubbed "The Corridor of Shame" in a 2013 documentary.
The fact that current local government funding doesn't reflect population changes since 2010 is a blessing, or a curse, depending on whether you're in a fast-growing metropolitan area or a slow-growing rural one.
In Berkeley County, which abuts Orangeburg County, the population has increased by about 40,000 since 2010, but Deputy Supervisor of Administration Tim Callanan said "we've gotten no credit for it."
"We're just under tremendous pressure to serve more and more residents," he said. "Counties that are not growing, or (are) shrinking, are getting a disproportionately large share of the funding."
If funding were based on the most recent Census Bureau population estimates, The Post and Courier calculated, Berkeley County would have received an additional $743,426 this year, and Horry County would have received another $1.2 million.
Orangeburg County would have seen the largest decrease in funding, $417,471.
"The Horry Counties of the world are able to prosper, and gain people, because over the years the state has helped them," said Orangeburg County Administrator Harold M. Young. "We're fighting for things in Orangeburg County that we should have had years ago."
"If we didn't get that money, we'd have to raise taxes or cut services," he said.
Orangeburg resident Angie Stephens, 61, moved there 17 years ago from Jersey City, New Jersey. As a child, she spent summers on her grandparents' farm in Ridgeland and now she frets about the lack of jobs and recreation for young people in Orangeburg.
"The young leave, the old stay," she said. "Until the businesses start coming back, that's not going to change."
State aid to local governments won't suddenly create job growth, but large cuts in funding won't help.
The size of the coming shift in funding will continue if growth trends stay on the same path into 2020 and the rules remain the same. Until then, counties including Horry, Charleston, Berkeley, Dorchester and Lexington will continue to get less money than their swelling populations would indicate.
"My understanding is that, in the Statehouse, they are discussing how slow-growing counties are going to be punished by the census," Callanan said. "The census corrects it, and does nothing to reconcile the counties that have been shorted for 10 years."
Tension between metropolitan and rural counties has been heightened by the state Legislature's years-long refusal to restore the Local Government Fund, which was cut during the recession. The pie has been getting smaller and every county would like a larger slice.
"Absent the Legislature raising the total size of the pie, you're just robbing Peter and Paul," said Assistant Horry County Administrator Justin Powell. "Regardless of whether it's based on current population, the population of the past, or some other formula, predictability would be the key."
The state agreed in 1992 to distribute funds equal to 4.5 percent of the previous year's state budget to local governments, with counties getting most of the money. When the recession hit, the state cut that funding for five years in a row and has not fully restored it.
Instead of getting $58 per resident, as they would under the 4.5 percent formula, counties get $40. Municipalities should be getting $33 per resident, but get $20 instead.
"Bamberg County has lost over $1.5 million because the formula is not being followed," said Bamberg County Controller Gina Smith. "People in small counties are really suffering."
She said the funding should be prioritized for counties struggling with declining populations and a limited local tax base.
"To me, that's just common sense," Smith said.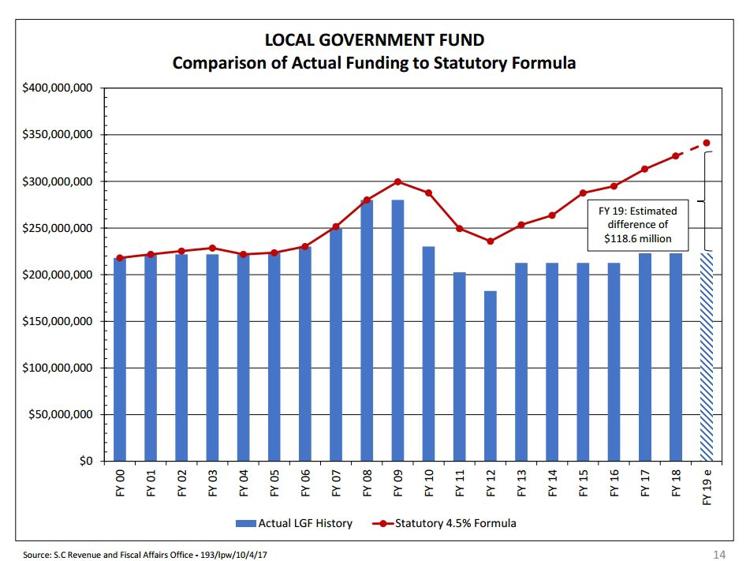 Counties complain that the state requires them to fund public services and provide offices for state services while cutting funding and passing laws that limit local governments' ability to raise taxes. However, most counties have given up hope that the state might fully restore the promised funding.
The S.C. Association of Counties wants the Legislature to agree to maintain the current reduced level of funding with future increases that would mirror increases in the state's general budget.
"They (counties) don't love it, but that's the position that they took and that seems to be a reasonable position," said Tim Winslow, assistant general counsel with the association.
The state House assembled a committee to consider changes to the funding formula headed by Rep. Leon Stavrinakis, D-Charleston, a former Charleston County councilman. He said one thing that's not being considered is restoring full funding because the 4.5 percent rule "is not anything that we can live up to."
Stavrinakis said the committee is open to many things, including "taking back some of the mandates that the locals claim creates a need for this."
"Like with education and everything else, we have huge disparities in this state," he said. "I get that the census will change things and will probably take those disparities in a more dramatic direction."
Rural counties are already to working to make sure all their residents get counted.
"If every person doesn't get counted, that's money we're going to lose," said Smith, in Bamberg.
Back in downtown Orangeburg, Dean said that despite the area's needs, he understands doling state funding based on population.
"You put the money where the people are, that just makes sense to me," he said. "I don't know if that's fair, but it's equitable."