The shooting death of a woman who was found inside of a Mount Pleasant home last week has sparked numerous questions about police transparency after authorities issued a heavily redacted report late Friday afternoon.
Ann Witherspoon, 60, was pronounced dead on Feb. 9 at a Seminole Street residence, according to the Charleston County Coroner's Office. Witherspoon died of a gunshot wound. 
Investigators say they are still working to determine her manner of death. 
By Friday morning, Witherspoon had been dead for at least six days; however, news of her death was not publicly disclosed until a Post and Courier inquiry into the case following a tip by a member of the public. 
Reporters spent several hours requesting information and looking into the case, eventually receiving a heavily redacted incident report at 4:21 p.m.
"Attached is a copy of the requested report. It is highly redacted because it contains information that could compromise the investigation," Inspector Chip Googe, a spokesman for the Mount Pleasant Police Department, said in an email that contained the report.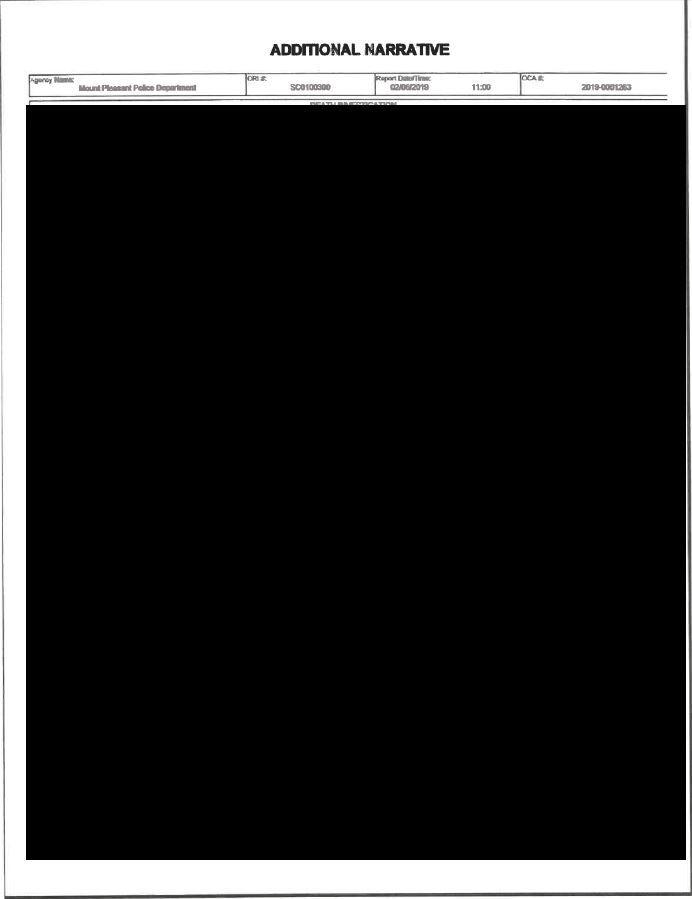 While redactions are used on a regular basis to protect sensitive information, the level of redaction seen in Friday's report is highly unusual. 
Jay Bender, an attorney for the newspaper, said police agencies can be overzealous when deciding what information to withhold.
"In many instances, cops have a serious problem with believing that the public needs to know," Bender said.  
Under South Carolina's Freedom of Information Act, law enforcement agencies are allowed to withhold information if its release would:
Reveal an informant's identity.
Interfere in prospective law enforcement action.
Reveal otherwise unknown investigative techniques.
Endanger life, health or property.
Disclose contents of intercepted wire, oral or electronic communications not otherwise disclosed in trial.
It is typical to find small sections of incident reports redacted that contain names, identifiers or other sensitive information.
In this case, the report's narrative, which typically contains a description of the incident and what officers found at the scene, was nearly completely blacked out. 
"The officer who took the initial report was extremely detailed and the facts contained throughout the report would compromise the investigation if left unredacted," Googe said, responding to questions from the newspaper about the broad level of omissions.
The police spokesman also stated that a person was arrested and charged with grand larceny of a motor vehicle in connection with this case.
That person's name, however, was not disclosed on Friday. 
In a statement, Mayor Will Haynie said the police department handles information flow in a "highly professional manner and in the way they deem most appropriate."
"Given what I know at this point, I have every confidence in the Mount Pleasant Police Department's handling of this matter," Haynie said.