The Charleston County School District could spend $1.8 million a year for armed police officers to work in its 49 primary and elementary schools starting as soon as this fall.
The district would contribute $36,601 toward the estimated $115,000 cost of hiring and equipping each officer at the schools, according to a proposal that earned unanimous initial approval Monday from the School Board Operations Committee.
The district would ask local municipalities and county government to foot the rest of the bill. The proposal before the committee would authorize staff to negotiate with local officials on the matter.
The board is writing its 2018-19 budget, and the $1.8 million expenditure would come from its operating funds, which totaled $585.7 million including federal Title I money for the current school year.
Security and Emergency Management Director Michael Reidenbach presented the officer hiring proposal as the top priority on a menu of options for improving school security. If all options were put in place, it would cost almost $4.1 million.
Other high-priority ideas included hiring a search team to conduct random weapon and contraband searches in classrooms, hiring an emergency planner, and hiring security officers to work in the district administrative office.
The board has been weighing its options to improve school security since the fall, when a series of gun incidents in North Charleston high schools prompted a discussion of installing new metal detectors. Reidenbach estimated at the time that it would cost $400,000 to install walk-through metal detectors at the entrances of the district's high schools, plus $6.4 million a year to staff the checkpoints.
Walk-through metal detectors did not show up on the menu of options Monday.
Following a mid-February mass shooting at Marjory Stoneman Douglas High in Parkland, Fla., South Carolina lawmakers proposed requiring school resource officers in all schools. But the bill looks unlikely to pass this year.
"I don't feel like this is something that we should wait for a mandate to come," Reidenbach said.
The school district's proposal will come up for final approval at a full board meeting April 23. The committee did not take action on the other proposals.
A variety of approaches
The Charleston County School District has at least one resource officer working in each of its middle and high schools. Police presence in elementary schools varies by jurisdiction. 
The city of North Charleston has been paying for officers to work in each of its 21 public elementary schools at a cost of about $2 million per year since shortly after the December 2012 mass shooting at Sandy Hook Elementary in Newtown, Conn.
Under the proposal Monday, the district would contribute toward the salaries for those existing officers.
"We stood up because it was the right thing to do," North Charleston Mayor Keith Summey said of the 2012 move before a City Council meeting in March. As state lawmakers eyed a proposal to put SROs in every school, Summey wondered aloud if the state would begin paying what North Charleston pays its SROs (a $41,500 starting salary). He seemed doubtful.
Also after the Newtown shooting, the Charleston Police Department formed "clusters" of officers under a new School Security Response Team assigned to rotate between a handful of public and private elementary schools — but stopped short of assigning an officer to work full time at each school.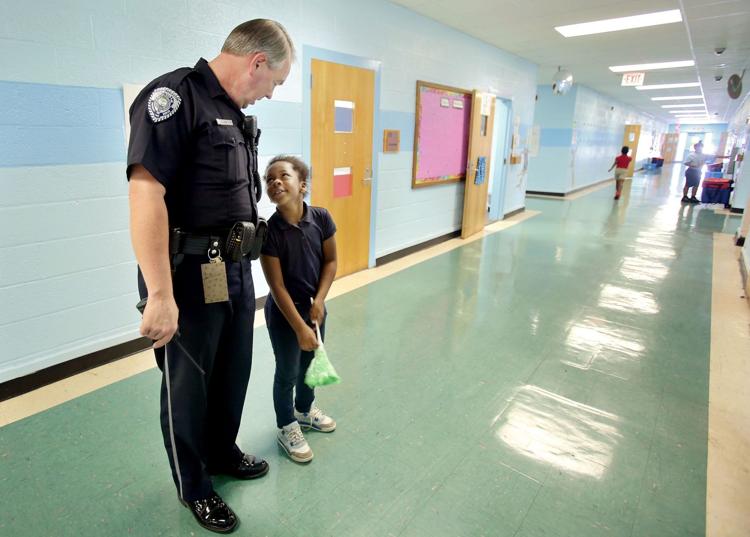 Reidenbach said the proposal would be to hire school resource officers based at each public school in the city, separate from the School Security Response Team.
Peter Shahid, chairman of Charleston City Council's public safety committee, said he would be open to the idea of partnering with the school district and wants to hear more details.
"I do like the idea of having a trained law enforcement officer present at our schools," Shahid said. "They have a sense of security, they're trained, they know how to respond to emergency situations of any sort."
On March 12, following the mass school shooting in Parkland, the town of Mount Pleasant began sending armed off-duty officers to work in each of the town's nine elementary and primary schools as well as the charter high school Oceanside Collegiate Academy. Mayor Will Haynie estimated at the time that it would cost the town $800,000 per year to make the arrangement permanent.
In areas that fall under Charleston County Sheriff's Office jurisdiction, patrol officers currently check in on elementary schools on a regular basis.
'A very personal issue'
While all school board members voted in favor of the proposal, some expressed reservations.
Kevin Hollinshead said the district should invest more in "hardening" its school facilities with features like bulletproof windows.
Chris Staubes said he wanted to ensure that officers protect children "without creating a police state."
"We don't want to go overboard just so we can catch somebody with a cigarette or something," Staubes said.
During a public comment session, Moultrie Middle special education teacher Jennifer Robinovitz said SROs should only be the start when it comes to security. She told the board about a student who came to school with a knife one day in 2009 and attempted to kill her. She said she had to barricade the door to protect her students.
Robinovitz also said she had a niece who died in the shooting at Douglas High.
"This is a very personal issue to me," Robinovitz said, "and it should be for everybody in this room."
Micah Carpenter, an English teacher at North Charleston High, said she opposed the proposal. Weighing in on Twitter, she said some students feel less safe with police in the building and pointed to a 2009 Journal of Criminal Justice report that found schools with SROs tended to have more students arrested for disorderly conduct.
"The district (and state and country) is pushing aggressively for a plan that doesn't represent best practices," Carpenter said.
Hannah Alani contributed to this report.