Lowcountry planners are grappling with numerous possibilities to create a rapid bus transit system from Summerville to downtown Charleston, including creating dedicated center lanes on Rivers Avenue. 
The Berkeley-Charleston-Dorchester Council of Governments released a list of 12 possible routes and 18 stops for the 23-mile project Thursday.
The $360 million effort is forecast to be completed by 2025. 
Options includes starting Summerville's route in the downtown area by the municipal court or near the Nexton development off U.S. Highway 17.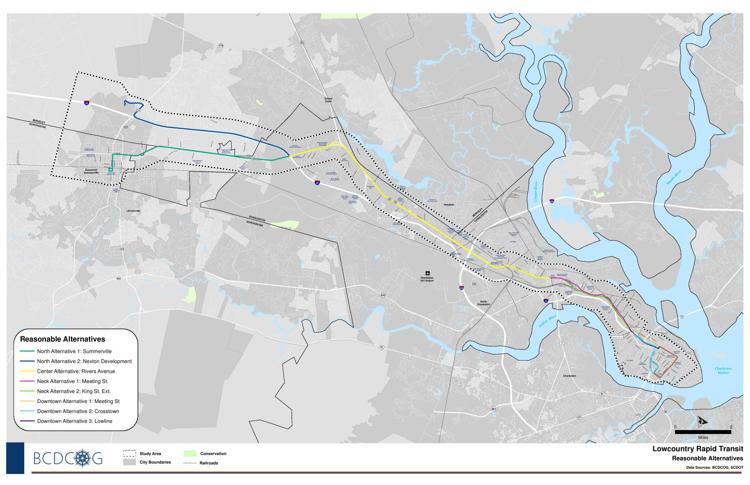 Downtown Charleston routes could run from Meeting Street; the Septima P. Clark Parkway, also known as the Crosstown; or the future Lowline area. All the alternative routes will be evaluated during the environmental impact study before a preferred route is picked. 
The new bus line is expected to create interest and demand for affordable housing and other development along its route. That, in turn, would increase the number of people riding it, supporters say.
"Over time, you're going to see more transit-friendly development along the route," said Mike Seekings, board chairman for the Charleston Area Regional Transit Authority. 
While there is speculation on what the final route will look like, what seems more certain is the plan for Rivers Avenue between Trident Medical Center and Cosgrove Avenue. 
Planners said Thursday the project would include reducing median sizes for two dedicated center lanes that would feature a bus station for dual routes heading toward Charleston and Summerville. 

The buses would also have technology that could change traffic lights for quicker routes. 
Last year, the Federal Transit Administration agreed to an $880,000 grant to help kick-start the project. At least $250 million will be funded through the half-cent sales tax Charleston County voters passed in 2016.
Yearly operation costs for the project are expected to be $5.9 million annually.
The Council of Governments estimates there will be 2 million trips on the rapid transit line each year. 
The next meeting for public input will be 11 a.m.-2 p.m. June 20 at Northwoods Mall in North Charleston. Another will be 3:30-6:30 p.m. June 25 at the International Longshoremen's Association Hall on Morrison Drive in Charleston.  
Online comments can also be submitted by emailing info@lowcountryrapidtransit.com or by calling the project hotline at 843-303-9698.
"We want to make sure we know what the landscape will look like with transit," Seekings said. "Now is the time to speak out."