MOUNT PLEASANT — Town Council is looking to increase requirements for people who want to protest or march by making them seek a permit at least 10 days in advance if more than 50 people are expected.
Currently, public assemblies of any size are permitted if they are prompted by "news or affairs coming into public knowledge within three days of such public assembly" as long as the town is given at least 24 hours' notice in writing.
Under a plan making its way through council, such "spontaneous protests" would no longer be allowed in town.
Police Chief Mark Arnold said that with the pending changes, the town's rules would still allow up to 50 people to assemble or protest without a permit, but for larger groups, the town wants more notice than current rules allow.
"The concern here is, when that (ordinance) was written you didn't have people organizing protests literally within hours of learning about something on social media," he said. "We just want enough time to prepare and keep everyone safe."
"This isn't about the small groups that assemble outside (Sen.) Lindsey Graham's office and things like that," Arnold said. "It literally is for larger protests where we need some time to plan."
Graham, R-S.C., has a Lowcountry office in a building off Johnnie Dodds Boulevard.
The town's proposed rule changes come in contrast with Mount Pleasant's municipal neighbor, the city of Charleston, which just approved a permit ordinance that specifically allows spontaneous gatherings regardless of the number of people involved.
A Charleston spokesman said the city's rule was set up to be adherent to First Amendment concerns.
"Based on a review of model laws and court precedent, city legal staff recommended that the new First Amendment ordinance allow for spontaneous demonstrations in response to dramatic breaking news events," spokesman Jack O'Toole said. "As a result, City Council carved out that narrow exception to the standard permit requirement."
The American Civil Liberties Union of South Carolina said Mount Pleasant's pending rule change, requiring a permit 10 days in advance with no exception for spontaneous protests, would be "indefensible prior restraint on the exercise of protected speech."
Allen Chaney, director of legal advocacy for the state ACLU branch, quoted a 1969 U.S. Supreme Court decision, Shuttlesworth v. City of Birmingham, in which Justice John Harlan II said "timing is the essence of politics. It is almost impossible to predict the political future; and when an event occurs, it is often necessary to have one's voice heard promptly, if it is to be heard at all."
Spontaneous gatherings are defined as direct reaction to recent events, protests over a government action, or vigils following a tragedy, for example. Governments set different standards for what counts as spontaneous: within 48 hours of an event in Charleston or within 72 hours under Mount Pleasant's current ordinance.
In the Shuttlesworth decision cited by Chaney, Harlan also wrote: "I do not mean to suggest that a State or city may not reasonably require that parade permit applications be submitted early enough to allow the authorities and the judiciary to determine whether the parade proposal is consistent with the important interests respecting the use of the streets which local authority may legitimately protect."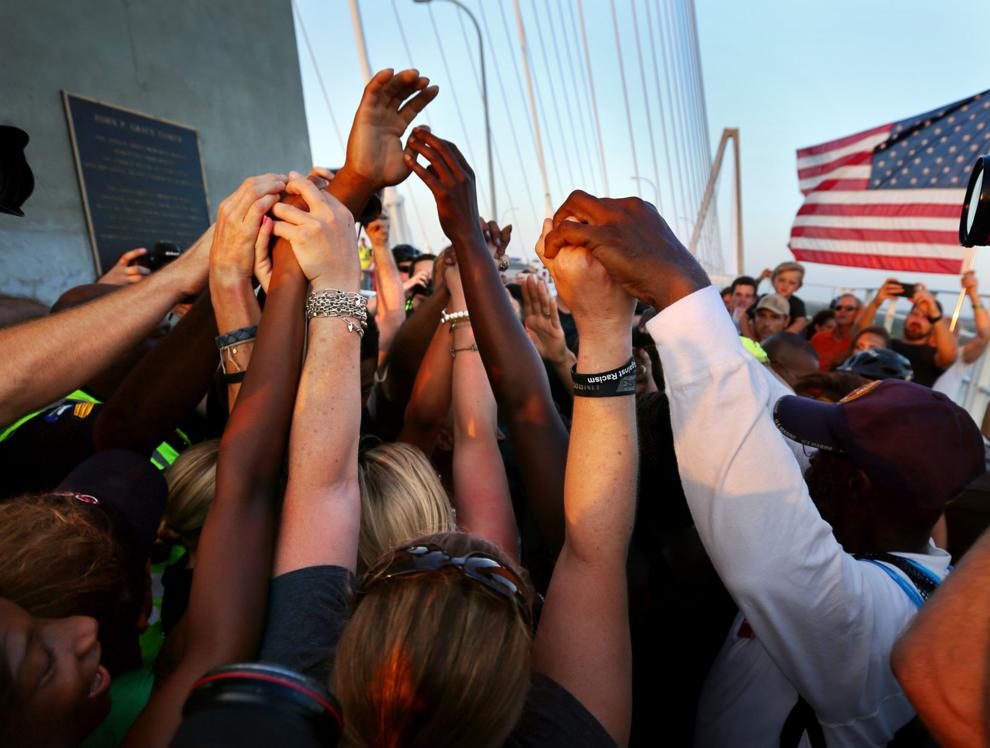 The region has had numerous sparked crowd gatherings. For instance, in June 2015 an estimated 15,000 people gathered on opposite ends of the Arthur Ravenel Jr. Bridge and marched to the middle in a show of unity four days after the Emanuel AME church massacre. It was treated as a spontaneous event.
So was the gathering of more than 100 people at the Holocaust memorial in Charleston in 2018, where people mourned the death a day earlier of 11 people slain in a mass shooting at a Pittsburgh synagogue.
Some protests across the nation in 2020 closely followed the May 25 murder of George Floyd by a Minneapolis police officer, while other came days or weeks later. In Charleston, large protests turned violent on May 30, five days after Floyd's murder, prompting the city to clarify its protest regulations and police response guidelines.
Arnold was in charge of the town's planning for the Emanuel AME unity walk, a peaceful event where then-Police Chief Carl Ritchie joined in the march. The huge event began with a post on Facebook. Arnold said the town had not expected thousands of people to participate, but the walk was broadly seen as a positive, healing event.
"I'm a very big supporter of the First Amendment and people's right to protest and march," he said.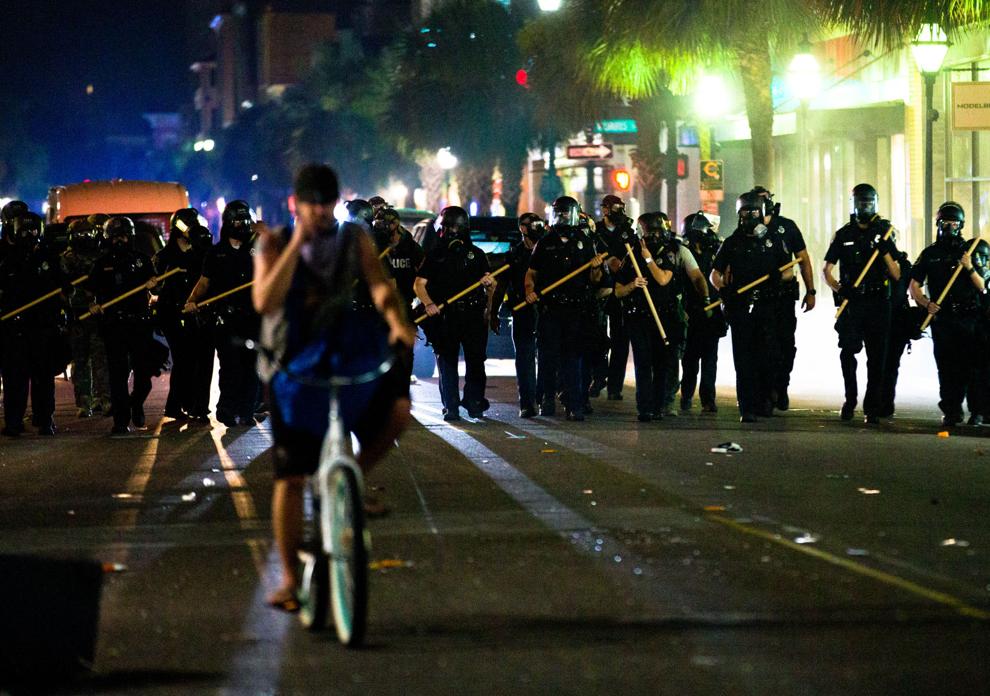 If the protest ordinance changes receive final approval — likely since Town Council voted unanimously to approve them on a first vote — permits would be required at least 10 days in advance. However, the town's administrator could make exceptions, Arnold said.
The next Town Council meeting is scheduled Aug. 10.
When protests fall outside what a town or city allows, police can declare an illegal assembly and make arrests, as has happened recently in Charleston.
In the greater Charleston area, the Charleston peninsula has been the focus of protest activity, even when the events being protested happened outside the city or state.
There have been no large protests in Mount Pleasant recently.