At Sanders-Clyde Elementary on the East Side of downtown Charleston, many of the common struggles of South Carolina public schools converge in one building.
Nearly every student lives in poverty, and most are black, in a school district where economic and racial segregation are rampant.
The school also has seen a revolving door of administrators and teachers, and an associated churn of programs and interventions meant to improve the school's flagging test scores.
Nothing has worked so far: The school consistently ranks among the worst-performing in Charleston County.
But a new principal with a new vision says he's made strides in his first year — and some members of the Sanders-Clyde community believe he can right the ship, if he's able to stay. And if he stays and succeeds, his example could help similar schools thrive.
Roshon Bradley, Sanders-Clyde's fifth principal in seven years, knew the odds before he took the job in the spring of 2017. He previously worked for almost 16 years in the schools of Rochester, N.Y., a place with similar levels of poverty to Sanders-Clyde's attendance zone.
These days, he starts work before sunrise and sometimes works for 12 or 13 hours a day. Some students are at the school from 7:30 a.m. to 4:30 p.m., and there's plenty to be done before and after — meeting with parents; handling the daily crises of children with chaotic home lives; and applying his outsize charm to the task of recruiting new teachers during a statewide educator shortage.
If Bradley is exhausted, he hides it well. His smile is infectious, and his demeanor splits the difference between coach and counselor.
"It's taxing, but it's important to build the foundation," Bradley said. "You've got to put in the hard work up front."
A dream of the arts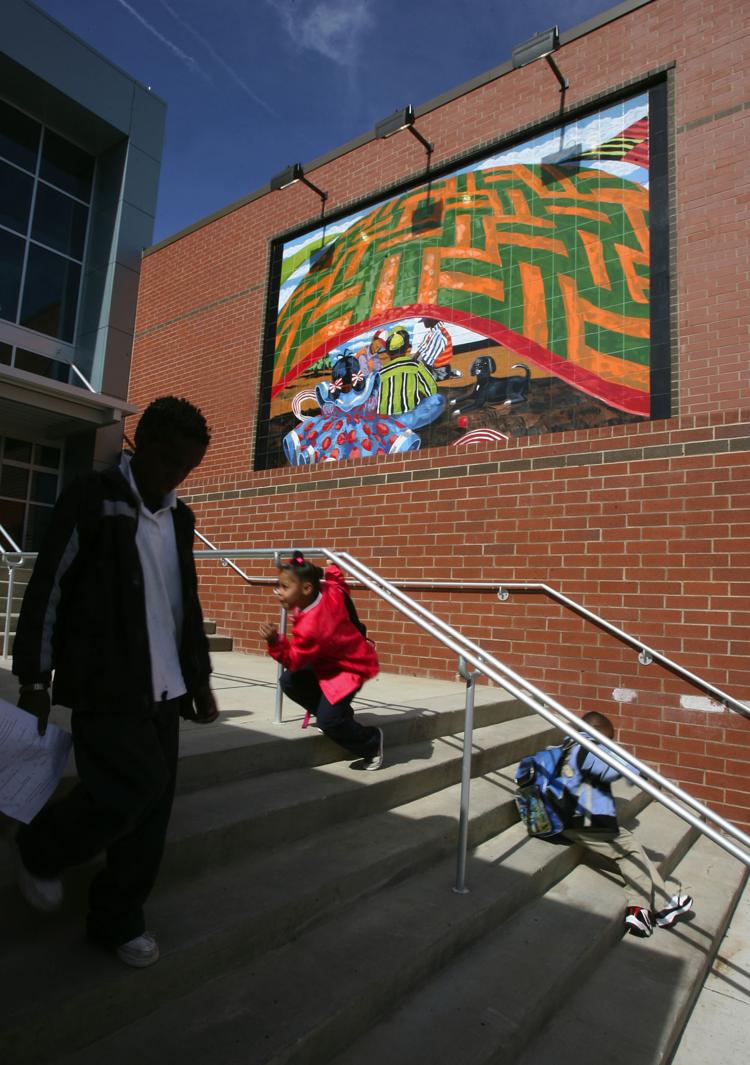 Unlike many high-poverty schools in South Carolina, Sanders-Clyde does not have to worry about its building, which is state-of-the-art.
Fresh paint and a bold vision heralded Sanders-Clyde's move into a gleaming new campus in the fall of 2010. In celebration of its new partial-magnet creative arts program at that time, the Charleston County School District commissioned a mural from Jonathan Green, a world-renowned painter of Lowcountry scenes.
The mural still lights up the main entrance, but the school district pulled the plug on the partial-magnet arts program after receiving no applications during the 2015-16 school year. Its demise dried up a funding stream that once helped the school hire full-time art and music teachers. The proposed budget for next school year would pare those positions back to part-time due to low enrollment.
Green has kept tabs on Sanders-Clyde since 2010. He said he was exasperated to hear the news about the demise of the partial-magnet creative arts program, which happened before Bradley arrived. Green called the gutting of school art departments "just agonizingly painful and defeatist."
The district also eliminated the sparsely populated middle school grades at Sanders-Clyde this school year, sending those 100 or so students to attend Simmons Pinckney Middle about a mile away.
Today, the school sits about two-thirds full, with low enrollment driving per-pupil costs through the roof. And Sanders-Clyde's academic performance ranks among the state's worst: A total of five students in grades three through five met their grade-level standards on a state English test last year.
Teaching in teams
Once again, the school is trying something new. With extra funding and special permission from the school district, it hopes to place two teachers in every classroom, an oft-cited factor in the success of other high-poverty schools like Meeting Street Elementary @Brentwood.
Bradley is still recruiting teachers to reach that goal. In a fifth-grade math class on a recent Monday morning, Shasta Robbins and her co-teacher Bria Barnhill split up the class into small groups, tag-teaming to meet students at their academic level.
"I know Dr. Bradley was adamant about hiring the right people, not just anyone. I personally appreciate that," Robbins said. "It was hard for the first half of the year, but I couldn't ask for a better co-teacher."
Without a full year of test scores available, the academic results aren't in yet. But the fifth graders on a recent Monday morning were engaged, working together, sometimes even having fun with their assignments, even though it's almost the end of the school year.
Following an approach he honed in Rochester, Bradley is also reaching outside the school walls, enlisting the help of churches and families to address the material needs that keep some children from learning. He has gotten to know parents through community events and groups like Dads on Duty, a monthly men's fellowship that he launched in the neighborhood last year.
Sanders-Clyde now provides internet access to help parents apply for jobs, and it helped provide hot meals in the neighborhood throughout the winter break. The school has hosted a father-daughter dance and a boys' lock-in this school year. Bradley encourages his staff to conduct home visits.
If Bradley is going to succeed, he knows he can't do it alone.
What works
Charleston County School Board member Todd Garrett has often held up Sanders-Clyde as an emblem of the district's failure in educating African-American students. He says Sanders-Clyde stands in stark contrast to Mitchell Math and Science Elementary, which serves a similar student population but gets better academic results.
What makes the difference? Garrett thinks it starts at the top with Principal Deborah Smith.
"Aside from a math and science focus or an arts focus, Debbie Smith has done a great job of demanding excellence in the classroom," Garrett said. "Sanders-Clyde during the same period had a different principal every year, sometimes in the same year, for all different reasons."
Smith deflects praise when asked about Mitchell's success, insisting that her teachers do all of the work and she's only doing what has worked at other high-poverty schools. She said she's glad to see Bradley reaching out to family and community members, much as she did in her first few years at Mitchell.
Beyond that, Smith has focused on recruiting and retaining the best educators available. Her star-studded staff includes Mia Pace, Charleston County's 2017 Teacher of the Year; and Lidie Collier, 2016 South Carolina School Nurse of the Year.
How do you keep people like that in the building? It's a key question that Bradley faces as he rebuilds Sanders-Clyde following years of turmoil. At Mitchell, Smith pairs every new teacher with a mentor. Once a teacher gets to work, she focuses on growth, not grade-level achievement.
Many students arrive at her school more than a year behind their grade level on state math and reading tests, but she places more emphasis on the thrice-yearly MAP tests, which can show progress.
If a teacher can help a student make one year's worth of progress in a year — or better yet, a year-and-a-half's worth of progress — then that teacher is doing her job, Smith said.
"I focus on the growth," Smith said. "I don't focus on what the state says."
Another new hope
Partial-magnet programs, which admit students from an attendance zone as well as other students who apply, proliferated during the late-2000s as the district sought to bring students back to struggling schools and provide equal access to specialized education across the county.
But such innovative approaches have not moved the needle at some Title 1 schools, such as Sanders-Clyde's and Chicora Elementary's now-defunct School of Communications. Both quietly fizzled out due to lack of interest or results.
At Mitchell, Smith said a partial-magnet program in math and science helps the school enrich students with weekly science lab time. It's part of what makes her school special.
But it's not a remedy for everything.
The district's two-teachers-per-classroom approach at Sanders-Clyde is still too new to quantify as a success or failure. But parents and volunteers at the school say the climate is changing.
Geraldine Butler has lost track of how many principals passed through the halls since her grandchildren attended Sanders-Clyde years ago. Now she has a great-grandson at the school and volunteers with a program to provide fresh fruit and vegetables there. She said one of the best things the district could do for Sanders-Clyde is to provide some stability in the principal's office.
"These kids have experienced too many changes," Butler said. "Everybody who comes wants to put their stamp on how they do things, and I think the kids get confused after a while and they get left behind. Hopefully, they'll allow him (Bradley) to stick around."