Part of the roof at a popular downtown restaurant caved in Friday as record rainfall drenched Charleston and flooded city streets.
After 2 p.m., authorities blocked the entrances to Coast Bar and Grill, a seafood restaurant at 39D John St. Photographs showed a large hole above the front entry area with lumber and bricks strewn about.
No injuries were reported, and only workers were inside at the time, Deputy Fire Marshal Josh Smith of the Charleston Fire Department said. No customers were at the restaurant that does not serve lunch.
Fire crews and building inspectors were evaluating the damage, Smith said. John and Hutson streets were closed during their investigation.
While its exact cause was not immediately known, the roof collapse came as showers and storms dropped 2.6 inches of rain between noon and 2:20 p.m. Friday in downtown Charleston, the National Weather Service said. The previous record for the day of 2.18 inches had stood since 1893.
Typical trouble spots in low-lying Charleston were flooded by mid-afternoon, with water reaching bumpers on parked cars. Intersections on Market, Wentworth, East Bay and Fishburne streets were among those that were deemed impassable for a time.
Around the same time as the roof collapse, firefighters helped a motorist stranded in a car surrounded by floodwater near Morris Street and Marbel Lane, the Weather Service added.
Owned by Holy City Hospitality, Coast bills itself as a place for dining on Charleston's freshest seafood. It typically opens for dinner at 5:30 p.m.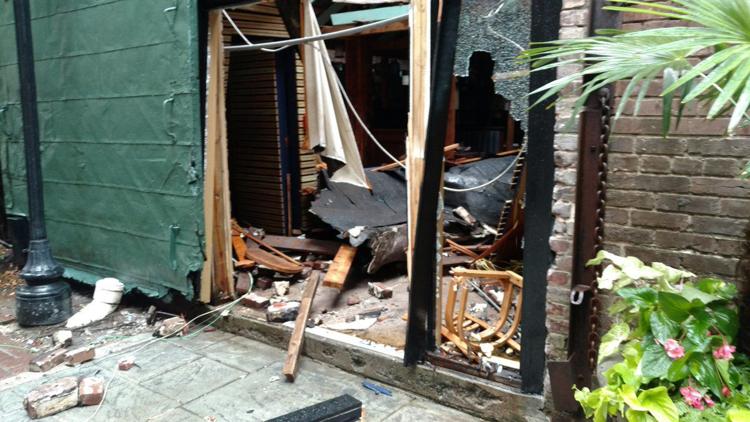 Shortly before Friday's roof collapse, the restaurant posted on Facebook, "The rain has us thinking of sunnier days!"
A follow-up post attributed the damage to weather.
A representative for Holy City Hospitality could not immediately be reached for comment.
What caused the collapse remains under investigation, said Edye Graves, chief building official for the city of Charleston.  
"The owners have a structural engineer on site," Graves said, in an email. "The structural engineer is looking at ways to shore the exterior masonry wall. The alleyway is closed until this can be achieved. I am not sure how long the restaurant will be closed."