College of Charleston freshman Noah Jones was moved enough by the outcome of the presidential race that he organized an anti-Donald Trump rally last weekend at Marion Square.
The problem? Jones did not get a permit. But he did get a potentially pricey ticket.
It wasn't hard for police to find the protest: The 1 p.m. event was promoted on social media and in emails to local news outlets.
A Charleston police incident report estimates 30 to 40 protesters showed up initially. After Jones led the group on three marches around the blocks just north and west of the square, the officers estimated as many as 125 people had joined in.
The protesters dispersed around 4 p.m., the report said. About seven city police officers monitored the event.
Jones' Facebook page includes several photos of the protesters, but the Facebook page of the South Carolina Secessionist Party took credit for pressuring police to charge Jones.
City spokesman Jack O'Toole said the city requires a permit for public gatherings of 50 people or more, and its police enforce the law even-handedly, regardless of a rally's issue or cause.
The charge of protesting without a permit carries a potential fine of about $1,092. But if Jones appears in the city's Municipal Court, that penalty could be reduced substantially.
The Charleston rally was much more peaceful than the anti-Trump marches seen elsewhere.
Coulter digs at Haley, again
The Twitter-fueled grenades conservative pundit Ann Coulter likes to lob at Gov. Nikki Haley resumed last week after news broke the governor was being considered for the U.S. Secretary of State job by President-elect Donald Trump.
"If Trump wants an Indian Sec of State, how about Tonto?" Coulter tweeted.
The snipe was similar to what Coulter said after Haley issued the GOP rebuttal to President Barack Obama's final State of the Union address back in January.
That was the one where Haley warned against voters being tempted "to follow the siren call of the angriest voices," a reference to Trump.
"Trump should deport Nikki Haley," Coulter said at the time. 
Haley's press office did not respond Friday.
Trump victory cake-slicing party
Charleston County Republicans celebrated Donald Trump's presidential victory last week with a cake large enough to feed 100 people.
Executive committee members devoured the cake, measuring 2 feet by 3 feet, that said President Trump on it along with the American flag.
Party Chairman Larry Kobrovsky gave the honor of cutting the first slice to former chairman and Trump backer John Steinberger.
"He came out for Trump before anyone else did," said Kobrovsky.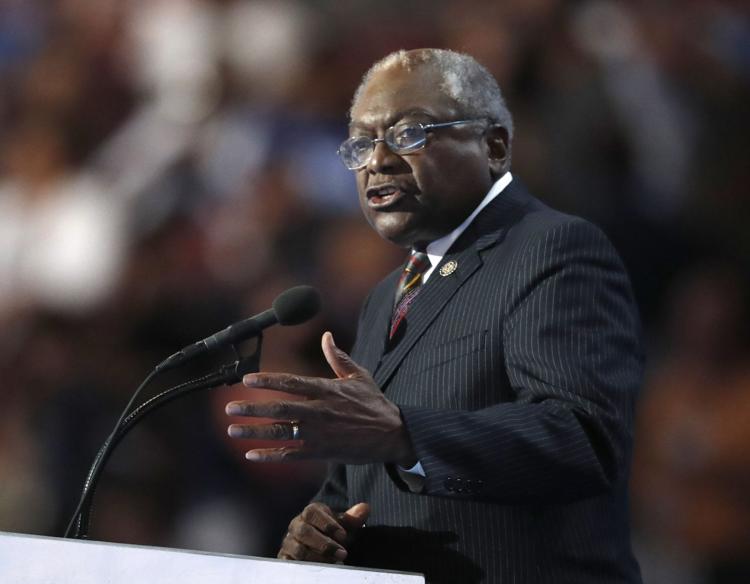 Clyburn defends Pelosi; blasts Comey
U.S. House Democratic Leader Nancy Pelosi is facing a challenger to keep her post for the next Congress, a move some might see as an indictment of the entire, three-person leadership slate – all septuagenarians who have remained in their rankings for nearly a decade.
But the third most senior House Democrat, U.S. Rep. Jim Clyburn of South Carolina, says he isn't worried.
"As I told my caucus this morning: We may be aging, but we're not aged," Clyburn, 76, told Palmetto Politics on Friday.
Pelosi, a liberal California Democrat, is being challenged by a more moderate Ohio Democrat, 43-year-old Tim Ryan. Ryan has said the demoralizing election results for his party prompted him to seek change in the Democratic leadership structure. He faces a long road ahead in unseating Pelosi, who many are afraid to publicly repudiate given her power and influence.
Clyburn, who like everyone else in leadership besides Pelosi is running for his post unopposed, called Ryan "a nice guy" but said he told his members to be careful about where they direct their frustration after a disappointing election.
"This morning in the caucus, I quoted Aristotle," Clyburn said. "'Anyone can be angry. That is easy. But to be angry with the right person, at the right degree, at the right time, for the right purpose, and in the right way, that is not easy.'"
If Democrats want to be angry, Clyburn suggested they could direct their frustration toward FBI Director James Comey, whose letter to Congress about reopening the investigation into Hillary Clinton's emails might have cost the Democratic presidential nominee some votes.
"Absolutely they should be angry at Comey," he said.
Mulvaney boosts Ryan
When U.S. Rep. Paul Ryan, R-Wis., needed someone to deliver a nominating speech in his bid to stay Speaker of the House in the next Congress, he turned to an unlikely colleague: Rep. Mick Mulvaney.
The South Carolina Republican is a founding member of the conservative House Freedom Caucus, which helped overthrow Ryan's predecessor and was, until President-elect Donald Trump's victory, considering ousting Ryan too.
But Trump's win was the salve the GOP needed to get together, and Ryan wanted members outside his inner circle to speak on his behalf in front of the Republican Conference before leadership elections.
He tapped U.S. Rep. Chris Collins, R-N.Y., the designated liaison between Trump and Congress, and U.S. Rep. Martha McSally, R-Ariz., a centrist veteran. Mulvaney would round out the group.
"He texted me over the weekend asking me to do it," Mulvaney said.
Mulvaney said the two lawmakers talked about unity and coming together. Mulvaney mentioned a show of good faith on Ryan's part would be working to preserve the procedural motion that allows members to force a vote to remove a speaker from his or her post.
A Freedom Caucus threat to use that maneuver last year brought about ex-Speaker John Boehner's exit and now Ryan's allies were looking to get rid of the temptation altogether.
Ryan made sure to kill off efforts to wipe the maneuver from the House rule book, Mulvaney said.
"I thought it was a really good sign on his part so I was glad to give a speech," he said.
Robert Behre, Emma Dumain and Schuyler Kropf contributed.