COLUMBIA — For years, Columbians have been watching the former Department of Mental Health property — 181 acres of land adjacent to downtown — looking for signs of a promised transformation. The city built a ballpark and welcomed the minor-league Fireflies, but other clues to progress were tough for passersby to spot. They saw only open land and boarded-up buildings.
Moves such as the launch of construction for outdoor gear retailer REI as the first major retail store in the BullStreet District show the area is becoming a destination, according to the site's master developer.
REI saw a growing city with an interest in the outdoors and a downtown site that is near the natural features of the BullStreet District, said Robert Hughes, president of Hughes Development, the Greenville firm overseeing the 20-year project.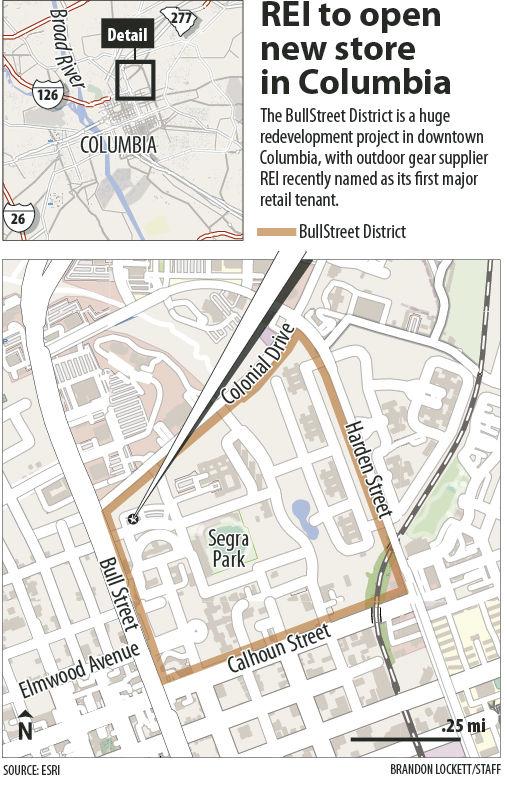 "When you put all that together, this is a city that REI wanted to be in," Hughes said.
Other work on the site also promises a visible transformation. In the next few months, the developer expects to open a 20-acre nature park along Smith Branch Creek, with a major section restored. The first residents also have moved into a few townhouses on the site, with a senior living center expected to complete its first phase in the first quarter of 2020. More than 300 people have full-time work in the district, with the office building next to the ballpark almost entirely occupied. 
It's the long-awaited announcement of REI as the first big retailer, however, that is being welcomed as evidence that BullStreet really is lifting off. The store will be REI's second SC location; the first is in Greenville. "It's a fantastic business and employer," said Rebecca Haynes, a resident of the adjacent Earlewood neighborhood and a member of the city's Bull Street Commission. 
REI, expected to open in May 2020, should bring added energy to BullStreet and north Columbia, an area that has been overlooked by retailers, Haynes said. "The North Main area has potential all over it."
REI's choice of Columbia for expansion makes sense because of the many outdoor activities in the city and the region, including river kayaking and Lake Murray fishing, said Patrick Palmer, director of retail services for the NAI Columbia real estate firm. It was bold of them to agree to be the first big tenant in the retail area, he said.
Palmer has pitched BullStreet to potential retailers looking at Columbia, but they always decided to go to areas that were already retail-heavy instead. Retailers want to put their new stores where customers already are walking around with bags in their hands. "It's hard to break that mold," Palmer said.
Finding retail tenants for BullStreet has been challenging because it inverts the usual order of real estate investments, with home builders moving first and shops following. "Retail always follows residences; it's never the other way around," Palmer said.
More retail to follow?
Palmer expects more retail announcements for BullStreet to be coming soon in the wake of the announcement of REI's 20,000-square-foot store. He said it seems very unlikely that REI will sit there alone for long.
Hughes declined to say that other announcements are imminent, but he emphasized that the section of the district where retail will concentrate is being prepped for those that are ready to start building. 
"We're talking to retailers every single day, across the country," Hughes said.
Hughes said the company won't hurry or compromise to get retailers that aren't the high-end tenants it wants. "We've always said we would never sacrifice quality for time."
Hughes Development has been seeking retailers for the site for years. but earlier plans fell apart as retailers began to redefine their aspirations for physical stores amid the changes in shopper behavior driven by the internet. Retailers have closed more than 15,000 locations across the country since 2017, according to a report from analysts at UBS, reflecting the decline of enclosed malls and the continuing rise of online shopping.
"All that has happened since we started this project," Hughes said.
The new rules of shopping
In the age of internet retail, a physical store serves numerous purposes beyond just ringing up sales, said Mark Rosenbaum, chairman of the Department of Retailing at the University of South Carolina. Stores, often smaller than before, act as a billboard to keep the retailer on the mind of passing customers. "It fosters a sense of something tangible," Rosenbaum said.
Shoppers often do their first browsing online, then investigate further. "Consumers are going to a physical store to experience products, not necessarily to buy them," Rosenbaum said.
A shopper might go to REI, check out the kayaks and decide to order from the greater options online and have it delivered, he said. Consumers also take it for granted that they can buy an item online and just pick it up at the store.
U.S. consumers also are spending more on experiences and less on items, Rosenbaum said. REI taps into this trend by offering adventure-oriented vacation packages and guided trips for those who buy a membership.
Hughes believes that the long project of building BullStreet is well on its way in year five. Infrastructure work and the siting of the baseball park as centerpiece dominated the first years of the project, but that has paved the way for more obvious growth that will attract more people onto the site, whether shopping, relaxing or moving in, he said.
"When we see a Pilates studio, several restaurants and even a grocer in BullStreet, then we will know we have a community," Rosenbaum said.