ORANGEBURG — Cleveland Sellers can't say for sure how long the gunfire lasted.
Was it 8 seconds? he wonders. Maybe it was closer to 10.
On the campus of South Carolina State University, he stops at the very spot where he stood when he was shot 50 years ago.
He was 23 on the night of Feb. 8, 1968, and joined the crowd of students who had gathered to vent frustrations over a segregated bowling alley and other concerns. It was the third straight day of unrest, but this one was especially menacing.
"I had a bad feeling that day," recalled Sellers, now 73.
In a barrage of trooper shotgun fire that lasted about 10 seconds, at least 28 students were injured and three — Samuel Hammond, Jr., Delano Middleton and Henry Smith — were killed.
It was the bloodiest civil rights event in South Carolina's history.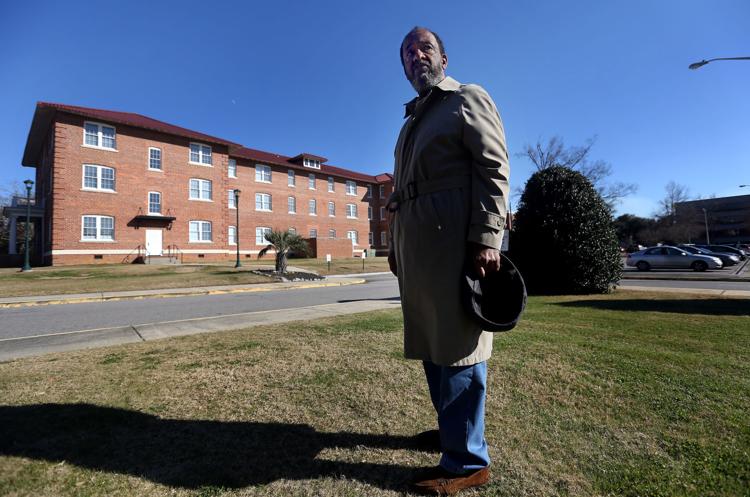 Yet the Orangeburg Massacre, an era-defining moment of the 1960s, would not pierce the collective consciousness of America. Fifty years later, some fear it's fading from memory.
"Many people haven't heard about it, but those who have think it was this isolated incident," said Bill Hine, a retired history professor at S.C. State. Misunderstandings run deep, he said.
As recently as last year, an editorial in Orangeburg's Times and Democrat newspaper acknowledged the struggle of a still-healing city, writing, "The result too often over the years has been a community divided annually by racial wounds."
A commemoration is planned for Wednesday and Thursday on campus. Sellers' son, former state lawmaker Bakari Sellers, is the keynote speaker. The annual event draws attention to the Orangeburg Massacre and the plight of its victims. Organizers say it's a chance to remind the world of a historical trauma many seem to prefer to forget.
"There is so much confusion about what happened, and it needs to come out," Cleveland Sellers said. "Because they always think of their state as being on the side of justice and stability, and not having this kind of shoot-to-kill operation on students on their college campus."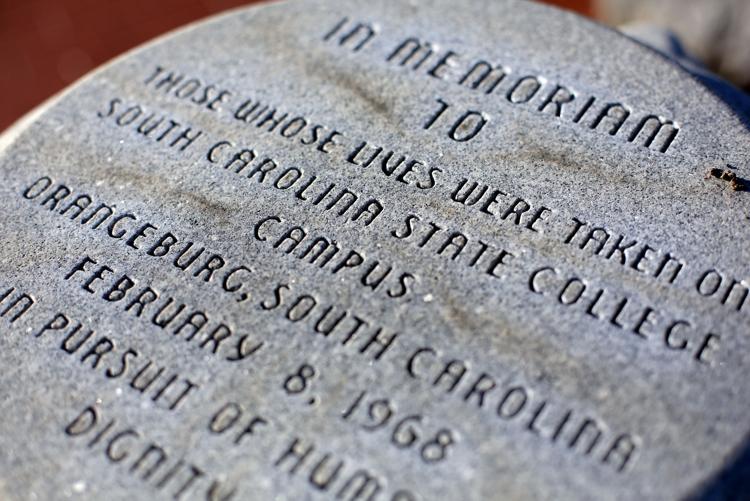 Teaching history
Inside Barber Tech Academies, a salon and school that caters to African-Americans, co-owner Dashaun West, 35, said he first heard about the Orangeburg Massacre when he was student at S.C. State. The salon is located next to All-Star Bowling Lanes, the site of student protests two days before the campus shooting.
Bernard Dash, who was 16 in 1968, said he heard about it as it was happening.
"My parents made sure I (didn't) go to school," he said, referring to the closure of the city by authorities and his parents' concern for his safety. "We stayed at home for two weeks."
Dash said the shooting had a lasting effect on how local residents think about race relations. But today, he said his children know nothing of the Orangeburg Massacre.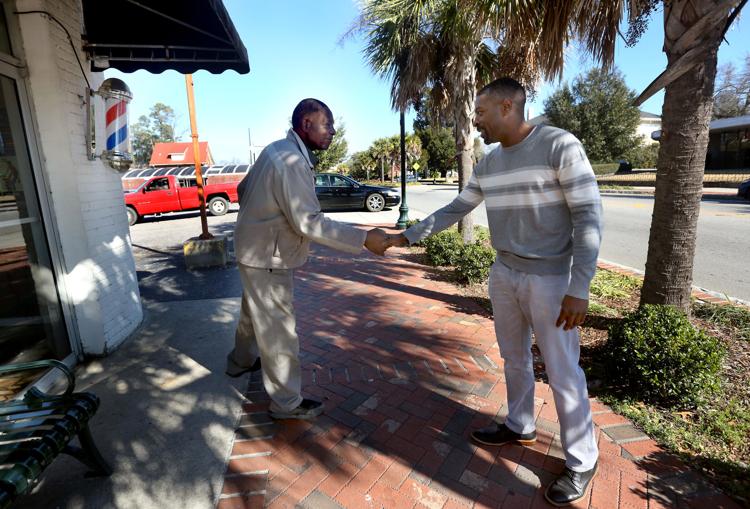 The state's education standards include one mention of the event, citing it as an example of civil rights demonstrations that eighth-grade social studies teachers might discuss in the context of the movement in South Carolina.
Orangeburg Mayor Michael Butler said that doesn't mean the shooting and its effects are taught. Sharing the specifics of the Orangeburg Massacre is at the discretion of individual teachers. Some mention it in the broader context of the civil rights movement, others dwell on it a little.
"Some teachers even choose not to teach it, really, if it doesn't matter to them," said Butler, who is also a career specialist at the Technology Center in Orangeburg Consolidated School District 5.
"But these students need to understand that we didn't just come up by night to get where we are," the city's first black mayor said.
ORANGEBURG — The bowling alley now blends into the rest of a rundown shopping center on Russell Street, its exceptional place in civil rights …
Andrew Pruitt, director of communications and technology for the Charleston County School District, said that all eighth-graders in the Charleston system hear at least a passing reference to the 1968 campus shooting, and some fifth-graders, too. High school students who take U.S. history also learn about it.
"The Orangeburg Massacre is part of the history and social studies curriculum (per state requirement) for Charleston County School District eighth grade students when they learn about the Civil Rights Movement," Pruitt said in an email statement. "In addition, every teacher in CCSD has access to district resources and lesson plans that include the Orangeburg Massacre."
Pat Raynor, spokeswoman for Dorchester District 2, said it varies from classroom to classroom.
"Certainly the standards are broad in scope and cover so many different parts of our history," Raynor said.
Megan Vallario, an 18-year-old student at the Charleston County School of the Arts, said she did not recall learning about the Orangeburg Massacre in the classroom.
Keagan Larkins, a 17-year-old senior at Academic Magnet High School, said he learned about the campus shooting last school year. His teacher spent one class period discussing it. Larkins recalled it "was a protest against segregation in which three black men were killed."
The buildup
That year — 1968 — was a turning point for America. The civil rights movement of Martin Luther King Jr. gave way to a more forceful call for "Black Power," and civil rights groups were increasingly connecting the dots between their struggle and the global fight for justice and empowerment.
The Orangeburg Massacre was a watershed moment in South Carolina that tore families apart and heightened divisions between whites and blacks i…
In January, the communist North Vietnamese launched the Tet Offensive in Vietnam, sparking mass demonstrations against the war in the U.S., with some protests turning violent.
In April, King would be assassinated. In June, Robert F. Kennedy would be shot and killed, too. 
What happened at S.C. State did not reach as high as these headlines.
When Sellers arrived in Orangeburg the previous fall, the legendary Student Nonviolent Coordinating Committee activist had already been pegged as the "outside agitator" even though his family lived in the tiny town of Denmark, 23 miles to the southwest.
He was in town to promote black studies at the school and work with students to heighten their cultural awareness and encourage them to embrace the principles of the Black Power movement, which included self-determination and self-actualization.
He also was thinking about going back to school, taking up where he left off when he became embroiled in the civil rights movement starting in 1963.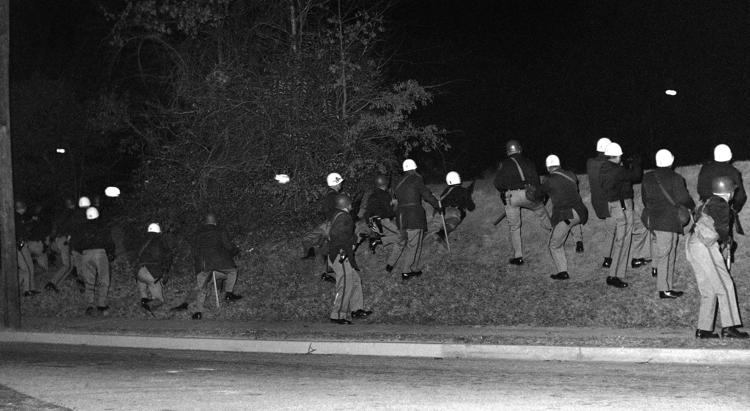 On that cold winter evening, students gathered on campus, frustrated about the still-segregated All-Star Bowling Lanes just down the street. Additionally, there was anger about the militarized environment and lack of support from city and state officials.
Gov. Robert McNair had called in state troopers and National Guardsmen. The FBI was on the scene, keeping one eye on the rebellious students and another on Sellers, the SNCC activist they sought to blame for the unrest. The city was all but shut down for fear of an urban riot.
The students were corralled on campus, illuminated by street lamps and the bright beams of spotlights. They lit a bonfire and taunted troopers, throwing debris at them.
That's when the violence erupted. 
At least nine state troopers, under what turned out to be a false impression they were under fire, shot into the unarmed crowd of students, striking many with heavy buckshot in their backs and in the soles of their feet as they scrambled up the bluff to get away.
Sellers was hit in the left armpit as he tried to help students clear the area.
After the shooting, students were rushed first to the college infirmary, then to an area hospital, many driven in private cars. Sellers was among the wounded to seek medical attention.
At the hospital later that night, he was taken into custody and charged with arson, inciting a riot, assault and battery with intent to kill, property damage, housebreaking and grand larceny.
The FBI would perform a half-hearted investigation in the eyes of some, but the state never formally delved into what happened despite repeated calls for an independent query. The nine troopers were tried on various charges and acquitted.
More than two and a half years after the tragedy, Sellers was convicted on a riot charge that wasn't part of the original indictment. In 1973, he spent seven months in prison.
Sellers said misinformation at the time — reports of student gunfire, for example — convinced many whites that the troopers had done the right thing, that they had saved the city from radical blacks set on destroying it.
It didn't help that McNair, the governor at the time, subscribed to this point of view and suppressed attempts at fostering a public debate about the first tragedy of its kind on any college campus in America.
"When McNair was alive, he didn't want any discussion," Sellers said. Once opinions are formed, it can be difficult to change people's minds, he added.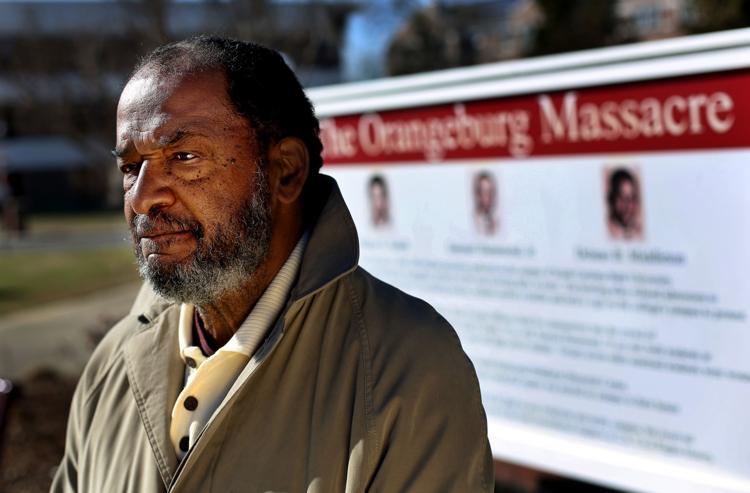 Since the shooting, Sellers and others have repeated the basic facts, laid bare in the book "The Orangeburg Massacre" by Jack Bass and Jack Nelson. Healing, Sellers said, depends on more than the mere passage of time and a focus on the positive; it demands a confrontation with the facts.
Sellers, his son Bakari, Hine and several others, such as historian Bass, have called for a state-convened blue-ribbon panel to launch a formal investigation, generate a report and promote dialogue.
"(The state) needs to do something for the victims, especially those who were killed," Sellers said, adding that monetary reparations are in order since the lives of Hammond, Middleton and Smith were cut short, destroying their potential to contribute to society and generate wealth for their families.
"Even though it's been 50 years, you can't quit now, even though the state has been recalcitrant and resistant," he said.
Hine noted that, even today, views on the Orangeburg Massacre differ according to race. Some whites credit state troopers for saving the city while some blacks consider the episode an example of "cold-blooded murder," Hine said.
Some whites would rather not "pick this scab," he said, while some blacks crave truth and justice. An investigation would help.
"It would give us a better understanding of what transpired," Hine said. "It would answer questions, clarify matters, maybe help with healing and reconciliation."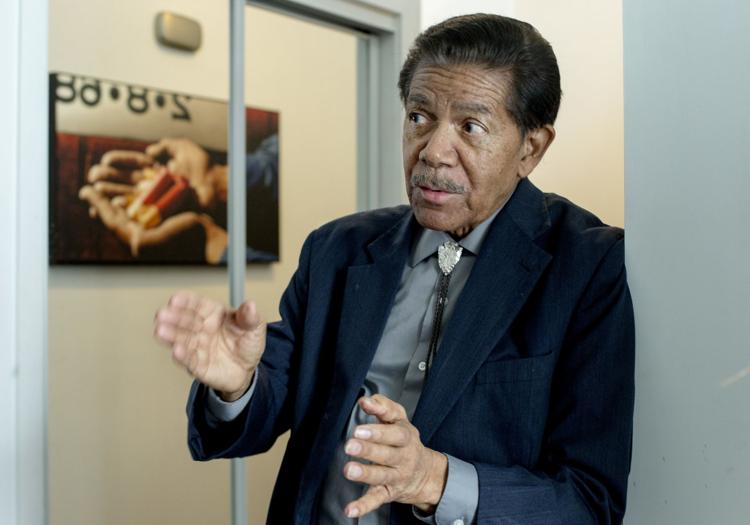 Reconciliation
It took the state decades to express contrition.
Former Democratic Gov. Jim Hodges in 2001 called the shooting "a great tragedy for our state." In 2003, Republican Mark Sanford was the first South Carolina governor to formally apologize for what happened.
"I think it's important to tell the African-American community in South Carolina we don't just regret what happened in Orangeburg 35 years ago, we apologize for it," Sanford said at that year's commemoration of the tragedy at S.C. State.
Jack Shuler, an Orangeburg native and author of the book about his hometown, "Blood and Bone: Truth and Reconciliation in a Southern Town," said the campus shooting and the unrest that preceded it traumatized many local residents.
"I have encountered people who didn't want to talk about it, who think you shouldn't talk about tragedies of the past. In general terms, there are probably more white people who would like to move on than those who want to address it head on. But there are those who want to address it head on," Shuler said.
In 1999, more than 250 community members signed onto a public statement published in The Times and Democrat. "Orangeburg, let us heal ourselves," the statement said.
Eric Powell, the director of the Orangeburg County Historical Society, was just 10 when the massacre happened. He is white, and remembers the summer of 1968. Nobody, he said, talked about what had happened months before.
"'Let us heal' is the politically correct words that go along with 'We want to forget about it because it was a big mistake,'" he said.
Cecil Williams, an Orangeburg resident and official photographer for S.C. State who witnessed the events of 1968, said many of the problems students faced back then persist today.
African-Americans are too often victims of police violence and continue to face social and economic injustices, he said.
"In 50 years things have not really changed a lot," Williams said.