Editor's Note: The Index-Journal is one of 18 newspapers partnering with The Post and Courier for Uncovered, an investigative project meant to ferret out misconduct and questionable behavior by public officials.
South Carolina's newest governor's school says it changed its purchasing practices to better adhere to law.
But questions linger about what happened as John de la Howe sought to ready its aging residence halls and sprawling campus near Lake Thurmond for its new mission as the nation's only agriculture-focused residential high school.
Among the queries the taxpayer-funded agency has yet to answer:
— Before joining the staff, a person connected to questioned purchases was accused of bilking a woman out of more than $130,000 for an unlivable house. Did the school know about the allegations when he was hired?
— Information given to Inspector General Brian Lamkin doesn't match what's in procurement documents. Did administrators mislead state investigators?
— Discrepancies exist between what the agency purchased and what contractors installed. What happened to those extra materials?
— A company given more than $75,000 in no-bid work gave a quote 50 percent higher than the lowest bidder the first time it faced competition. Did the agency overpay to use favored contractors?
These and other questions dog the fledgling governor's school in the wake of a Post and Courier-led Uncovered investigation last year. The stories triggered at least two state probes into concerns about unethical behavior and problematic purchasing at the South Carolina Governor's School for Agriculture at John de la Howe.
The Index-Journal first told school President Tim Keown last summer that it had additional questions about the school's purchasing practices. He insisted the newspaper should wait until after the state completed a procurement audit.
After top South Carolina officials excoriated the school for how it handled procurement, including more than $1.5 million in divided purchases that appeared to steer business to favored vendors, the Index-Journal sent detailed questions to Keown and Facilities Director Ken Durham but received no reply.
After another push for answers last month, the agency described the problems as "growing pains" and said it wouldn't answer questions about past issues.
Past allegations
In August 2014, a fire severely damaged the Edgefield residence of Maddie Holloway.
Holloway says when Scott Mims first contacted her, he represented himself as being from her insurance company, Travelers Insurance, according to a lawsuit filed against Mims and his company, Edgefield Asphalt and Concrete Co., as well as Gregg Scoggins and Scoggins' company, Carolina Design and Inspection.
On Oct. 10, 2014, Mims had her write him a $25,067.19 check to get a building permit. Scoggins secured the permit and subcontracted work to Mims and Edgefield Asphalt. More checks followed — some to Mims, others to Allstar, another of his companies — that totaled $131,422.22.
The end result, according to the civil complaint filed in Edgefield County in 2018, was subpar.
She alleges workers failed to:
— replace the floor foundation
— slope and install moisture barrier in crawl space
— properly install electric panel
— properly install roof
— properly install appliances
— properly install chimney
— properly install interior doors
There were also concerns Holloway was overcharged for materials.
"The ultimate effect of Defendants' actions, or lack thereof," her attorney wrote, "was that Plaintiff's Residence suffered a great loss in value and was negligently repaired so thereby making it an unsuitable environment in which to live."
He also wrote: "The Defendants' conduct is capable of repetition, and, upon information and belief, has been repeated."
In a filed answer to the lawsuit, Mims acknowledged only that he did the work and denied any wrongdoing. Instead of going to trial or seeking to have the complaint dismissed, Mims settled out of court in May 2020.
In the meantime, Mims joined the John de la Howe staff as facilities and campus projects assistant. In that role, he arranged most purchases and contracts for millions of dollars in campus renovations and was the person on staff who received shipments of construction materials and verified when contracted work was completed. Since Durham retired as facilities director two months ago, Mims has been at the department's helm.
Keown told the Index-Journal in June 2021 that he wasn't involved in Mims' hiring — Sharon Wall was interim agency head at the time — but called him "a dedicated employee." Durham and Mims did not respond to questions about the lawsuit. Travelers also did not respond to a request for comment on the matter.
Questionable statement to IG
John de la Howe is authorized to make purchases of up to $50,000. Anything above that amount requires approval from the State Fiscal Accountability Authority.
Did the school artificially divide $70,000 in contracts so Shannon Philpott, a longtime business associate of Mims, could get the work without Columbia signing off?
The Office of Inspector General posed this question as it investigated whether it was unethical for the agency to contract with Philpott's company, Faith Remodeling 2 Construction, to remove and replace sidewalks. "JDLH leadership advised the SIG the sidewalk renovations were conducted in two phases because the JDLH staff was undecided on which areas of the campus were to return to natural sod instead of being replaced by concrete," Lamkin wrote after his review.
However, procurement documents tell a different story.
In addition to removing and hauling off 2,500 feet of old, 4-foot sidewalks, the bid request for the first phase included grading 1,850 feet of new, 5-foot walkways. Phase 2 included pouring 1,850 feet of concrete for 5-foot sidewalks.
But if the work was split into two phases because the agency didn't know how much was to return to natural sod, as was represented to the inspector general, how did staff know how much area to grade for new sidewalks?
John de la Howe won't say.
After listing the administration's response, Lamkin wrote: "Regardless, the separation of the project that required two separate quotes gave the appearance of the intent to circumvent JDLH's limit on awarding a procurement for each phase by keeping the cost under its procurement authority of $50,000."
It's not the only questionable statement the administration made about the Mims-Philpott matter.
In an email exchange with the John de la Howe board on April 28, 2021 about the initial Uncovered stories and Mims' association with Philpott, Keown wrote: "I was not aware of there (sic) association until this article came out."
But the relationship came up when The Post and Courier and Index-Journal interviewed Keown and other John de la Howe staff members April 14, 2021, and again the following day in an email to Keown with the subject line "Scott Mims/Faith Remodeling bid issue."
Keown did not respond to a request for comment or clarification on this statement.
Material discrepancies
During renovations at John de la Howe, facilities staff purchased much of the materials installed by contractors — an unusual practice among state agencies that normally rely on contractors to provide their own materials.
The agency did not respond directly to questions about the practice.
While addressing the procurement audit to the board the same week, the Index-Journal sent him detailed questions, Durham said the agency made the purchases for the sake of consistency.
The practice, however, was inconsistent. Painters, for instance, often bought their own supplies. And while the agency paid for bathroom tile from a distributor, the contractor who installed the tile was initially the one who worked with the distributor and passed along the pricing information. Also, these materials were acquired piecemeal, project by project, and not as part of a bulk order, which allowed them to be purchased without competition.
What is clear, however, is that materials from some purchases don't match the work contractors reported in invoices.
Take, for instance, the new fixtures in bathrooms across campus. John de la Howe bought toilets and sinks from Wrightsboro Supply in Augusta, Georgia, which were then installed by David Smith, a plumber from Plum Branch who has since joined the staff at John de la Howe.
The Index-Journal compared procurement documents for bathrooms in seven residence halls — Abbeville, Carolina, Lethe, McCormick, Nickles, Palmetto and Savannah — and found that 46 toilets and 67 sinks were purchased for these restrooms, yet only 39 toilets and 59 sinks were installed.
Invoices and requisition forms for work in Columbia and Huguenot residence halls did not detail how many sinks or toilets were installed and were not part of the comparison.
The Index-Journal found a similar anomaly with bathroom retiling. The school ordered 3,838 bathroom tiles, each 13 by 13 inches, for Nickles that would cover about 4,504 square feet. Yet work in the bathroom only required tiling 1,150 square feet. Other bathrooms of similar size on the campus had much smaller orders of tiles, ranging from 1,150 to 1,350 tiles.
What happened to those seven toilets and eight sinks, or the extra tile from Nickles, all paid for with tax dollars?
John de la Howe won't say.
The answer might be something innocuous: The materials were simply used in other residence halls.
Some clues point to this possibility. For instance, buried within the 146 pages of procurement-related documents for Wrightsville Supply, in a memo field at the bottom corner of a requisition form, someone typed: "Please transfer 9 sinks and faucets, 7 tub and shower trim kits, 7 toilets with flush vales (sic) and seats from Abbeville to Hugenot (sic)."
This note was with the comparatively small order made for Huguenot, which included just two toilets and four sinks.
While there were no materials left over from installing fixtures in Abbeville Residence Hall, it's unclear why a requisition form for materials from Wrightsville Supply would need to include an internal transfer of supplies, and the Index-Journal was not provided with documentation of fixtures installed in Huguenot to substantiate how many were used in that building, this could roughly account for the surplus the newspaper identified from earlier projects.
As for the large outlay of tile bought for Nickles, it does not appear that tile was purchased for some of the other retiling projects on campus.
This opens the door for a rational explanation of where unused supplies from earlier projects might be, but John de la Howe hasn't provided an answer.
Tile work
The state procurement code safeguards tax dollars by requiring agencies to get the most competitive prices and making it difficult for unscrupulous bureaucrats to line their pockets or those of their friends from government coffers.
There's just one catch: It only works if agencies follow the decades-old law.
However, John de la Howe divided purchases to thwart spending thresholds as it sought to rejuvenate aging buildings, allowing Durham and Mims to spend hundreds of thousands of tax dollars without approval from Columbia — and oftentimes without competition.
After the Index-Journal reported on the practice in May 2021, the Division of Procurement Services audited John de la Howe and determined the agency had doled out $564,000 among 13 vendors for divided projects, "circumventing the agency's $50,000 procurement authority." Beyond that, auditors said they "identified 173 procurements, totaling approximately $990k, that were divided among 28 vendors circumventing the small purchase threshold of $10,000, and in some cases, steer business to favored vendors."
Still, ahead of that damning procurement audit, Keown claimed to the Index-Journal that Durham and Mims saved the agency at least a half-million dollars. He did not respond to a request to explain how he came up with that sum. And in April 2021, Durham said the knowledge he and Mims had from working as contractors meant they knew how much each task should cost and their experience made sure John de la Howe would get the best possible price.
But did the department's end-run around state procurement code save money?
In the morass of purchasing documents released through two requests to John de la Howe and one request to the state Division of Procurement Services, a number of the contracts were awarded with little competition and many lacked enough information to allow for an in-depth analysis of how the agency doled out tax dollars while conducting renovations.
But as auditors sifted through quotes, invoices and purchase orders while making sense of what had happened at the remote rural campus in McCormick County, one area of work garnered greater attention than others: tiling.
During renovations ahead of John de la Howe's reopening, Half Moon Tile Co. received the initial bathroom retiling jobs. With John de la Howe paying Clayton Tile directly for materials — a practice that officials questioned — some of these retiling contracts cost $9,975 to $9,995, which is just below the $10,000 threshold for seeking bids.
State spending records show Half Moon received $75,320 for this work, which happened during the 2019-20 fiscal year. None of the documents released to the Index-Journal indicates the agency sought competing bids, even though procurement code dictates that, "when practical, a quotation must be solicited from other than the previous supplier before placing a repeat order."
But when facilities shifted focus to Savannah and McCormick residence halls, the staff decided to solicit work for the bathrooms together while still providing the tile. This meant getting at least three bids.
On Sept. 22, 2020, Procurement Specialist Peggy Medlock flagged Mims on her concerns about the two bids she received and the need for a third estimate.
"We need to make sure vendors are bidding on the same thing as one references soap dishes and the other doesn't," she wrote. "One references cottage names and the other doesn't. They need to be receiving the same email and I need a copy of the original email you send them."
She followed up 13 days later with an email telling Mims that she received a third bid, but couldn't use it because it was vastly different from the first two.
"We must make sure vendors are bidding on the exact same thing. One says tile 5 bathrooms, one says 6 bath floors, 3 showers, etc., and one just says bid for Savannah & McCormick cottages & no reference as to how many of what. We cannot use bids such as this as being comparable. Everyone must be bidding on the EXACT same thing."
Mims responded: "I don't know who put what on their bids. Can you send me the bids and I'll get it straightened out? As far as a spec sheet I didn't have one. I made the contractors come out and look at the job personally. These jobs had too much patch work to spec out."
Durham offered a similar take.
"I would suggest considering letting Scott see the written bids (without prices if necessary) and determine which bid best described the work requested. He can then have the other two simply modify the description of the work to be performed and re-submit," he wrote.
Employees outside of procurement aren't allowed to look at the bids before they are awarded, something meant to keep unscrupulous officials from giving preferred contractors inside information that can guarantee them work. Finance Director Sylvester Coleman told Durham and Mims they couldn't see the bids.
"We cannot go after the fact and determine and modify description. The main issue is ensuring that companies are bidding on the same work, i.e., apples to apples. I suggest that when we are sending out emails for bids that you include Ms. Medlock on the email that has the scope of work and what they are bidding on," he wrote. "Bids out of compliance will be rejected."
Mims created a spec sheet and sent it to the three contractors. While two tailored their new bids to the spec sheet, the third contractor — the one that bid on five bathrooms instead of six — never sent a corrected estimate and another contractor was contacted. By the time three comparable bids had been received, it was Nov. 9, 2020.
Snead Builders Supply Co. was the low bidder at $22,035. Half Moon, which had received all previous retiling work, wanted $33,000 for the work, which was close to 50% more than the winning bid. The third bid came from Faith Construction and sought a $40,000 outlay for the work — nearly twice the winning bid.
Why didn't John de la Howe seek bids sooner? Would the agency have saved money by embracing a competitive process sooner?
Citing "growing pains," the agency declined to answer questions about these procurements.
John de la Howe says it now adheres to state procurement code.
"After a thorough review last summer from the State and continued oversight by the state's fiscal agencies, the South Carolina Governor's School for Agriculture at John de la Howe has put in place refined processes and personnel that will ensure the effective and efficient day-to-day operation of this institution going forward in accordance with state law and regulations," said Tony Baughman, public information officer at the school.
There are clear signs the agency has indeed turned a new leaf and is more in compliance with state purchasing law. For instance, the agency is making use of the South Carolina Business Opportunities website — scbo.sc.gov — to publicly advertise much of the contracted work at the school and online financial records indicate the agency is no longer following the divide-and-contract axiom.
Baughman says the school hopes to put this matter behind it and instead focus on teaching the age-old profession of farming, a sentiment he shared as the residential ag school readies for its first crop of graduates.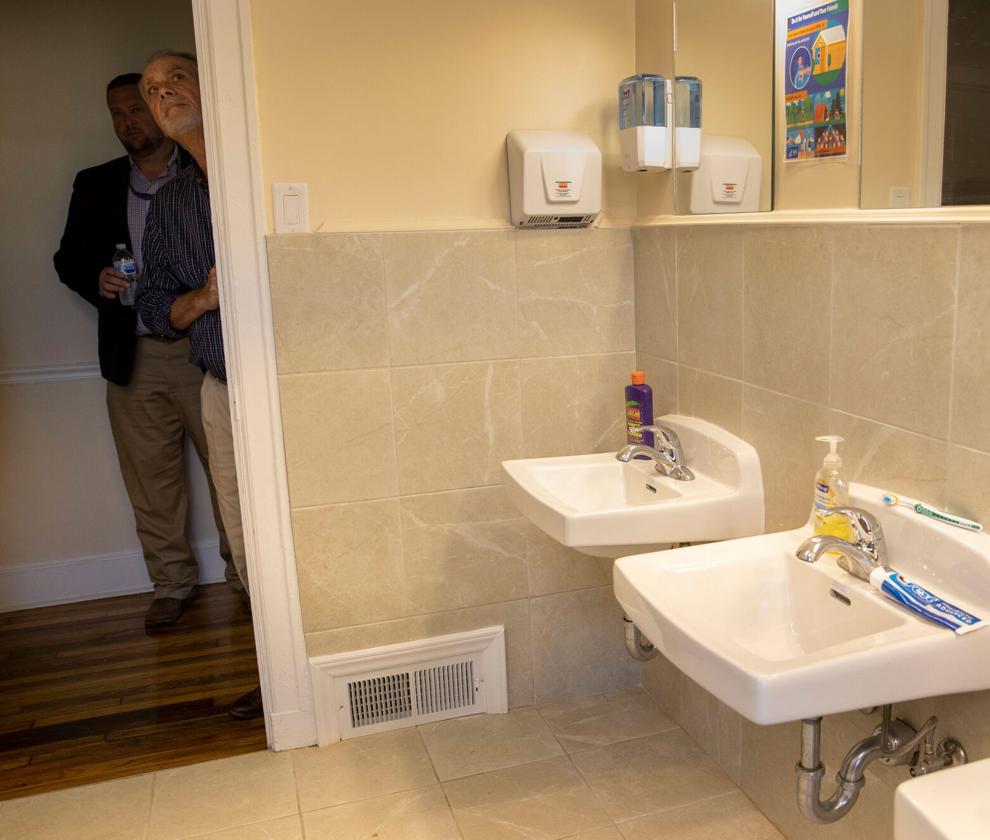 The long and winding road
Armed with an audit that detailed a litany of missteps with how John de la Howe's facilities department doled out contracts, top state officials raked John de la Howe over the coals last summer and insisted the school do better when spending tax dollars.
But those problems shouldn't have been news to Durham, Mims or the agency.
According to a complaint filed in McCormick County court, former maintenance manager Richard Lewis "raised multiple objections to Defendant Durham going outside of the procurement process to hire contractors." The response, the filing said, was that "Durham insisted that he could 'do whatever he wants.'"
Coleman and Medlock also questioned the purchasing practices of Durham and Mims.
In response, Keown and others sought to bypass Coleman, even slash the business office, according to a slew of emails received under the Freedom of Information Act.
And Keown added his signature ahead of Coleman's on requisition forms, which put Coleman in the position of having to override his boss should something run afoul of the state procurement code.
Why were legitimate concerns met with suspicion? Why did the school only seek to mend its practices in response to reporting by two newspapers and at least two state probes?
The school won't say.
In the meantime, Durham and Medlock have retired from John de la Howe.
The school reached a nearly six-figure settlement with Coleman that included his departure from the school and an agreement not to discuss his grievances.
And Lewis filed a lawsuit over his treatment by top current and former officials.